Welcome to Marion and Alfred
Saturday, 10 August 2013 22:09
Ancohuma is with 6427 meters sea-level the tallest peak around the largest lake of Bolivia and Peru Lago Titicaca which is with 3810 meters sea-level the highest navigable lake on earth. It is a ice and snow castle and the second highest summit of the awesome mountain range Cordillera Real of the Bolivian Andes. Our dream was to achieve its top but we had bad conditions in the early morning like heavy snowfall, unusual high temperatures and groundless deep snow. Consequently we decided to turndown at 6256 sea-level below the last steep slopes. Especially we didn't want to accept the serious risk of avalanches. Nevertheless this trip was an outstanding nice experience for us.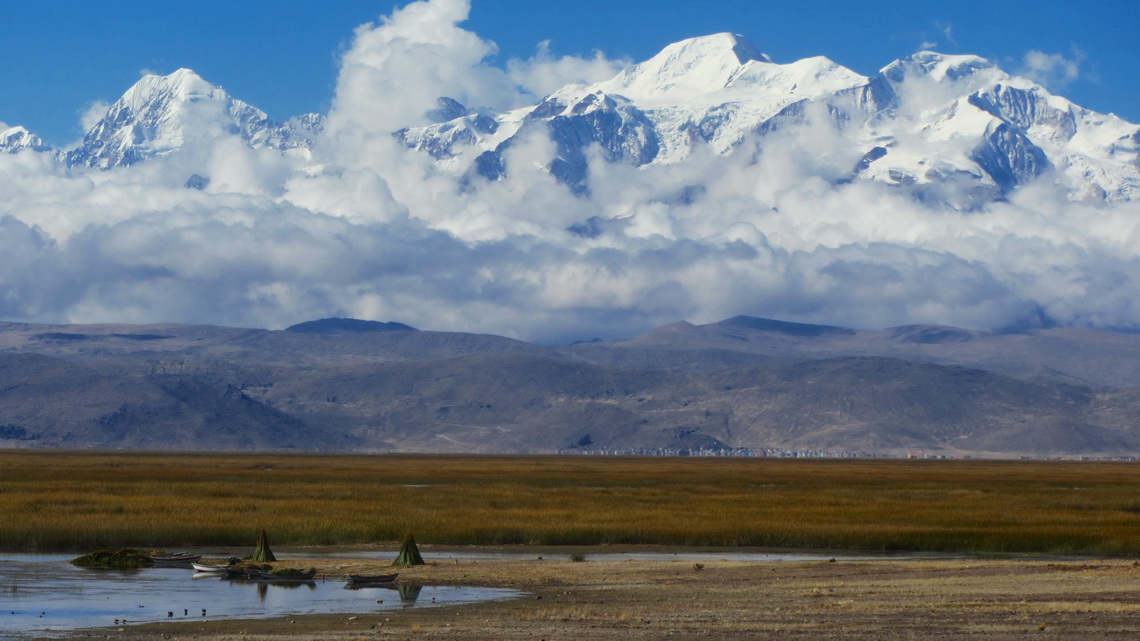 The tour to Ancohuma starts in Sorata, a pleasant and warm village on the eastern slopes of the Cordillera Real at 2700 meters sea-level. After struggling with its narrow and steep streets we found the heavenly campsite Altai Oasis with wonderful people (GPS coordinates: S15 46.179 W68 39.306). Johny and Simon thank you so much for your extraordinary support and creating this marvelous place.
Tuesday, 30 July 2013 17:01
The marvelous Condoriri range of the Cordillera Real is close to La Paz nearby the village Estancia Tuni. It is named after its most striking mountain which looks like a Condor seeing from West. It is "just" about 5600 meters high but very difficult to access due to serious technical ice and rock climbing. West of the main peak is the much easier Cerro Austria (5328 meters sea-level) which provides stunning views to nearly the whole range of the Cordillera Real.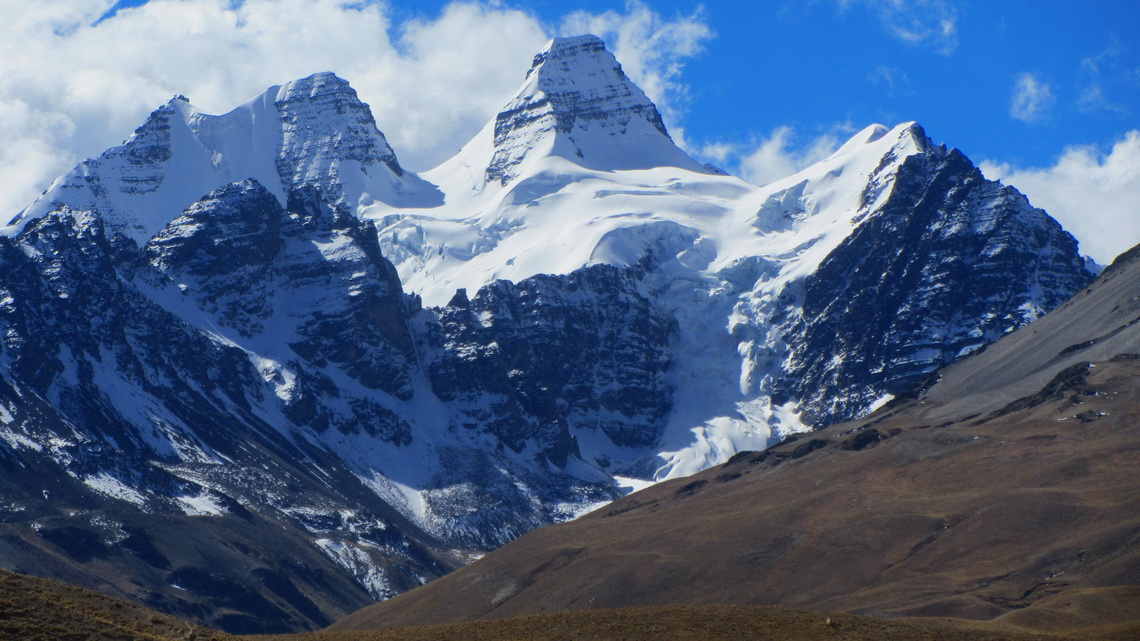 There are other nice trekking mountains in this area like Cerro Mulamania (4949 meters high) and Cerro Thipala (5045 meters sea-level). But before we came in this region we had crossed Bolivia from Tupiza to La Paz. Outstanding were the rocky mountains Cerros Kari Kari close to Potosi.
Sunday, 07 July 2013 01:59
The more than 5200 km long street Ruta 40 strechtes from the very South of Patagonia to the Northwest corner of Argentina along the Andes. It is one of the most famous, legendary and scenic roads on earth. Few years ago travelers had to deal with difficult dirt and gravel parts including severe river crossing. Nowadays most of the street is tarred or pavement is in construction or planned.
But the most northern part is still as rough as in former times. In addition it passes its highest point, the dreaded Abra del Acay. With 4895 meters sea-level it is higher than the summit of Montblanc, the tallest peak of the Alps. South of this col are beautiful villages like Cachi, Payogasta and La Poma with some touristic infrastructure. North is the mining town San Antonio de los Cobres with its engineering masterpiece La Polvorilla, an impressive railway viaduct with about 50 meters high. The largest salt lake of Argentina Salinas Grandes follows. Finally the Ruta 40 merges with Ruta 9 to the border to Bolivia via the town Quiaca.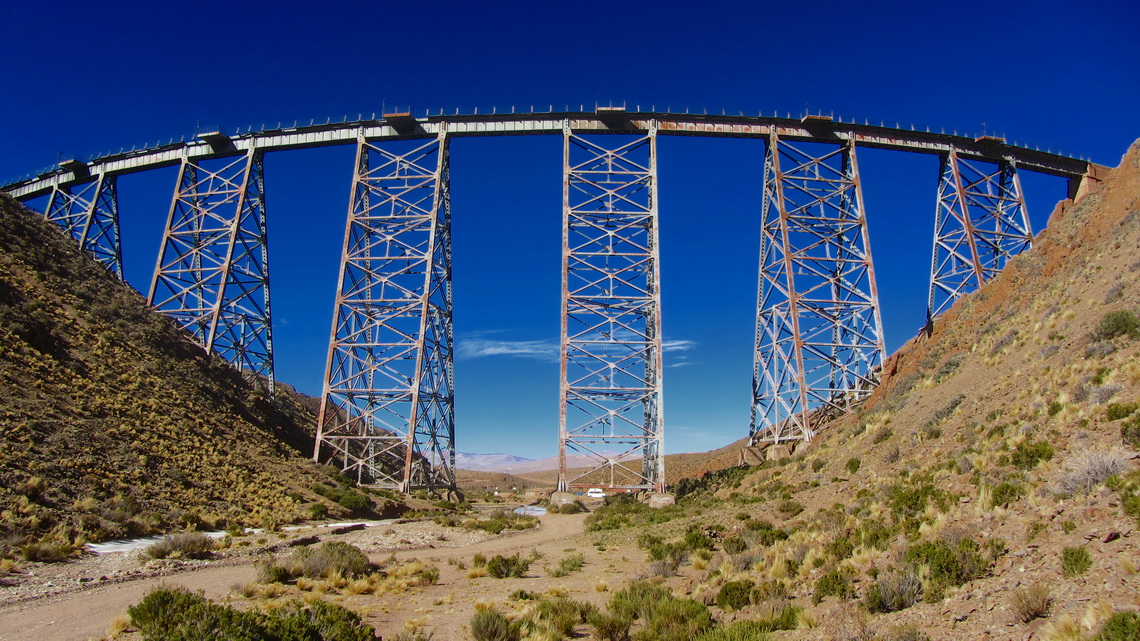 Wednesday, 12 June 2013 01:38
The little town Cafayate and its environment is a natural treasury on foot of the Andes in the northwest corner of Argentina, more than 1500km away from Buenos Aires. After Mendoza it is the second most important wine region in Argentina. 200km North of Cafayate is the pleasant holiday destination Tafi del Valle in the first valley of the mountains.
The Yungas are the rainforests on the eastern shore of the Andes at lower altitudes from 500 meters to 2000 meters sea-level. The are situated nearly the entire Andes ranges from Venezuela to the province Salta in Argentina. Clouds from the Atlantic Ocean are sticking on the first mountain ranges. In Argentina these clouds are sometimes renewed in the Brazilian highlands, which are covered with thick jungle. Thanks to tropical temperatures and high precipitation wildlife is abundant in the Yungas zones. For instance in Argentina's Yungas are: Tapirs, Peccaries, Pumas, Monkeys and a lot of different kind of birds.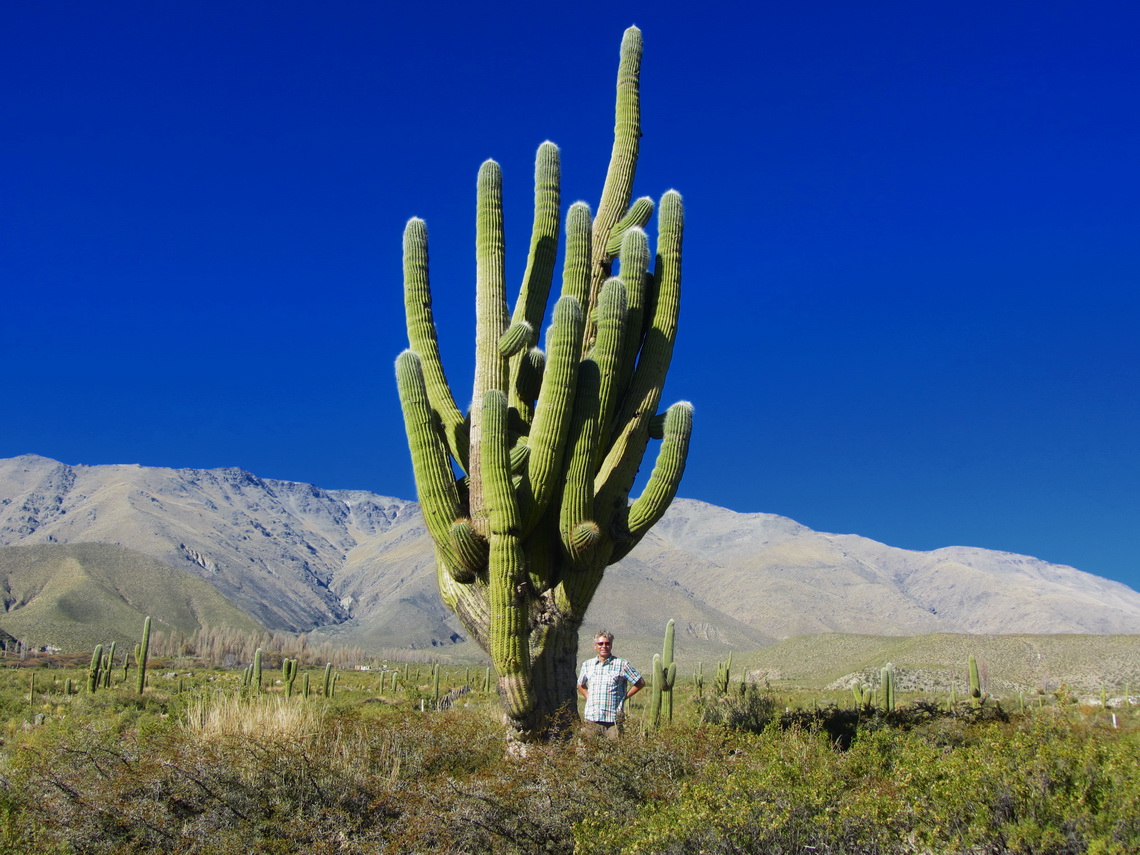 End of February 2013 we had parked our VW California in the premises of our friends Cristian and Sebastian in the northern suburban Tigre of Buenos Aires to fly to Germany. They have several medium-sized motor-homes which they rent to tourists, see their webpage www.andeanroads.com. In addition they offer a small but cozy campsite in the region of Buenos Aires and a parking lot for motor-homes (GPS coordinates: S34 27.058 W58 40.916). Cristian loves Volkswagen Bullies, especially campers. When we came back to Argentina on May 22nd 2013, he had a nice welcome surprise for us.

Monday, 18 March 2013 14:30
600 km North of Buenos Aires the terrific wetland reserve Esteros del Ibera offers abundant wildlife like crocodiles, capybaras, monkeys, deers and a lot of different kind of birds, reptiles and insects. It is a pristine flat lowland with many lakes, swamps and morasses. Thanks to its remoteness only few people live in this fantastic region and tourism is a little bit underdeveloped. Colonia Carlos Pellegrini is the only larger settlement with few hundred inhabitants but all needed facilities like little hostels, some basic food shops and one campsite.
But access to this paradise can be difficult because a 80km dirt road leads from the South (Mercedes) to Carlos Pellegrini with some ugly, muddy and watery parts after rainfalls, which are quite often. The more rough northern course from San Tome is twice the way and includes some long sandy stages.
Half the way to Buenos Aires is the superb Parque Nacional El Palmar on the western shore of Rio Uruguay with the last bigger forests of the origin Yatay Palm Trees in Argentina, nice beaches and also stunning wild life.
We came back to Argentina on February 15th 2013 and we decided to drive directly the northern road to Carlos Pellegrini, which was a little bit sandy but dry - no big deal with our car.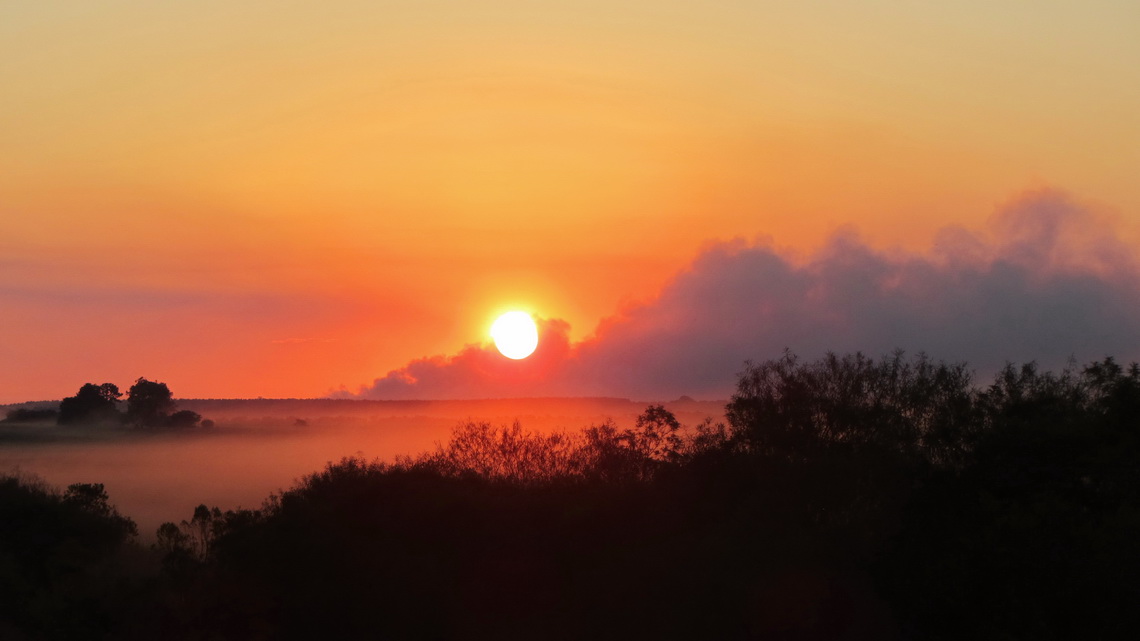 Saturday, 23 February 2013 18:14
The state Santa Catarina is famous for its spectacular coastline. Green mountains covered with dense rain forest hit the Atlantic Ocean. Thus it is one of the major holiday destinations within Brazil, especially in the hot summer period. But the tourism has some negative impacts like environmental pollution, high prices and exceeding building boom. Some cities like Balnerario Camboriu have a skyline like Manhattan. We wonder if all Brazilians have apartments on Santa Catarina's beaches.
But we found some pristine beaches, mainly on the island Ilha de Santa Catarina. It is the heart of this state, also its beautiful capital Florianopolis is located on the isthmus between the continent and the island. More marvelous beaches are on the peninsula Bombinhas.
The population of Santa Catarina have their roots generally in Germany and Italy. There are town names like Nova Trento or Alfredo Wagner. In its third largest city, Blumenau and its surroundings most of the people speak fluently German. Blumenau hosts the second biggest Oktoberfest in the world (after Munich).
Tuesday, 18 December 2012 16:14
Sao Paulo is a city of superlatives: According to lonely planet it is with more than 20 millions inhabitants the third-largest metropolis on earth. It is the economical, financial and cultural center of Brazil, even of South America. But it is a huge cluster of skyscrapers and urban developments with few green parks. Like in Rio the gap between rich and poor is intolerable. Consequently Sao Paulo suffers an enormous high crime rate with many killed people every day. It is infected deeply by the war of drugs.
The outstanding marvelous Costa Verde stretches along the Atlantic coast East of the city of Rio de Janeiro. It is the place where the steep and green mountains of Serro de Mar hit the Ocean. Thus there are many pristine islands, beautiful bays and terrific beaches. Costa Verde becomes Litoral Paulista, when it crosses the state border to Sao Paulo.
A major tourist destination is the lovely and lively village Paraty with many picturesque buildings and remote beaches. Most of them are accessible only by boat and some by foot through the lush and dense rain forest.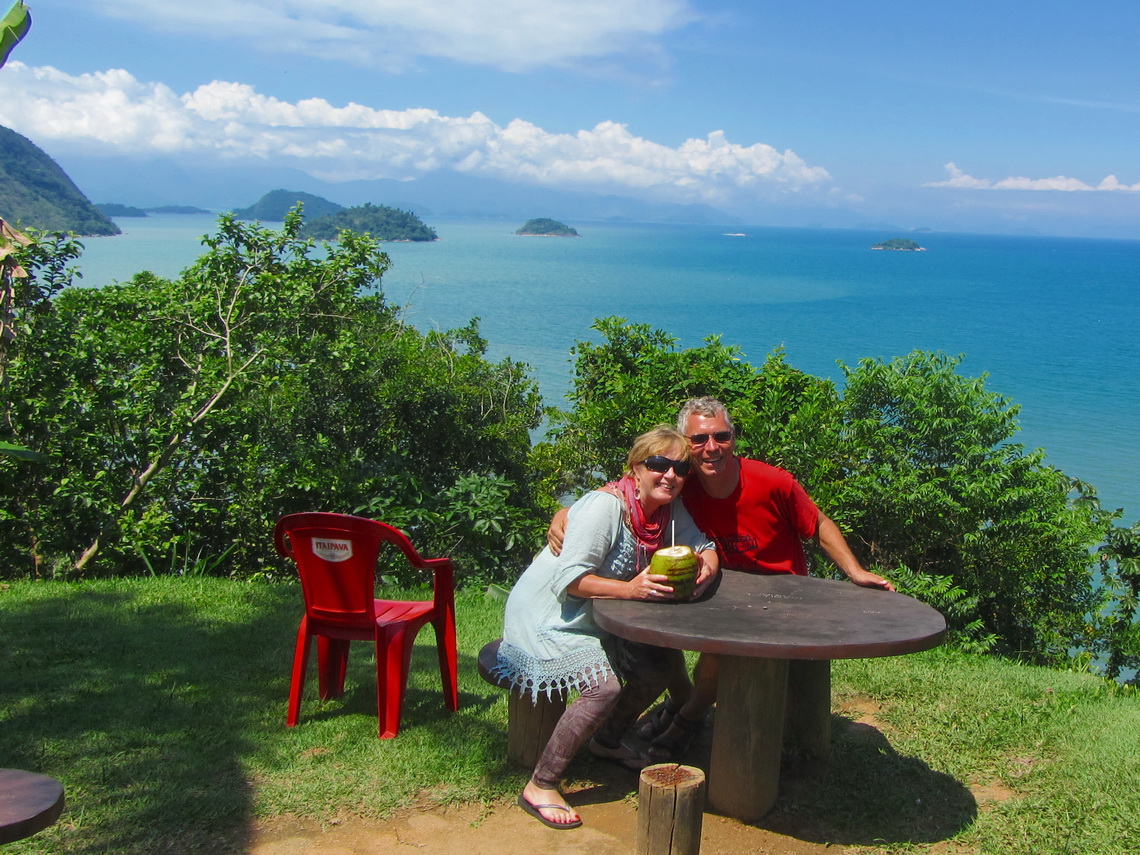 Tuesday, 11 December 2012 17:23
A Cidade Marvilhosa - The Marvelous City offers its visitors and inhabitants nearly everything like endless dreamlike beaches; lush, dense and remote jungle with wild animals, stunning trees and beautific flowers; sharp and rocky pinnacles; numberless interesting museums and galleries; huge football stadiums and famous teams; bustling exiting nightlife; and large shopping malls. It is a worldwide unique and spectacular synthesis between ocean, mountains, rain forest and human settlements including a lot of skyscrapers.
We felt not being in a metropolis with more than 7 million people because it has many different centers and quarters with large green oasis in between, even a National Park - Tijuca. Its size is really gigantic, for instance: The beeline is more than 40km from the pristine beaches of Guaratiba to the center of the city.
But the host of the Olympic Games 2016 and final game of the Soccer World Championship 2014 has also some drawbacks like poverty, social inequalities, high crime rate, endless traffic jams and still massive pollution.
It was a sunny day when we traversed the more the 10km long bridge over the bay Baia de Guanabara between Rio de Janeiro and its little sister town Niteroi. The views from the bridge were fantastic. A huge vessel looked very familiar.


Thursday, 22 November 2012 14:50
The main attraction of Teresopolis is the marvelous Parque Nacional Serra dos Orgaos with stunning shaped mountains like Dedo do Deus (God's finger) with altitudes up to approx. 2300 meters. It stretches Northeast of Rio de Janeiro along the coast of the Atlantic Ocean. It is part of the rain forest and consequently precipitation is huge. Two entrances into the park are close to Teresopolis with trails, natural swimming pools and good campsites.

Between the two mid-sized cities of Teresopolis and Nova Friburgo is the scenic Tere-Fri circuit with gorgeous winding roads. Teresopolis is named after the Empress Maria Teresa from Habsburg. She was the wife of Dom Pedro II, the Emperor of Brazil in the second half of the 19th century for 49 years. Families emigrated from the Swiss canton Friburgo founded Nova Friburgo in 1818.
The charming village Arraial do Cabo is one of the first settlement in America: Amerigo Vespucci landed here in 1503 and left 24 men. It is located on the beautiful peninsula Cabo Frio with islands, mountains, cliffs and beaches with clear and turquoise waters.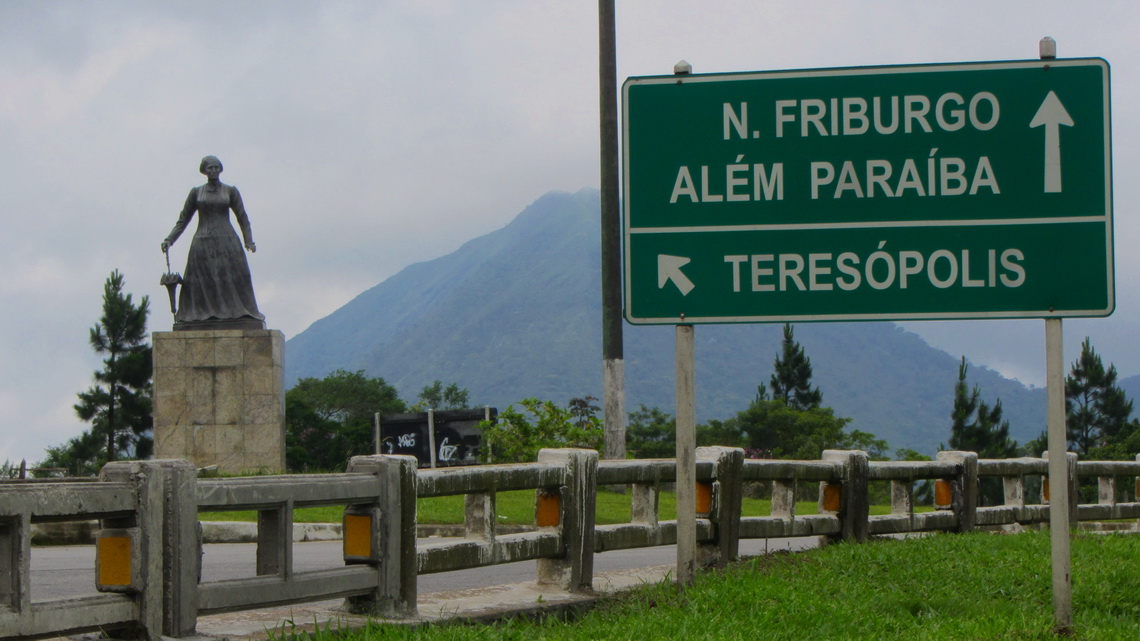 Friday, 09 November 2012 14:49
The Caparao National Park on the border between the Brazilian states Espirito Santo and Minas Gerais contains southern Brazil tallest mountains including 2892 meters high Pico da Bandeira. Besides its relative modest altitude (for South America) it is a geographical point of superlative because no other mountain in a circle of more than 2500 km is higher. Just two peaks on the Brazilian / Venezuelan borders are a little bit taller in Brazil. Accessibility of this mountain is easy including fabulous hiking trails and cozy campsites.
Thanks to gold found in its mines, Minas Gerais is famous for its baroque colonial towns like Ouro Preto, the jewel in the crown and Brazil's first World Heritage site.
100km East of Caparao is the pretty German-style town Domingos Martins. Street names are in German and there are clubs like the Bergfreunde to preserve the culture of the immigrants, mainly from Pomerania and Hunsrück. Natural treasures like the waterfall Cascado do Galo and the dramatic rock Pedra Azul are nearby.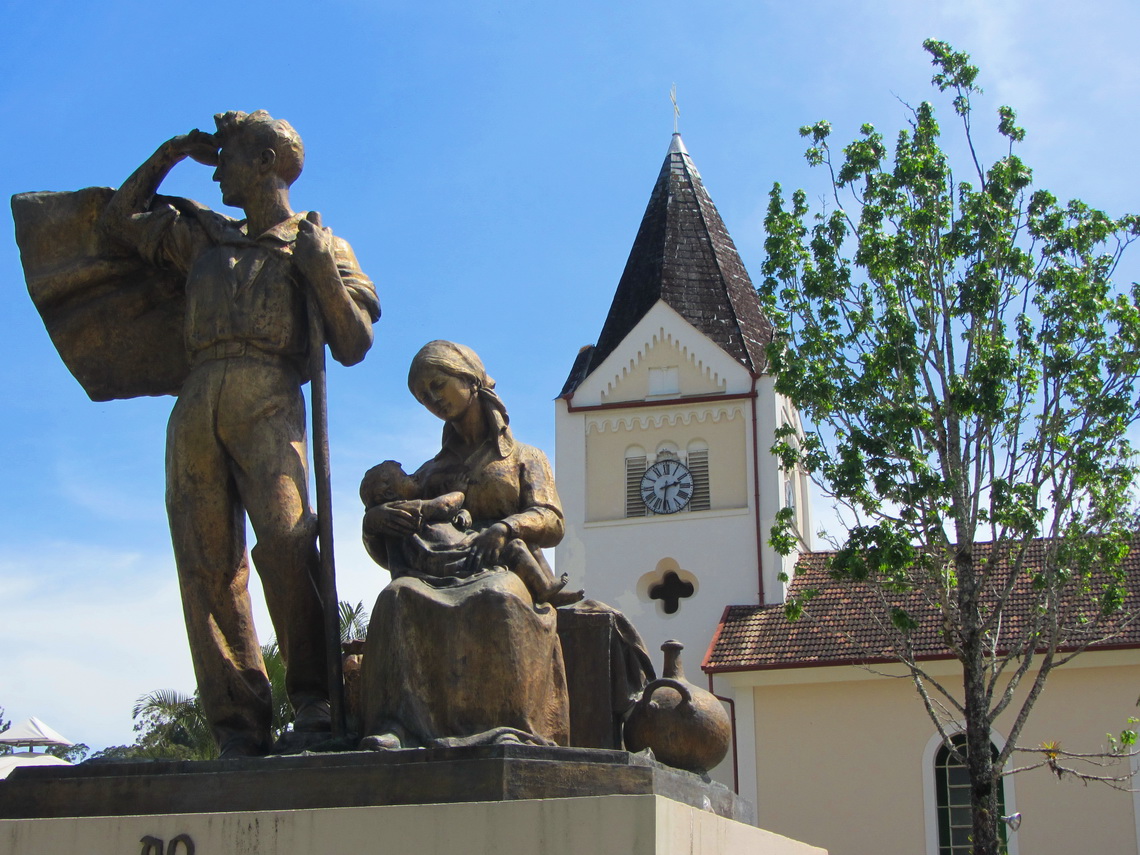 Sunday, 28 October 2012 15:20
Salvador de Bahia was the former capital of the Portuguese New World colony and is now the stunning Afro-Brazilian metropolis in South America with more than 3 million inhabitants. It is a magnificent jewel with beautiful colonial buildings, powerful people and gorgeous coastline. It might be the best place outside of Africa where the descendants of the slaves have preserved mostly their culture and heritage.
40 kilometers North of Salvador is the outstanding beach village Praia do Forte with a TAMAR station, which is a research project to protect Sea Turtles. Eggs are collected on dangerous places on the nearby beaches and embedded here till the little Sea Turtles are hatching. It includes an interesting visitor's center.

South of Salvador are the touristic paradise Morro de Sao Paulo on the island Ilha de Tinhare, the wild beaches of Itacare and the marvelous home town Ilheus of Jorge Amado, maybe the most famous novelist of Brazil. Terrific and touching is the National Park Monte Pascoal, which is managed by the gentle indigenous Pataxo people.

We came in time to Salvador to meet Alfred's cousin Vera, who had organized a tour of the orchestra Klangverwaltung München (Management of sounds, Munich) in South America. For us it was an unforgettable wonderful experience to listen to this orchestra, conducted by Enoch zu Gutenberg. They played classical music from Mozart, Haydn and Schubert.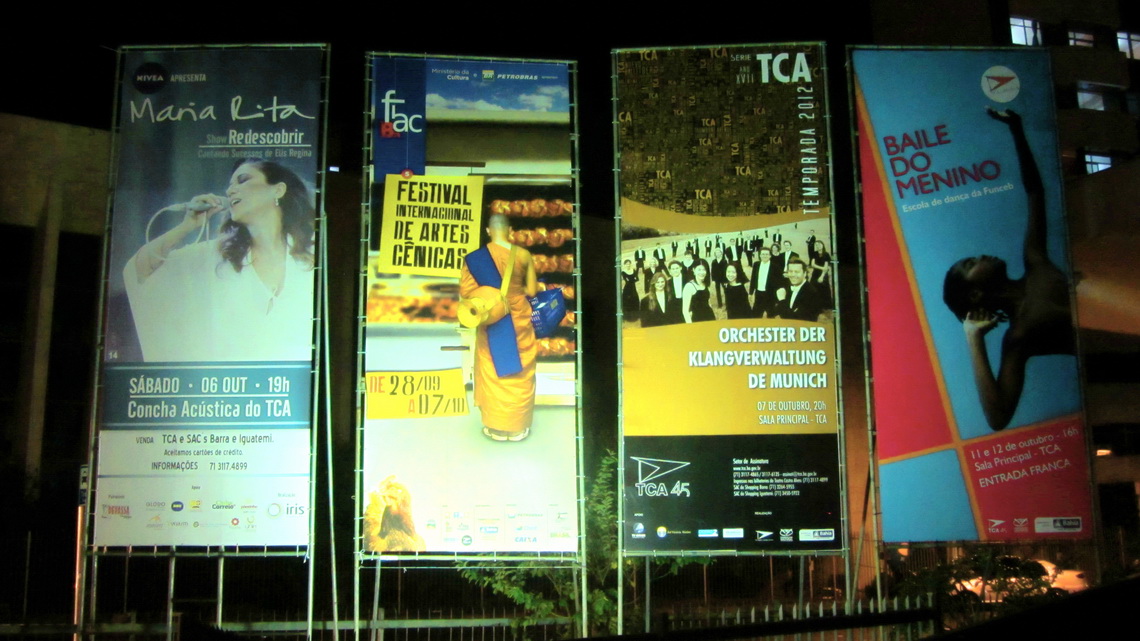 Friday, 19 October 2012 00:37
The marvelous highlands Chapada Veadeiros and Chapada Diamantina are treasures of nature with unique landscapes, scenic canyons, grassy valleys, beautiful cascades, nice swimming pools with crystal clear water, abundant flora and fauna.
The first one is 200km North of Brasilia. Its main entrance gate is the kooky town Alto Paraiso de Goias with some spiritualization and many interesting people from overall the world. Few kilometers west is the pretty little village Sao Jorge where a lot of youngsters and oldies wear dreadlocks. Between the two sites is one of the main attraction: The Vale da Lua, the Brazilian Moon Valley.
The 400km West of Salvador located huge Chapada Diamantina achieves altitudes of more than 2000 meters sea-level and has the highest mountains in the Northeast of Brazil. Morro do Pai Inacio is probably one of the most climbed mountain in Brazil. The former diamond-mining town Lencois is a perfect base to explore the Chapada Diamantina.
Thanks to geocaching we enjoyed the superb hike Indaia after we had left Brasilia. There are six waterfalls on its way and finally we arrived at the top of the 168 meters high Itiquira falls after few hours walking, bathing and swimming. All details including useful way-points are described in the Geocache GC265JH (Guardando na memoria ...).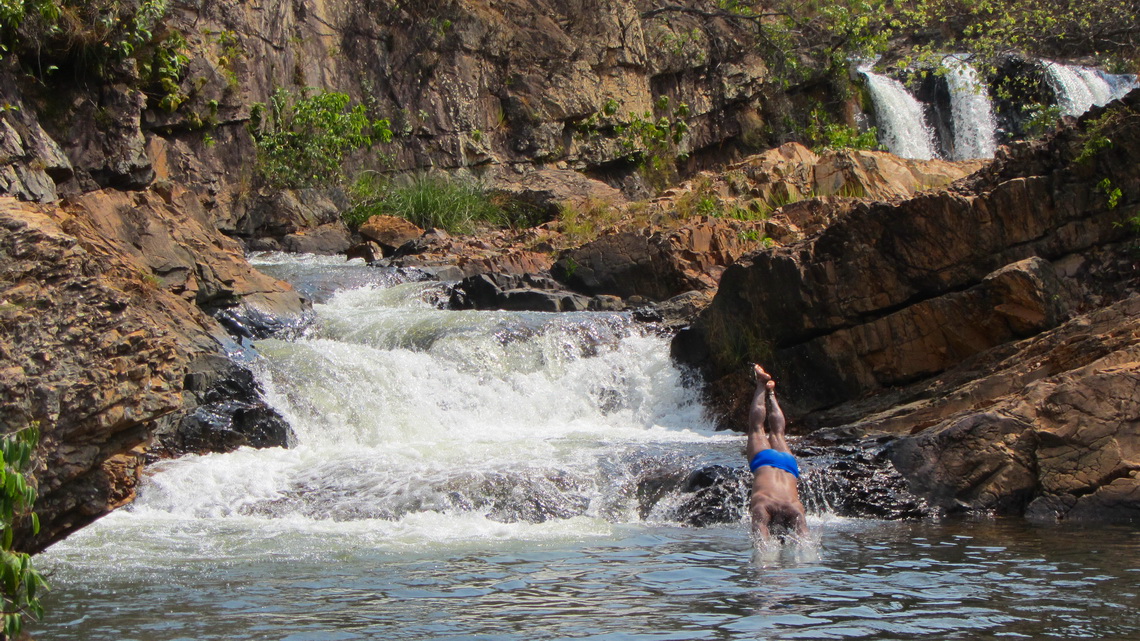 Wednesday, 26 September 2012 21:05
Brasilia is Brazil's futuristic capital in the center of the vast country since the year 1960. It was built in the 1950s after a long period of planning and struggle to move the capital from Rio de Janeiro to the middle of nowhere. Former President Juscelino Kubischek - JK - was the main driver of this urban project, unique in the world. Besides the military the architect Oscar Niemeyer was one of the key players for its construction. It is a city of bureaucrats and government with modern, remarkable and some stunning buildings. It is the only city in the world created in the 20th century awarded UNESCO World Cultural Heritage.
The little town Pirenopolis is one of the main weekend destination of the inhabitants of Brasilia. It is a mixture of Portuguese colonial architecture, art decor and hippie vibe in a marvelous hilly landscape with wonderful waterfalls.

Cidade de Goias is another city in this region which achieved UNESCO World Heritage status. It is like an open museum with many beautiful baroque churches, colorful colonial buildings and narrow cobblestone streets.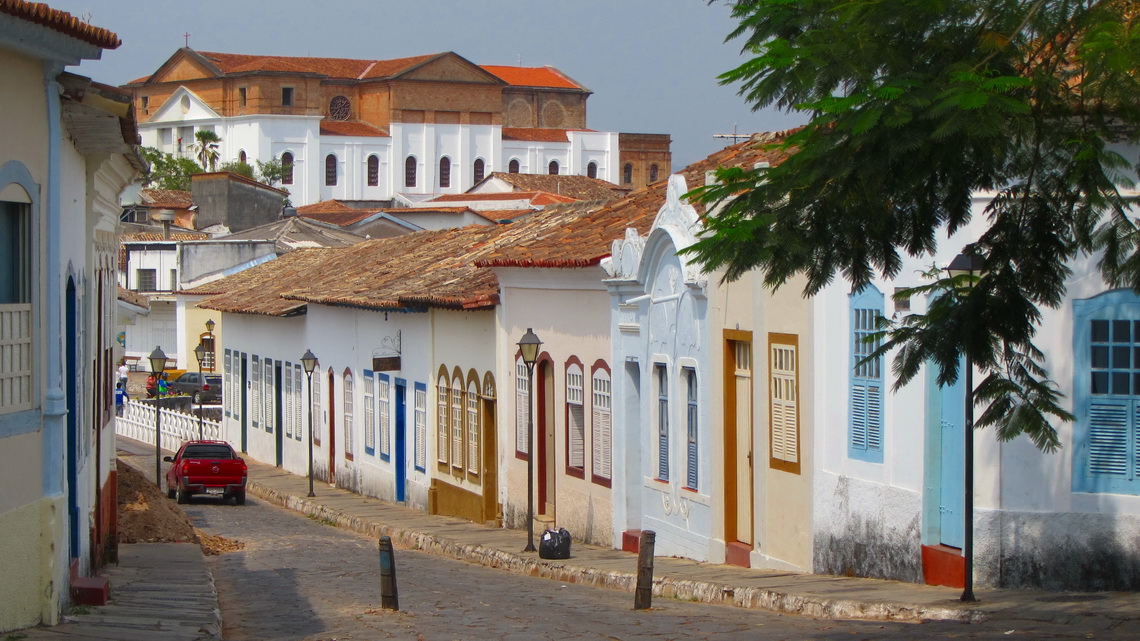 Page 5 of 10