Friday, 11 December 2015 20:20
The peninsula Yucatan in the northern east corner of Mexico is a wonderful treasury with magic Maya ruins, marvelous Caribbean beaches with exciting sea-life, nice colonial towns and mystical cenotes. A cenote is a natural sinkhole, resulting from the collapse of limestone bedrock that exposes groundwater underneath. It is a huge platform of limestone with an extreme karst nature. There are no visible rivers but it has the longest known on earth in the subsurface. Consequently the cenotes are and were important for human water supply. They were holy for the Mayas and public access was forbidden.
Like the cenotes you find Maya ruins nearly everywhere. Most famous are the UNESCO world heritage sites Uxmal and Chichen Itzá. The latter one had been elected one of the seven wonder of the world few years ago.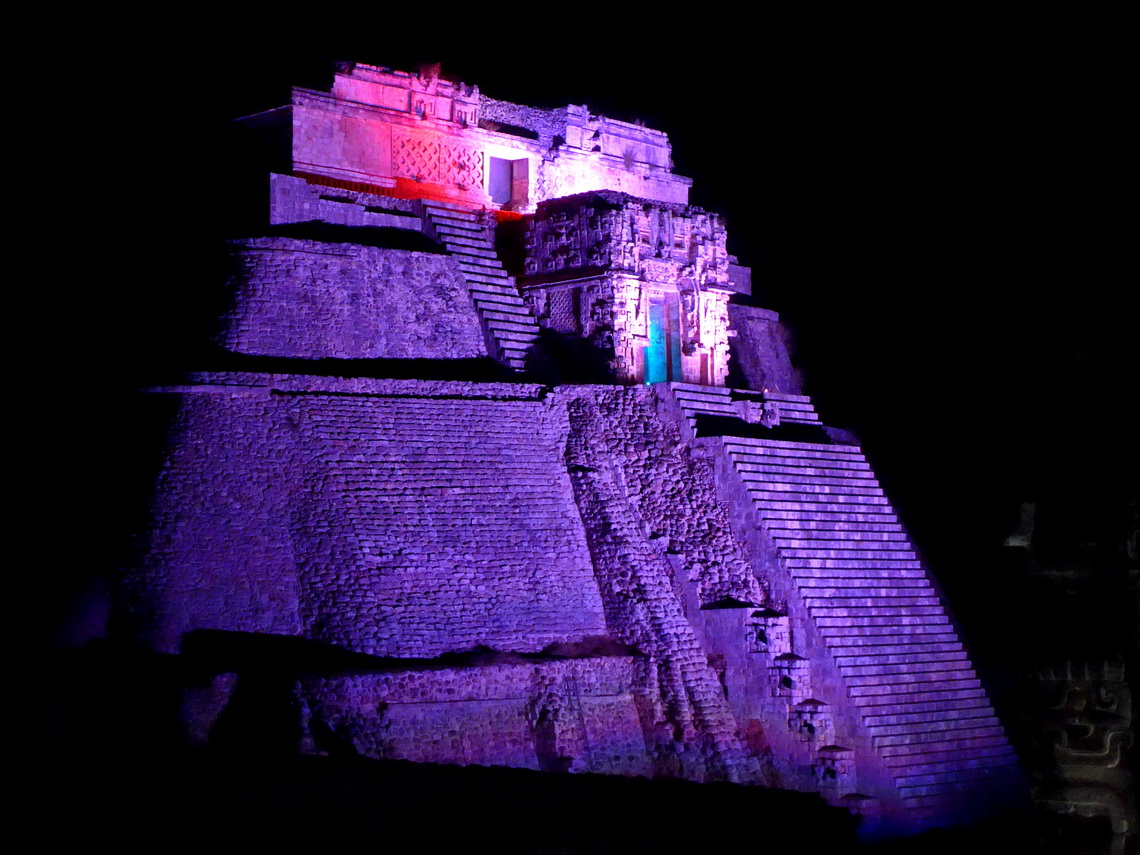 When we entered Yucatan we had a scary experience. Later it turned out that it was less severe.
We slept on the little campsite Centro Conservación de la Vida Silvestre (GPS coordinates: N18° 36.136' W90° 42.182') and found the first campers from Europe after we had left San Cristobal de las Casas: Our friends Monique and Andre from Belgium. Of course we celebrated our reunion with two bottles of red wine. Nobody else was on the site even not for charging us the fee. When it was dark and we had emptied the two bottles Alfred knocked on the door of the small house which is located in the camping area - No answer. He opened the door and saw the following stuff on the beds: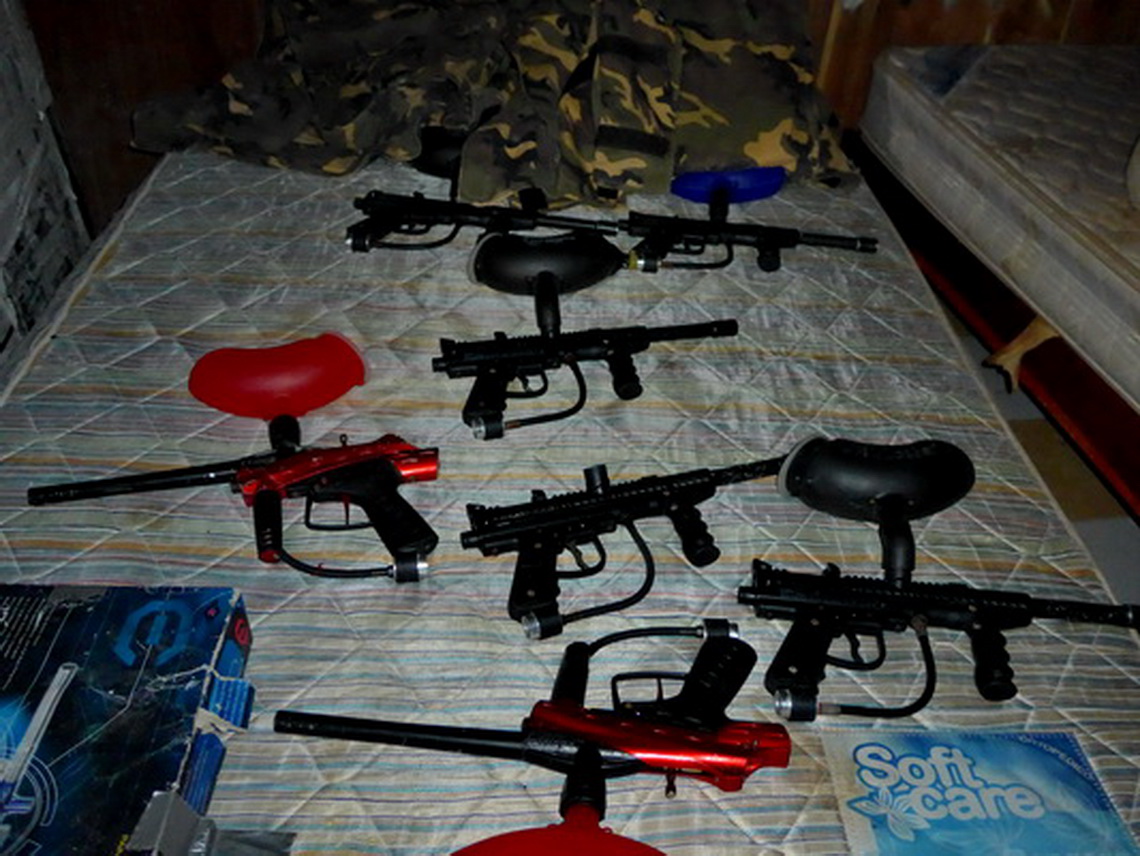 We would like to point out that we have no glue about weapons. Marion was so horrifies that she was not able to sleep in the night. More scary was that the guns had been disappeared in the night when Monique and Andre wanted to see them. But when Marion's brother Tommy came to Yucatan three weeks later he was laughing seeing this picture. These are just harmless soft guns to shut paint for exercises. But still we are more than thoughtful about this issue.
The colonial town of Campeche is an UNESCO world heritage site. Immediately we felt in love with this wonderful bustling city. Between its Malecon and old city we found a safe parking lot where we could spend the night (GPS coordinates: N19° 50.812' W90° 32.314') and park our car to explore Campeche at night.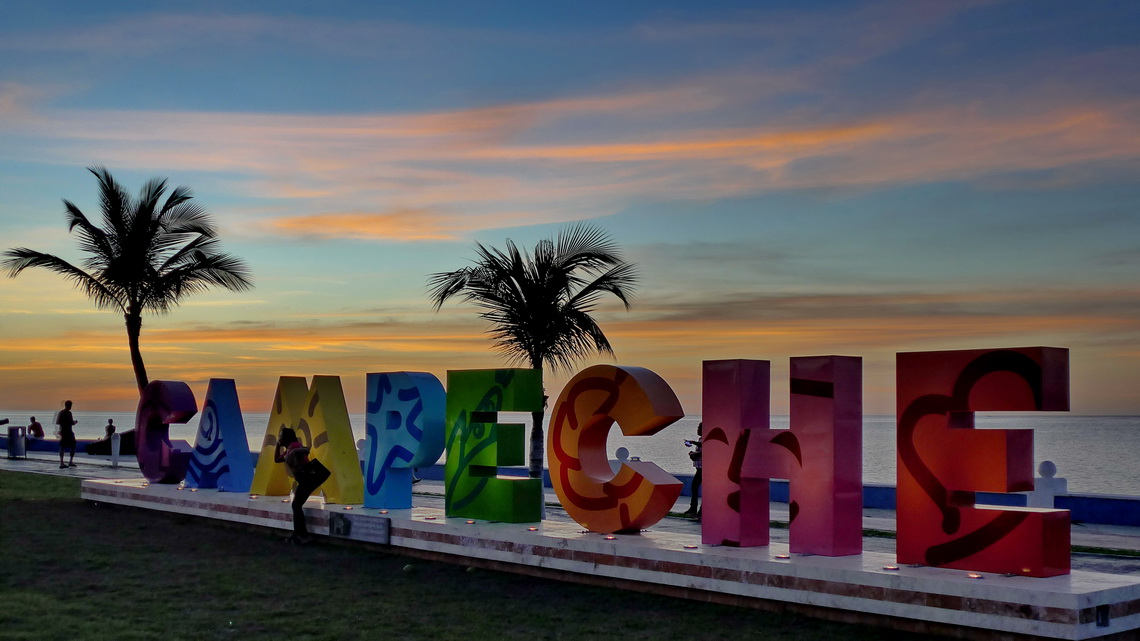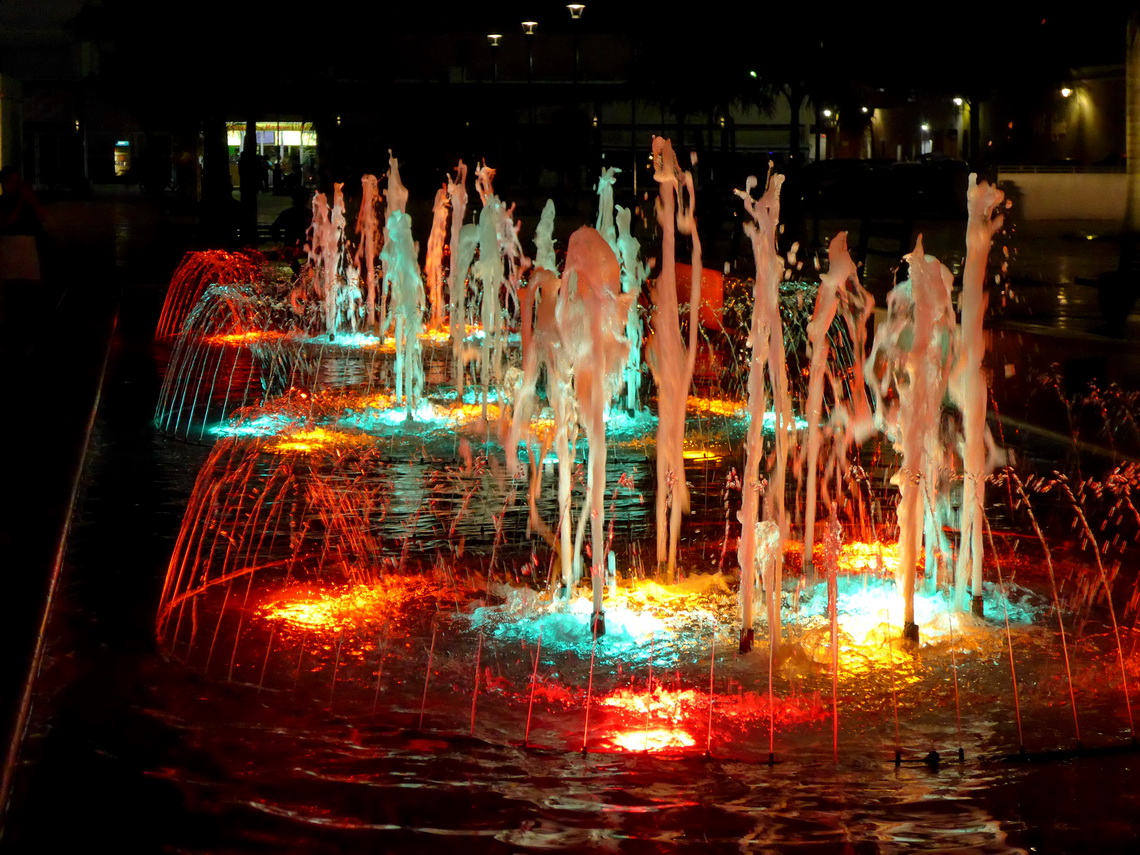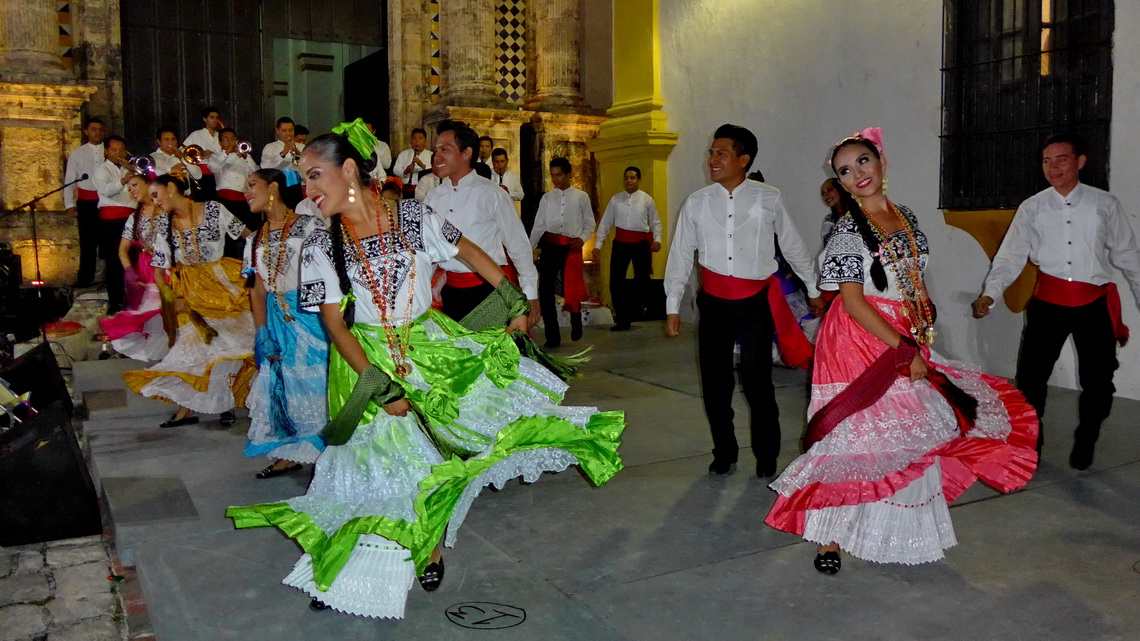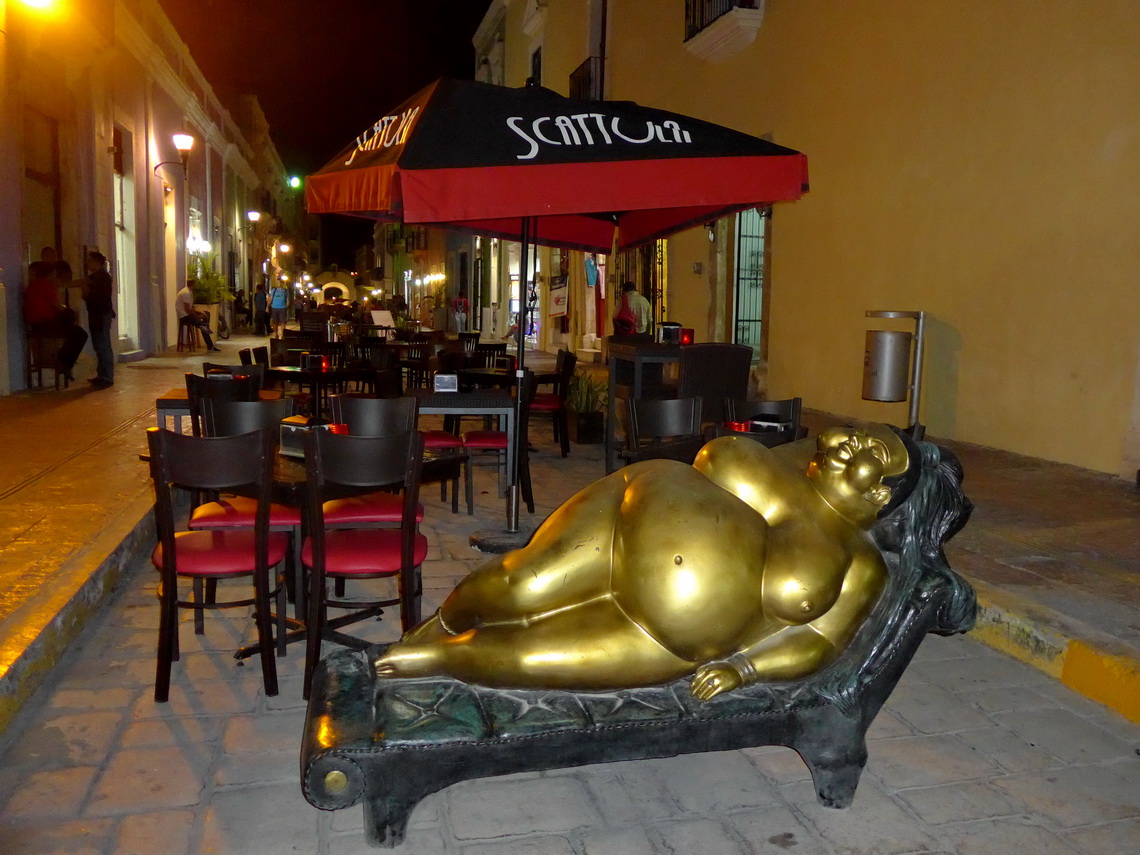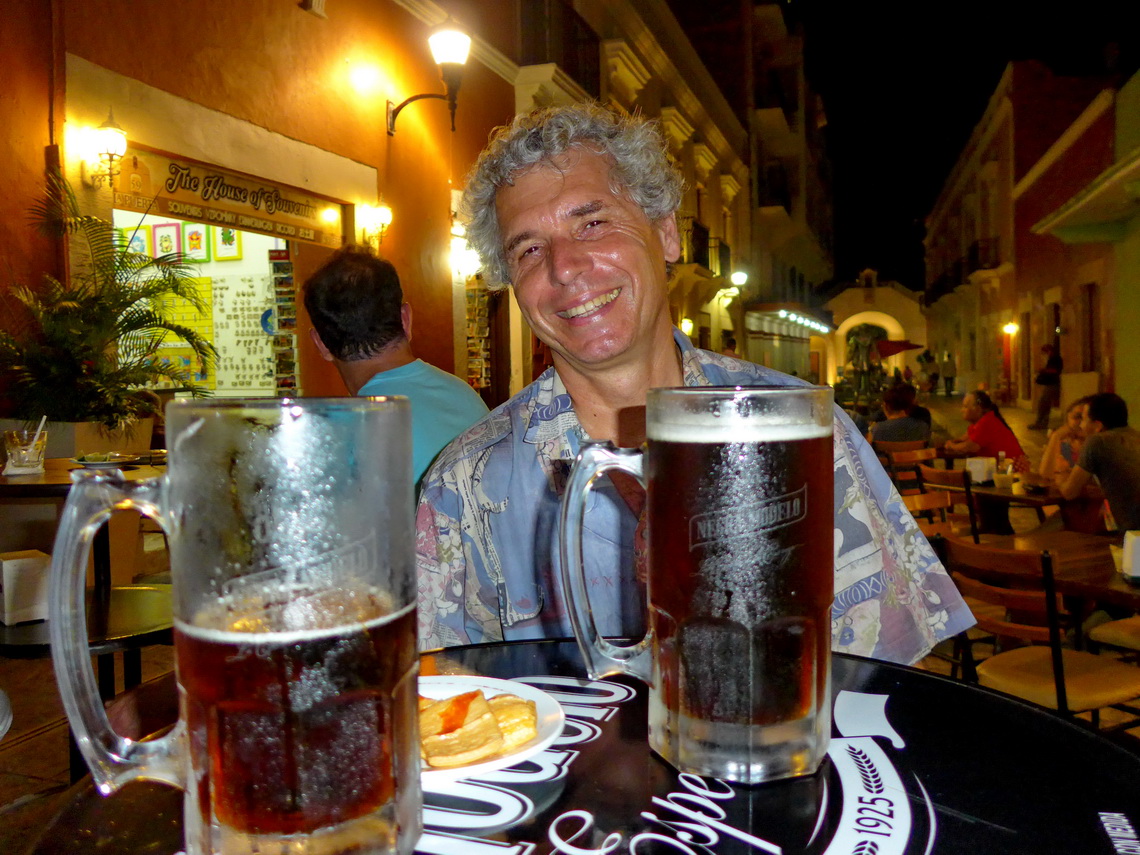 After we had visited the interesting Maya ruins Edzná and Kabáh we found the impressive caves Grutas de X'Tacumbilzuna'an few hundred meters away from the main road MEX261, where we could stay the night (GPS coordinates: N19° 59.462' W89° 45.860'). The illumination of this huge cave is brilliant and somehow kitschy.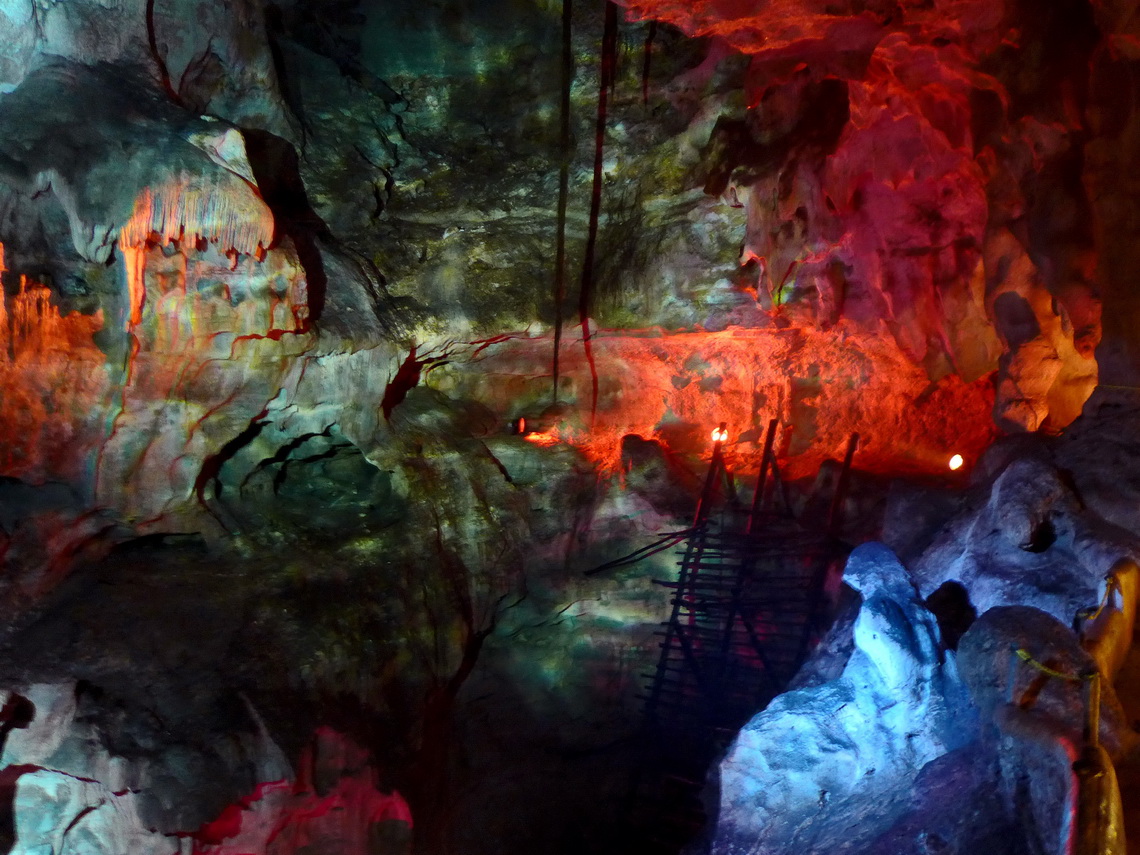 November 20th is the Day of the Revolution in Mexico and of course a national holiday day. One day earlier we saw primary school kids parading on the main square of the little village Bolonchen de Rejon which is located few kilometers northeast of the caves. Older kids and younger adults were dancing on the Day of the Revolution in nearly every settlement.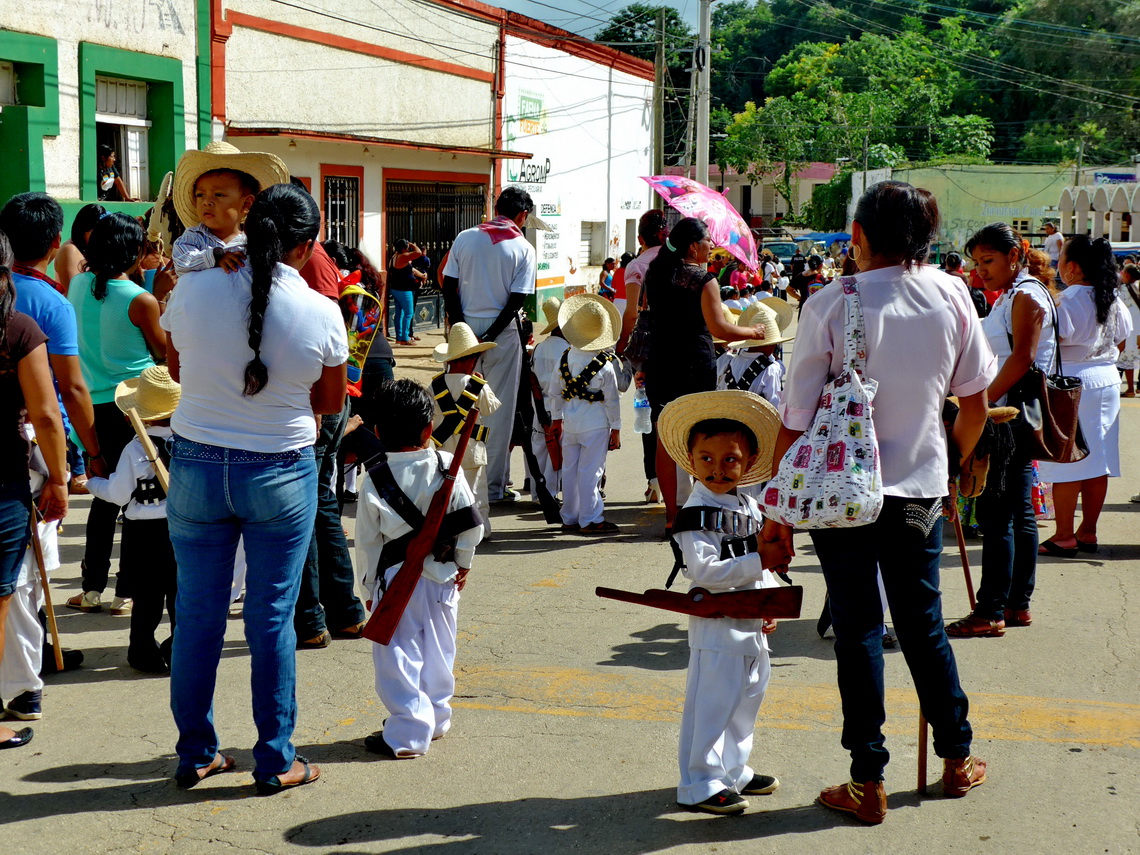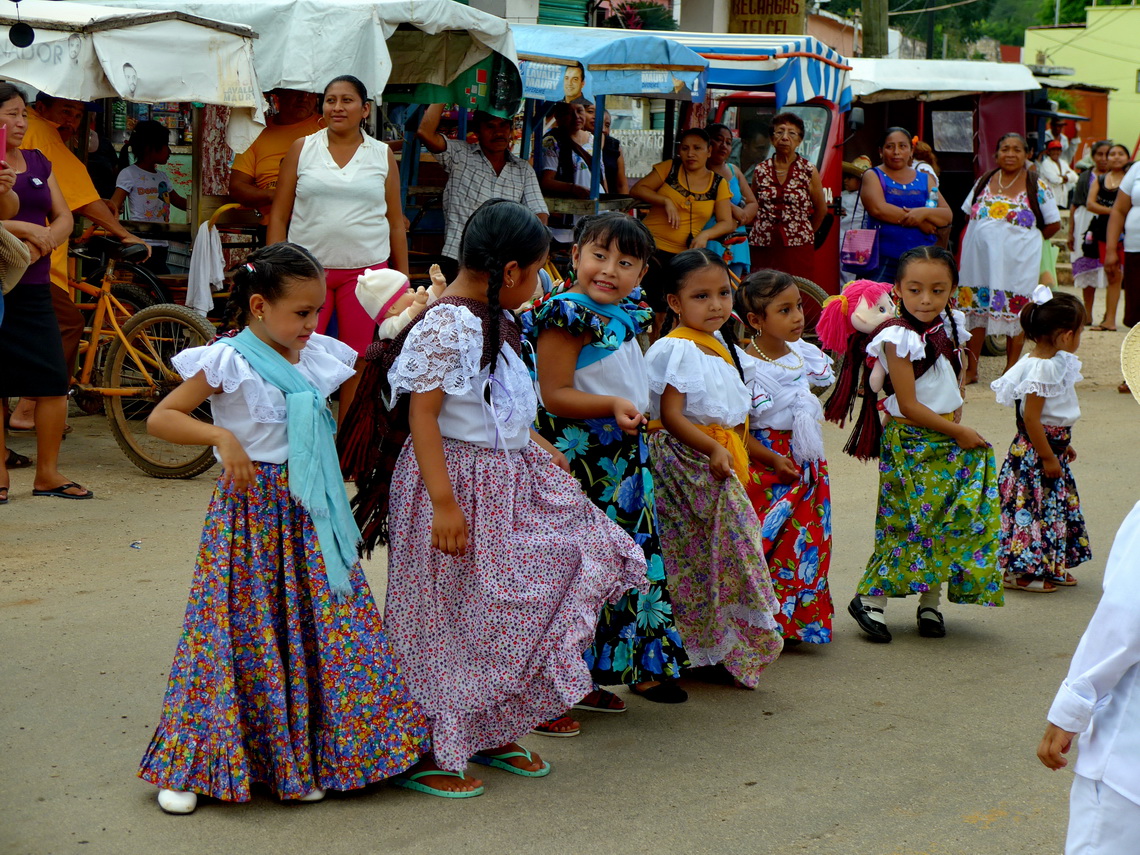 The Maya ruins Uxmal are outstanding. At night we enjoyed a stunning light show in the ruins. Staying the night in a camper is allowed close to the main parking area (GPS coordinates N20° 21.678' W89° 46.082').
Our first cenotes in Yucatan were X-Batun (GPS coordinates: N20° 40.382' W89° 46.378') and the close X-Lakah. We could spent the night on the parking lot of the first one and could enjoy the fresh water in the evening and morning without other people.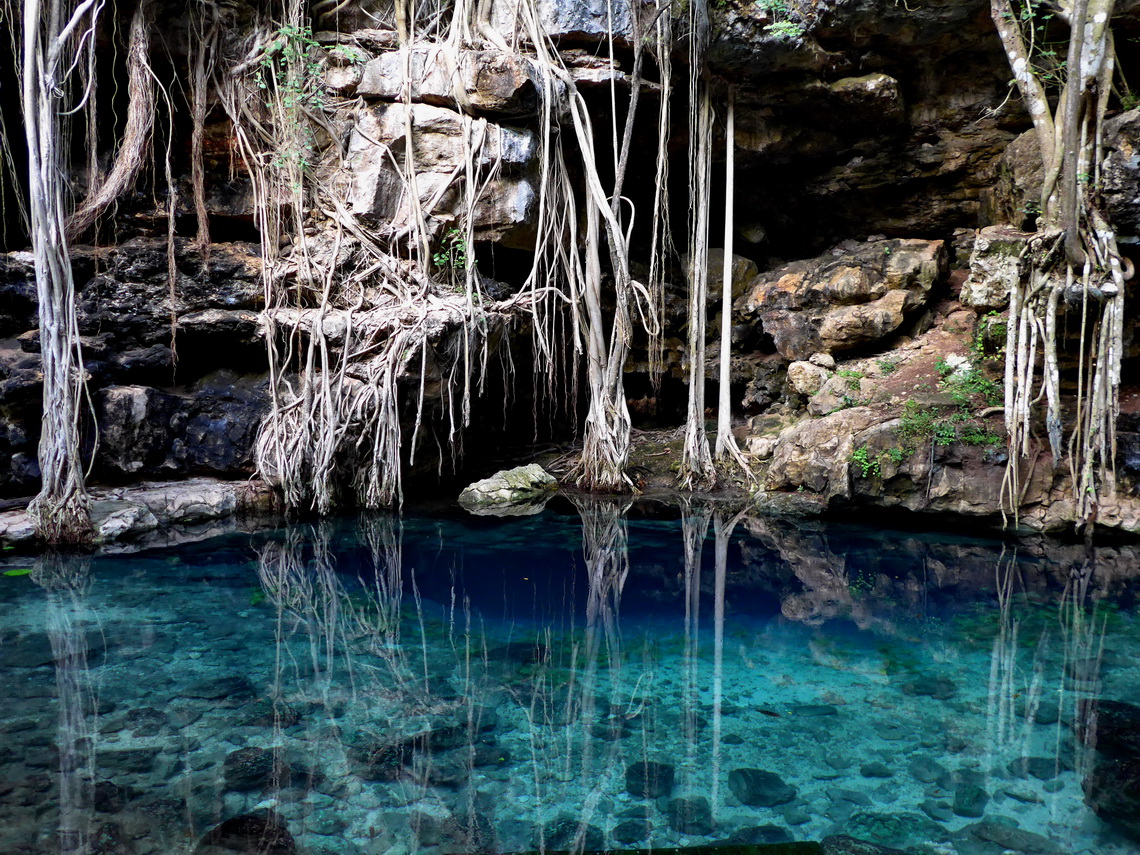 Merida is an interesting town. It is with more than 800,000 inhabitants the major city on the peninsula Yucatan. We spent four days on the RV Rainbow campsite (GPS coordinates: N21° 02.512' W89° 37.751') to do laundry and fix some minor issues on our car. It is located opposite of a huge shopping mall.
Next we wanted to see the ocean and we continued to Progreso, the major seaside resort of Merida and the north coast of Yucatan. A perfect sleeping place with any costs is directly on its Malecon opposite of the Oxxo shop (GPS coordinates: N21° 17.296' W89° 39.448'). Unfortunately the water of the Gulf of Mexico is in Progreso so murky and shallow that we did not dare to jump into the ocean. But walking on its beaches is peaceful and relaxing. Marvelous is the street eastwards between the ocean and several lagoons which ends in Dzilam de Bravo, where we spent another night directly on the beach (GPS coordinates: N21° 23.666' W88° 53.184').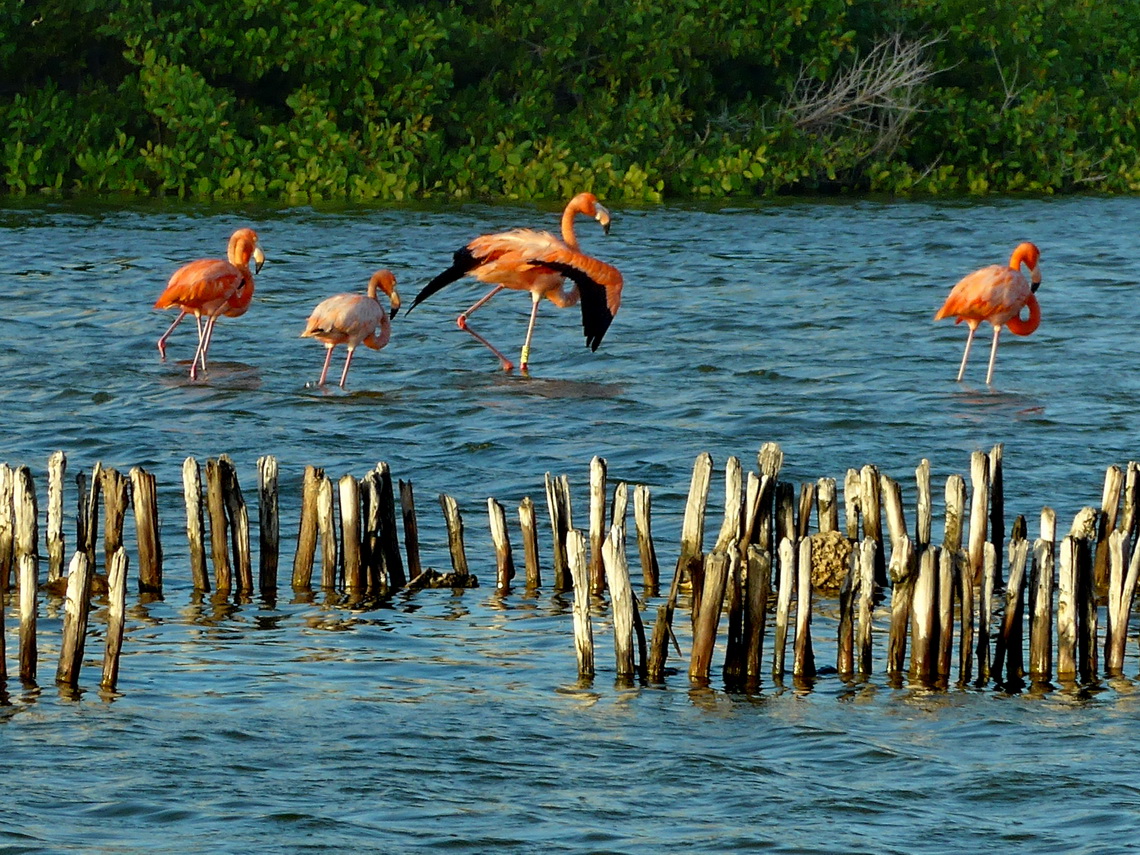 We loved Izamal, a little town between Merida and Cancun. It is an old colonial town with a huge monastery. In the inner city all houses including the monastery are painted yellow. Some Maya ruins are in town like the enormous pyramid Kinich-Kakmó which provides stunning views to the jungle. At the second night we enjoyed per coincidence our first bull fight in Latin America, fortunately not bloody!
And we found Harald from Austria who had renovated the farm Hacienda Santo Domingo into a real piece of jewelery. The dinner served in front of the pool was delicious including the best cheese cake we had in Latin America so far (GPS coordinates: N20° 55.743' W89° 00.547').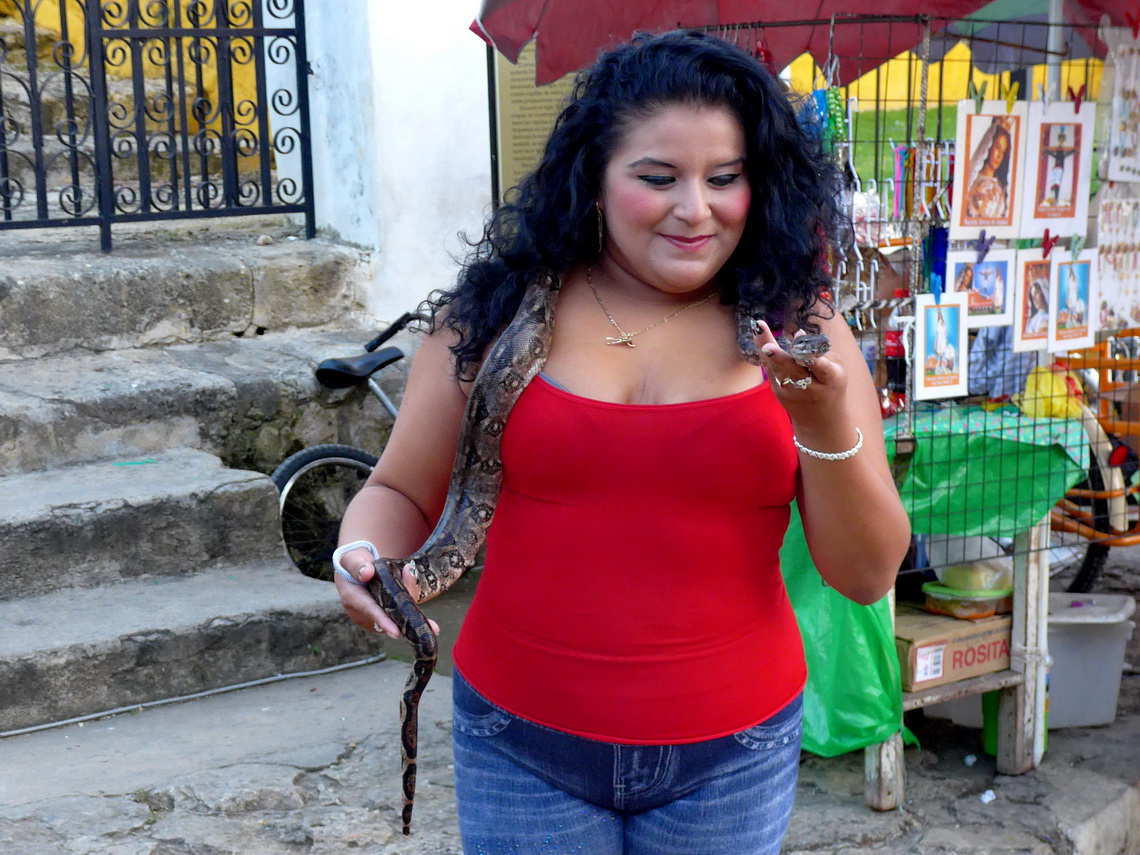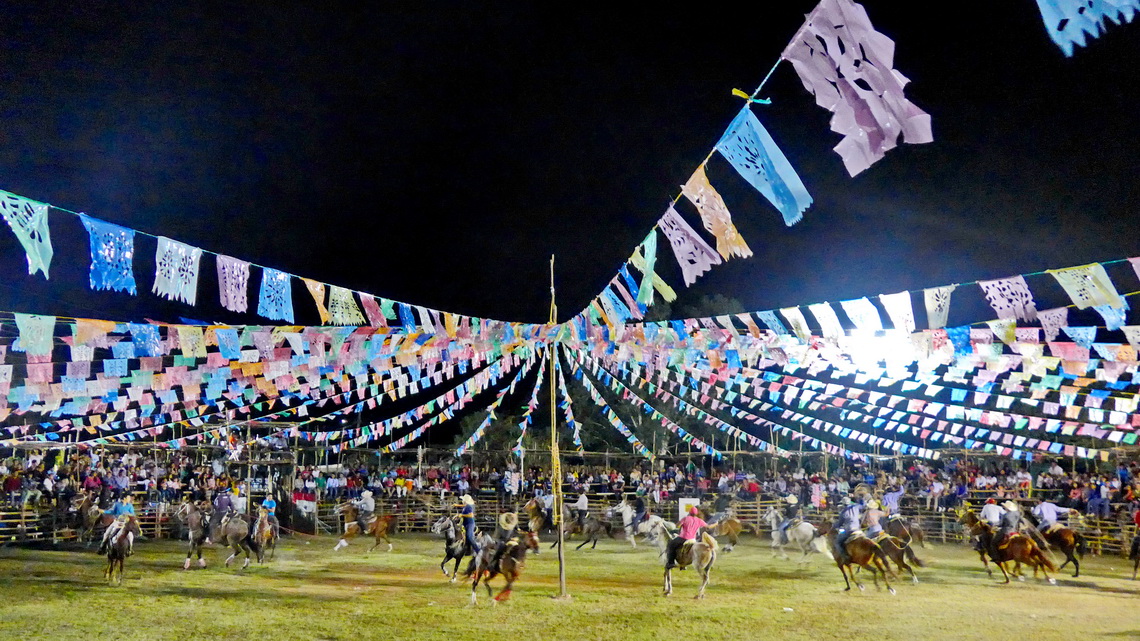 Very special is the Cenote Chihuan few kilometers southeast of Izamal in the village Holcá. A lake is located in a closed cave, where Alfred swam approximately 100 meters into darkness. The distance between the water and the roof with many stalactites was partly just half a meter but there was a huge dome after 50 meters. Finding back was easy because the first part of the cenote was illuminated. A very friendly family allowed us to stay the night on the parking lot for little money (GPS coordinates: N20° 45.635' W88° 55.931').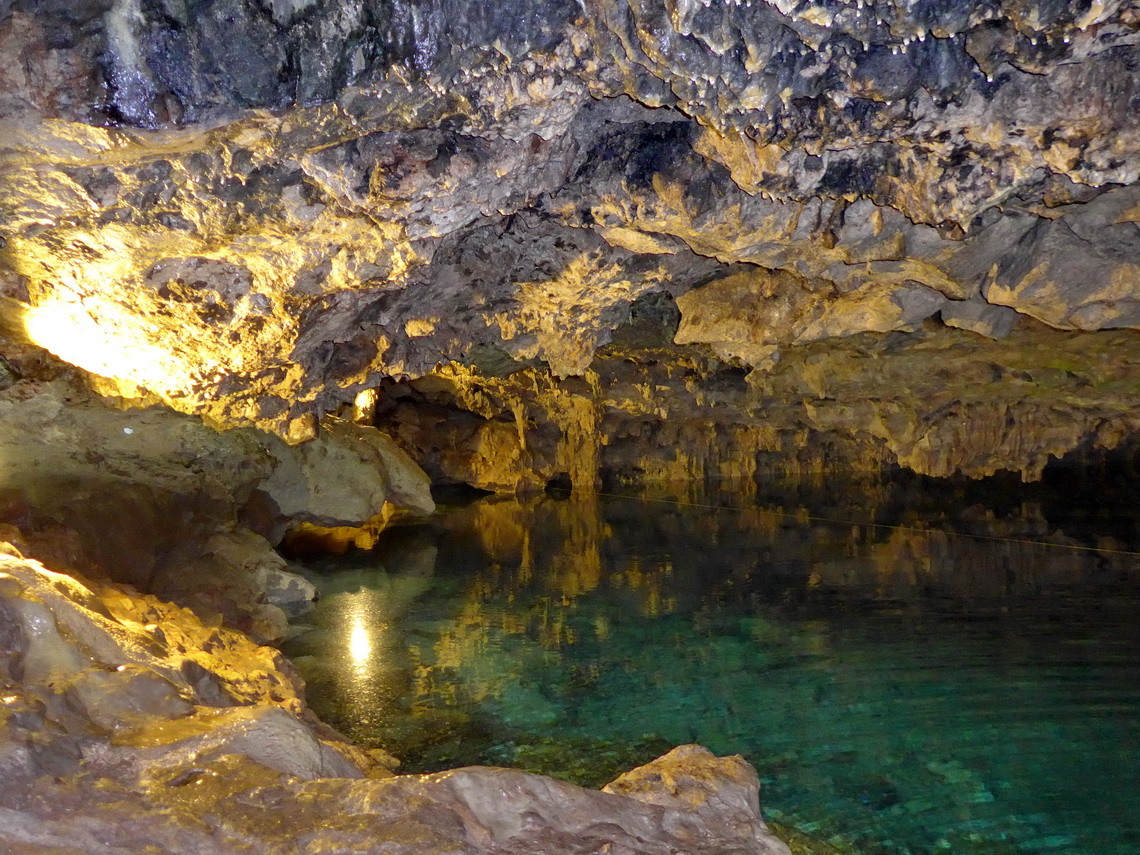 Beautiful is also the Cenote Yokdzonot 18 kilometers west of Chichen Itza. Its open and we could snorkel to explore its underwater life. The area includes a little restaurant and we were hungry like wolves after we had finished our swimming. The lunch prepared by indigenous Mayan Ladies was excellent.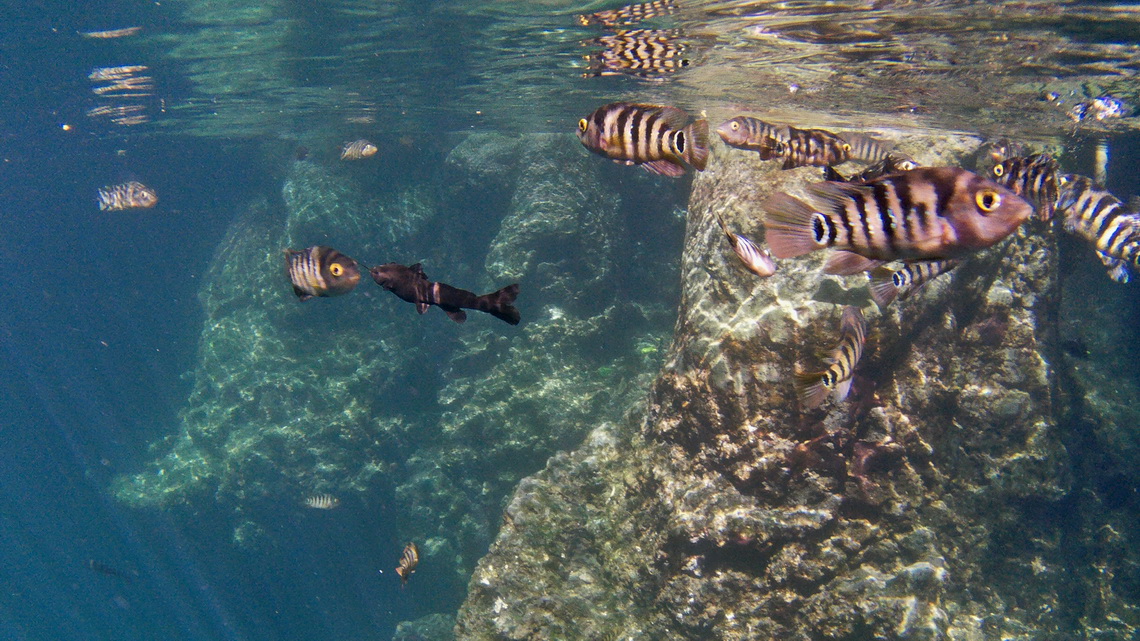 The Maya ruins of Chichen Itza are impressive despite the hype the election of one of the seven wonders of the world had caused. In the morning at 8:30AM were not so many tourists at this site like at noon. But we spent nearly a full day in the ruins and enjoyed its uniqueness, mysteries and spirit. Chichen Itza had been abandoned in the 14th century and nobody knows why.

At night we intended to visit the fabulous light show which is free but you need a special invitation by the tourist office of Merida. There is a website for applying but you need a special registration number. You get this number from your (five stars) hotel or at the tourist office in Merida. Merida is more than hundred away. We talked to the tourist office at the entrance of the ruins and they told us we have to contact the office in Merida. We sent an Email and got immediately an answer: We have to contact the tourist office at the entrance of the ruins!
When we returned to the tourist office of Chichen Itza they asked us to come back at 4:30PM - May they can do something for us. At 4:40PM they gave us a longer letter with a personal invitation for Alfred and said that we must go to the ticket counter at 6:30PM. At 6:30PM the clerk asked us how many tickets we want for the show and finally we had twoin our hands. Sometimes the bureaucracy in Mexico is fascinating.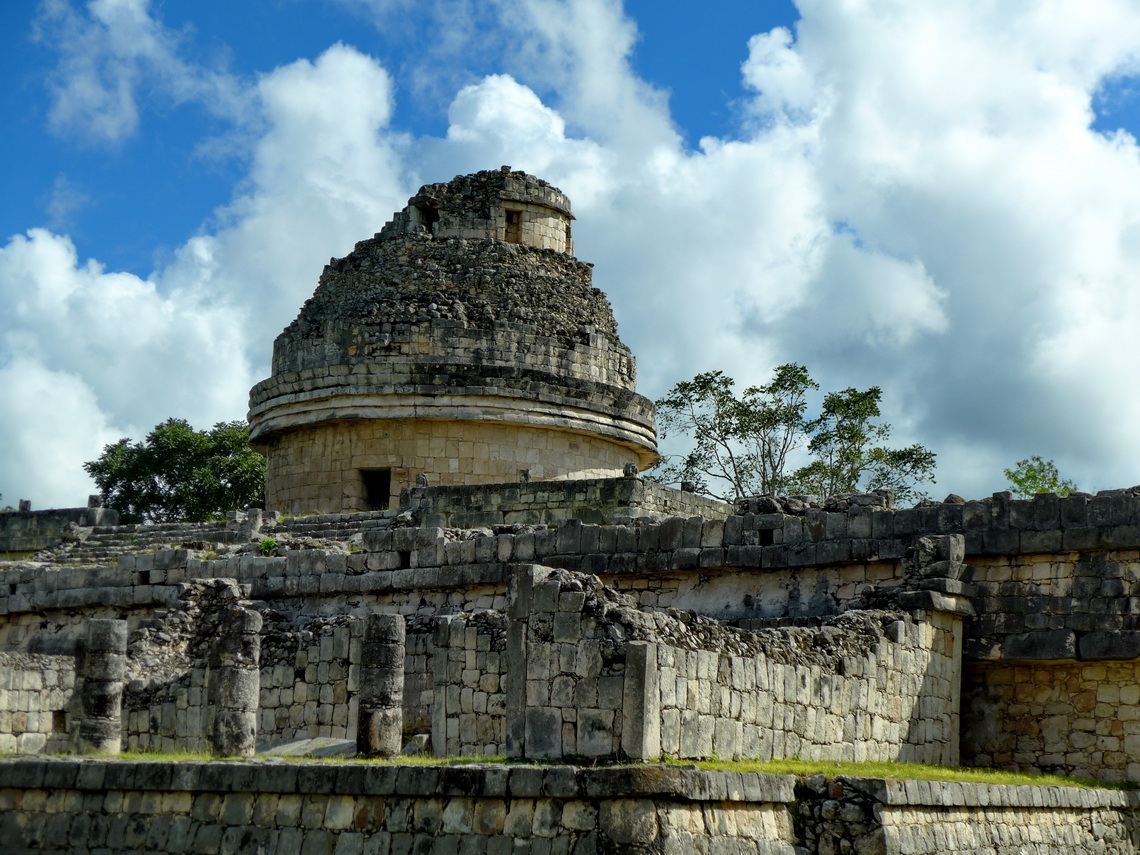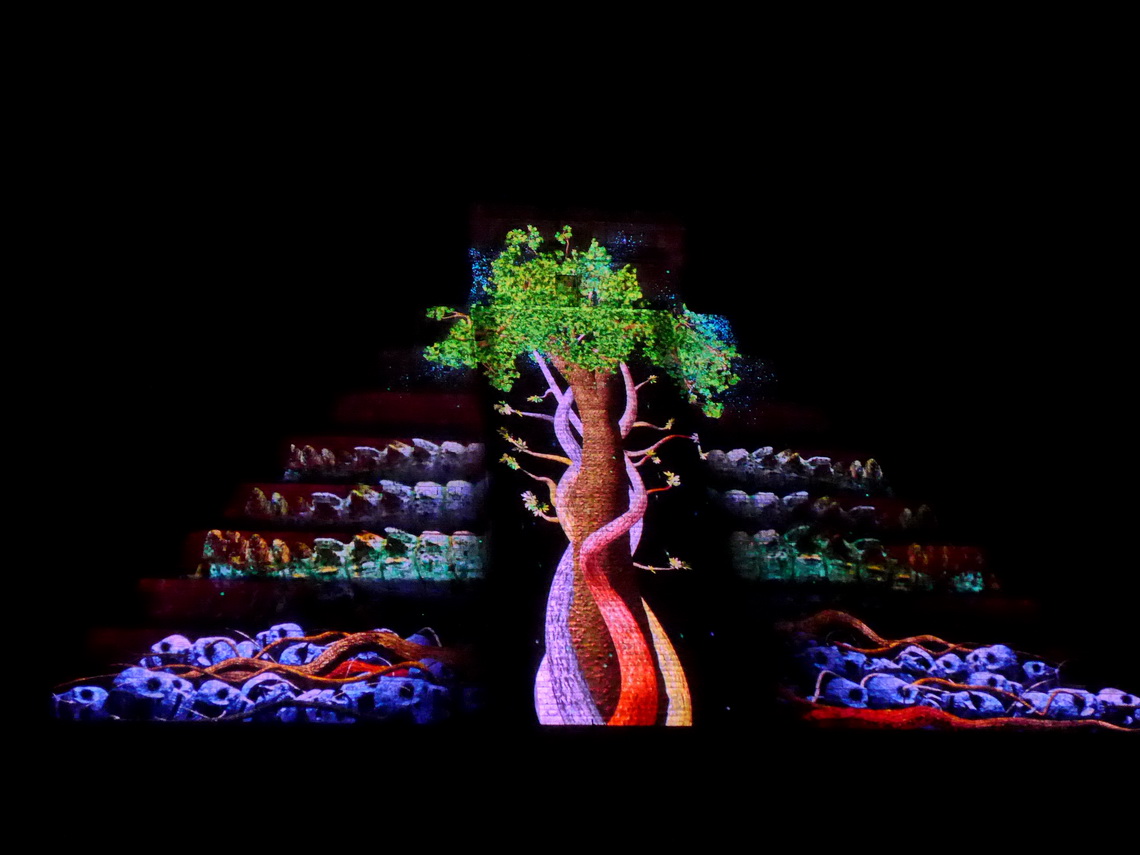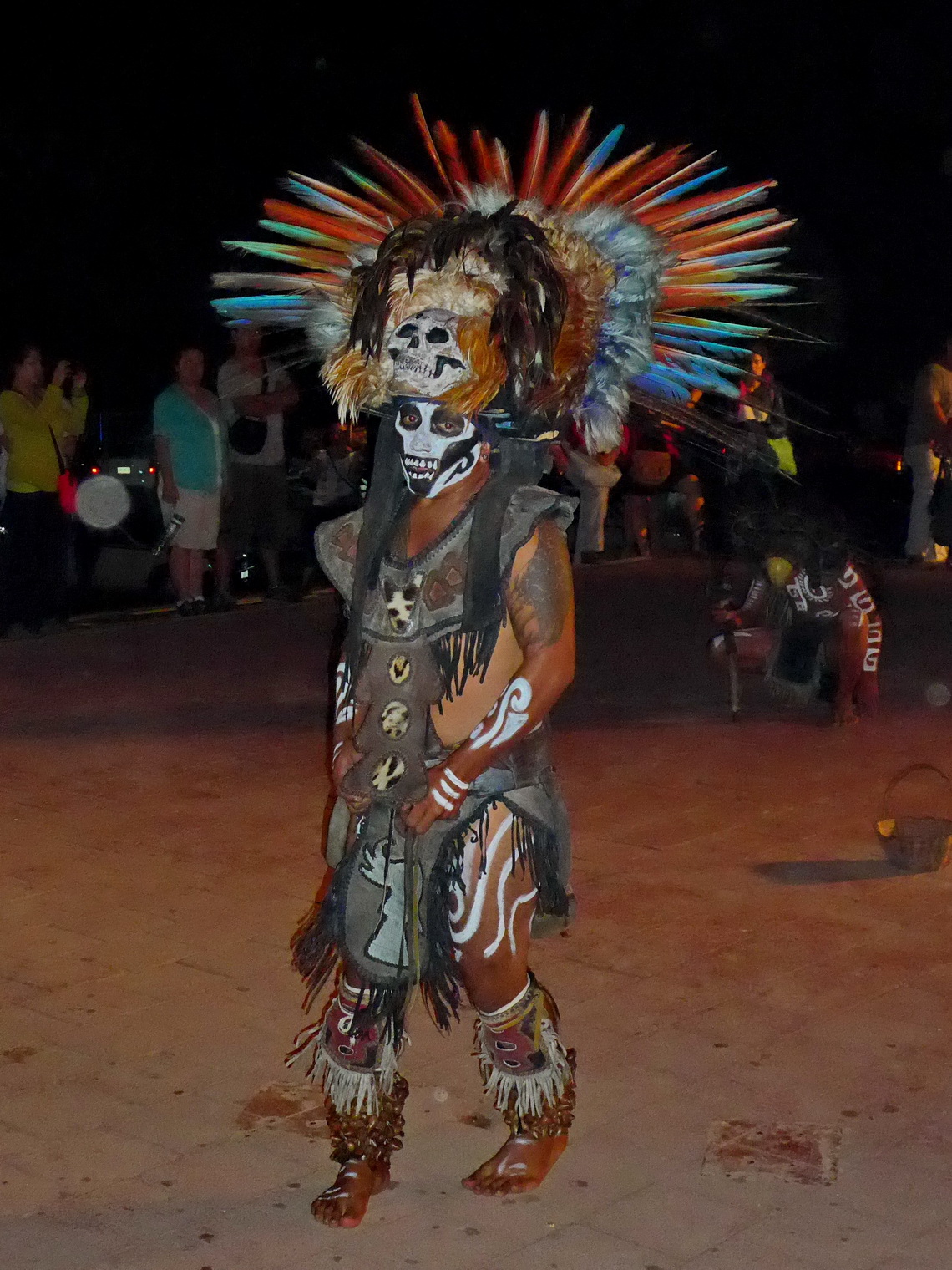 Before we came to Cancun we had the pleasure to swim in four other cenotes. It is so nice to cool down in the cold water on a hot day. The first two were the huge Cenotes Samula and X-Keken few kilometers west of Valladolid. On the other side of the town is the private Suytun Cenote where we could stay the night in front of a holiday resort with all facilities including WiFi (GPS coordinates: N20° 41.845' W88° 07.485'). The last one, Cenote Sac-Ha was a deep and dark cave in the village X-Can.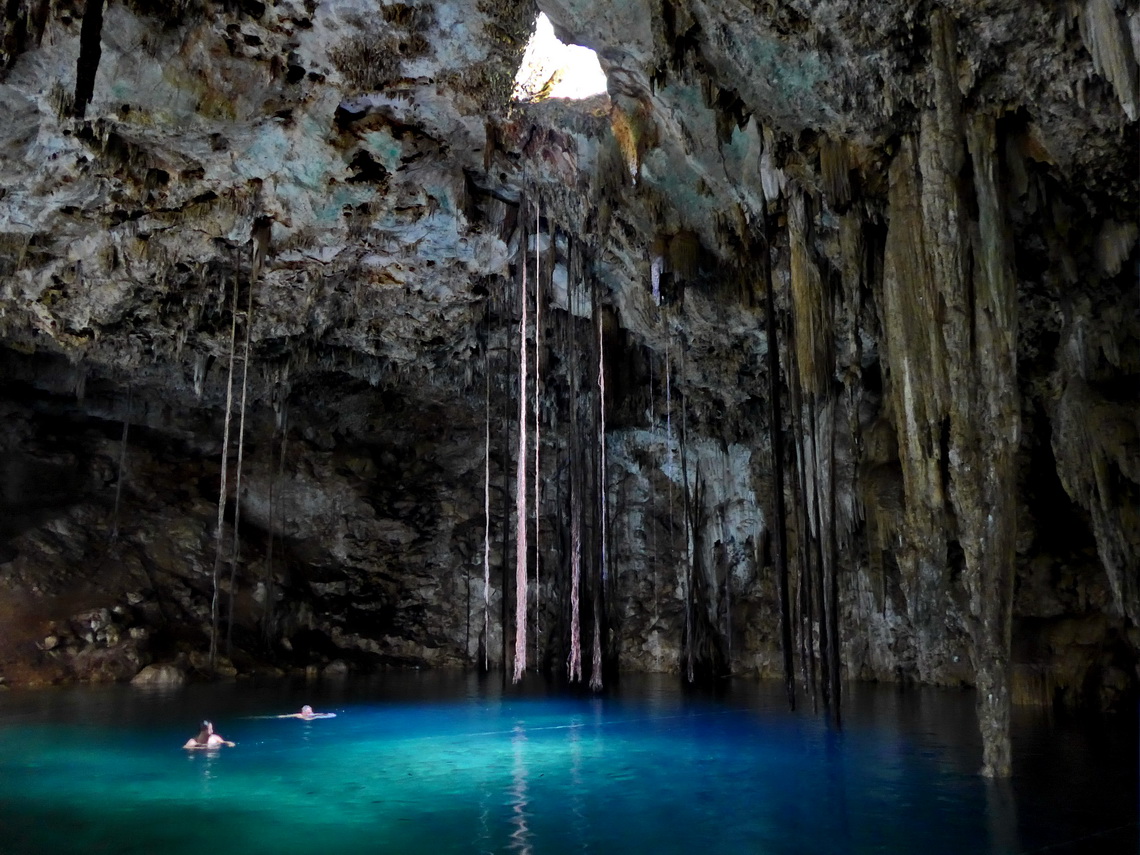 Trendy Cancún is a little bit boring for campers like us. It hard to find a nice beach because one holiday resort follows another one, nearly endless. There is nothing special in its downtown. But is has the second biggest airport of Mexico and Marion's brother Tommy joined us there. Before we visited the island Isla Mujeres and did a nice snorkeling tour there. Unfortunately the water was a little bit fishy - Thanks to Cancún with more than 500,000 inhabitants and probably more tourists.
There are two trailer campsites in Cancún. On the first one, the Trailer park and Cabanas Mecolco Inn we stayed before we headed to Isla Mujeres (GPS coordinates: N21° 12.723' W86° 48.207'). The second one is west of Cancun, the nice and modern Camping Cancun RV (GPS coordinates: N21° 05.210' W87° 00.220'). Tommy came to Cancún on December 8th 2015 at 9:30PM. He had a weird start immediately after arriving in Mexico.

We wanted to stay his first night on the Camping Cancún RV because it is just 16 kilometers away from the airport and you don't have to drive through the town. Our GPS led us to broad street in direction to this site. Suddenly a sign occurred that this is the toll road to Merida. We checked our GPS and saw that this road crosses the main road MEX180, where the camping site is located. But there was no exit. We had to continue on the toll road direction Merida. No turning back was possible because there was a huge green space between the two double lanes. There was no other traffic. We thought we had to pay hell of money but no toll collect station came. Finally after driving more than 80 kilometers on the toll road we could do an U-turn. We had to return nearly to the airport when we could leave the highway. Again no toll collect station. We did not dare to look for the Camping Cancun RV site. Instead we headed through the city to the well known Trailer park and Cabanas Mecolco Inn, where we arrived at 1:00AM. We drove more than 200 kilometers for just 16 because the toll road had no exit - unbelievable!
With Tommy we found probably the only nice public beach in Cancún: Playa Delfin, where we had a calm night because Police is the whole night there (GPS coordinates: N21° 03.692' W86° 46.771'). It costs nothing but includes showers and bathrooms between 8:00AM and 6:00PM. The beach was clean and had some places with shadow.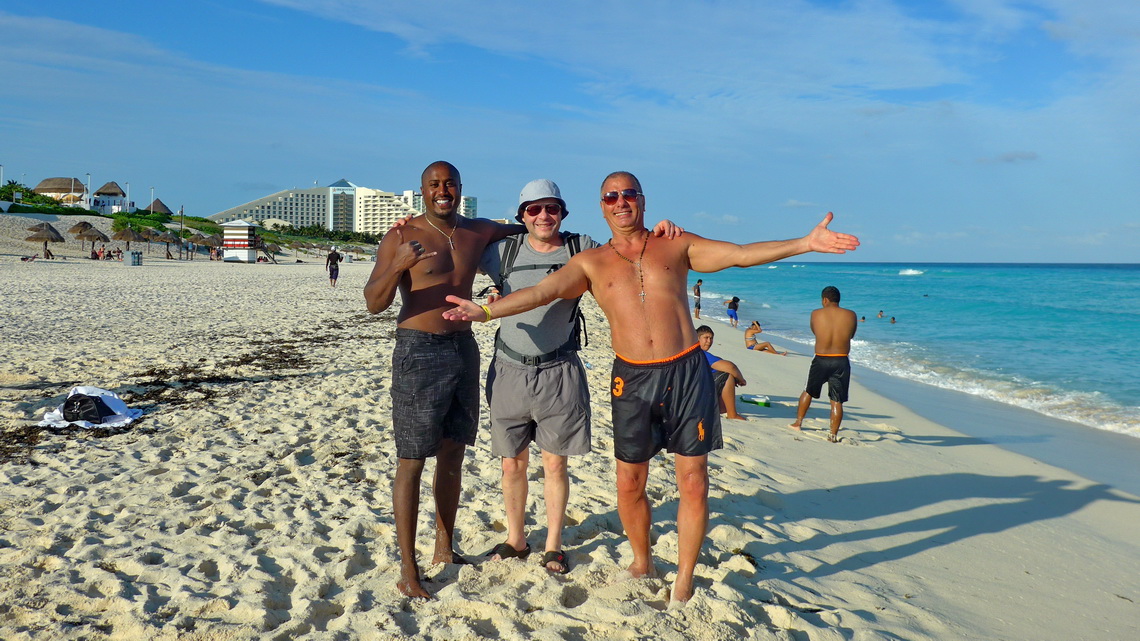 Thanks to the tourism everything is much more expensive in and around Cancún like in other parts of Yucatan. Insolent was Cenote Siete Bocas. We had chosen it because we had a map of Yucatan's cenotes and they described a subterranean river where you can swim to different windows. After driving several kilometers a bumpy road we came to the entrance of this cenote. A younger Lady showed us a price-list and wanted 17U$ per person fee. Marion refused but Tommy and Alfred decided to go because there must be something spectacular. Usually we paid less than 5U$ per person, often including the price for staying the night. But it turned out that there were just 7 holes. It was possible to swim only from one specific hole to another one - that was a real daylight robbery!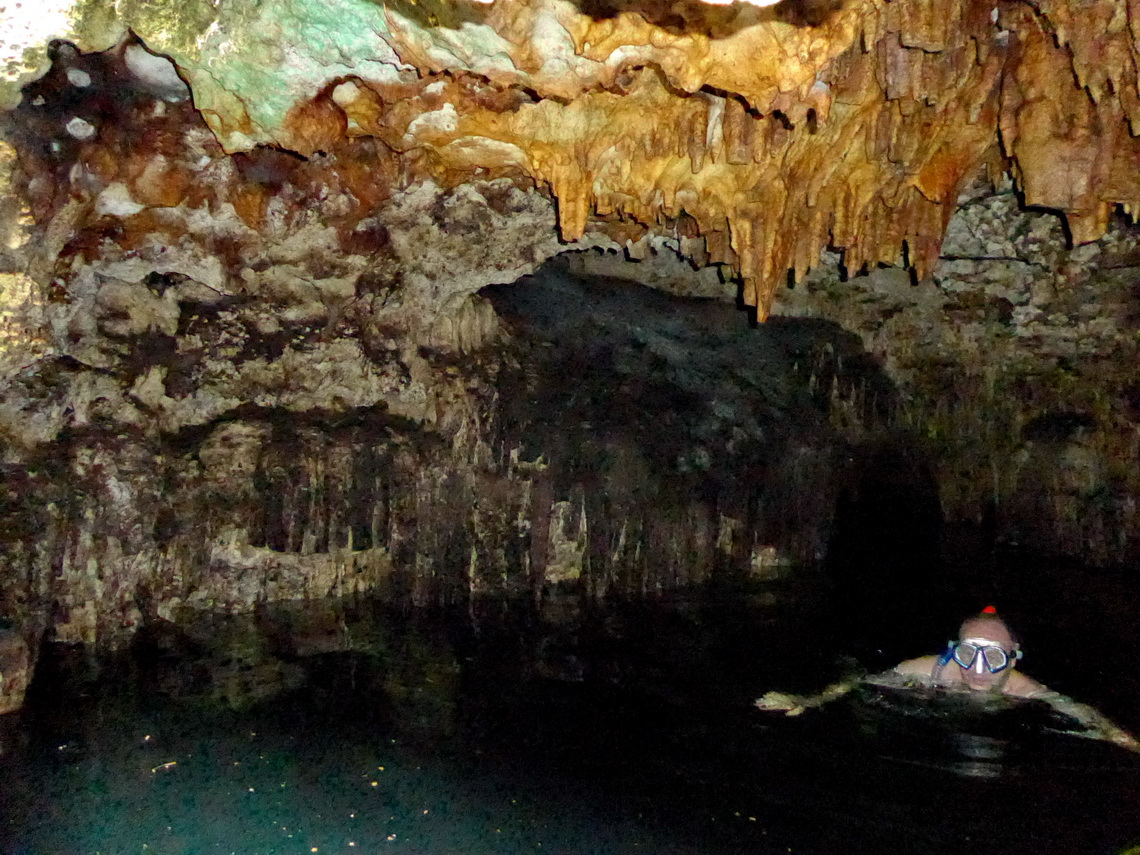 We returned to the Caribbean coast and found a German couple Vera and Dirk managing the Camping Xpu-Ha Mundo Chalio (GPS coordinates: N20° 28.341' W87° 15.509') which is located opposite of the island Isla Cozumel. The water was much more clear than on Isla Mujeres. We could swim from the beach directly to a little coral reef.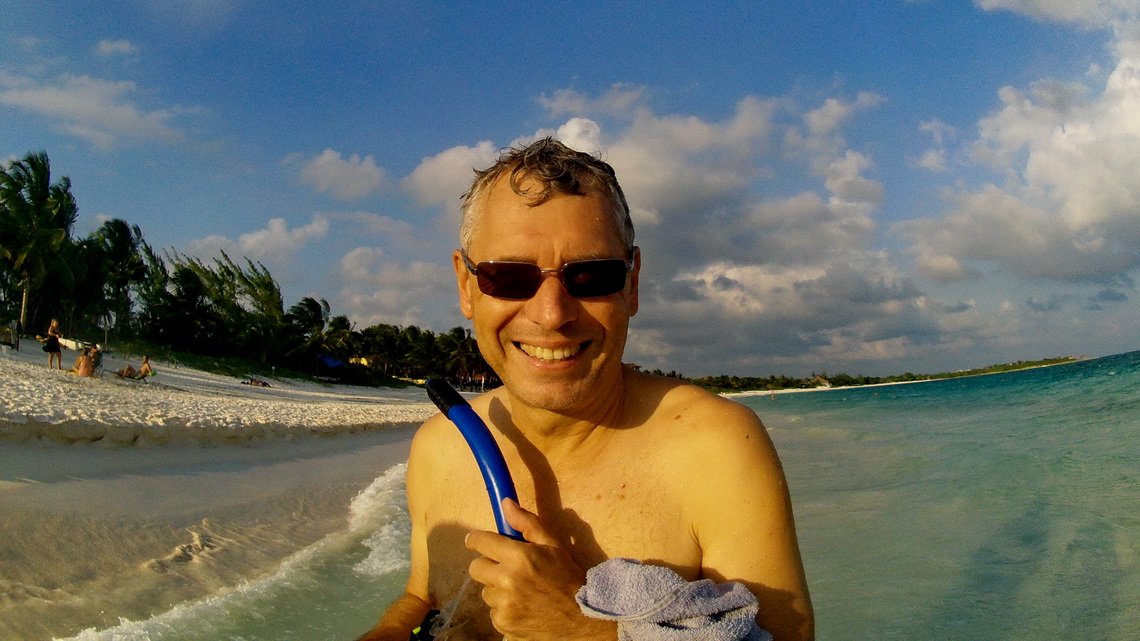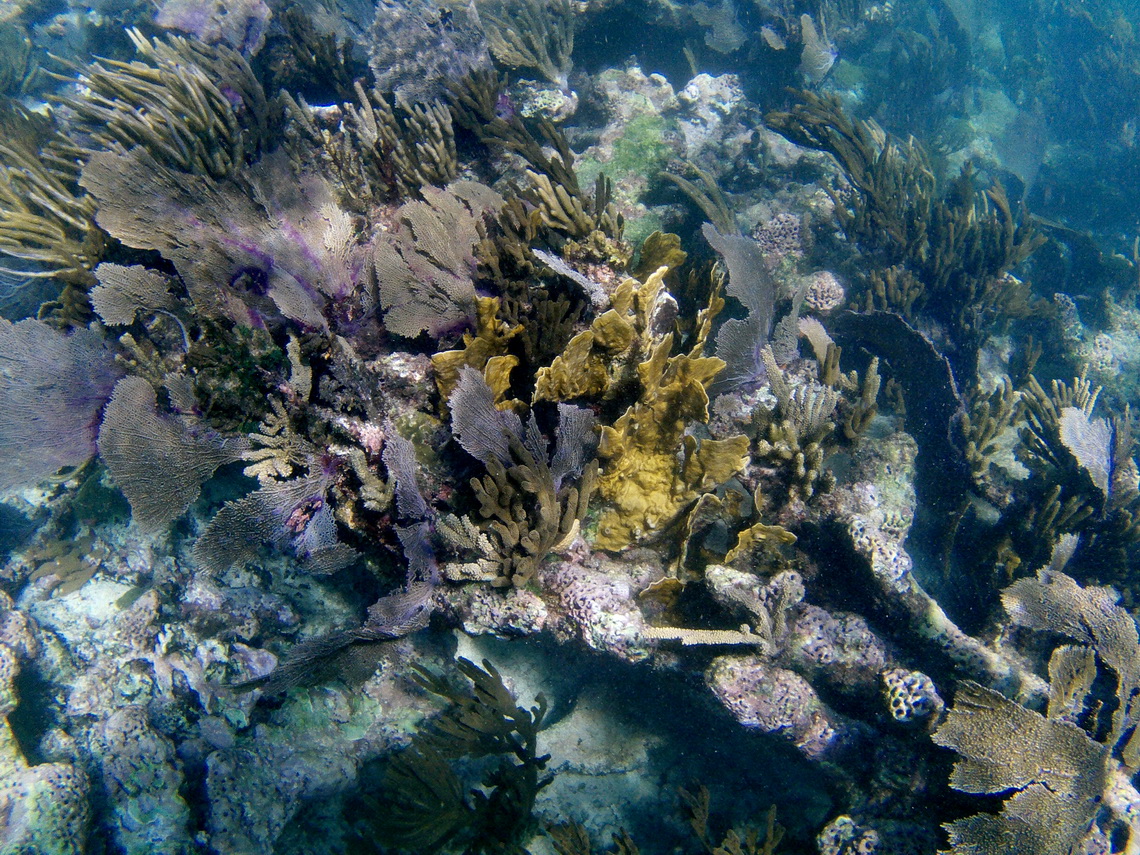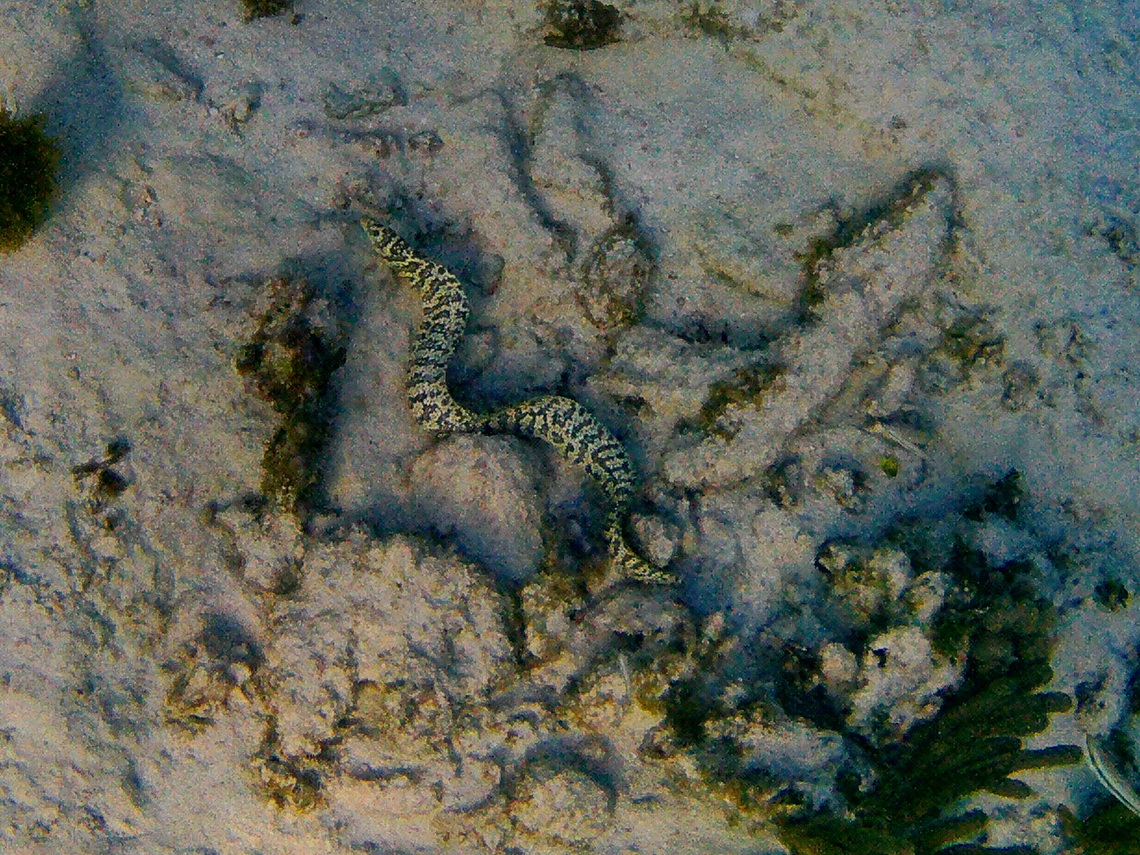 We did also some snorkeling in Tulum, supported by a boat. But the water was a little bit fishy because there were bigger waves of the reef - no island in front like on Xpa-Hu. In addition the beach in Xpa-Hu is much more beautiful and cleaner. Before we visited the ruins of Tulum we stayed the night directly on its beach in the Santa Fe resort (GPS coordinates: N20° 12.457' W87° 25.895'). From here its a short walk to the only important Maya ruins located on the sea.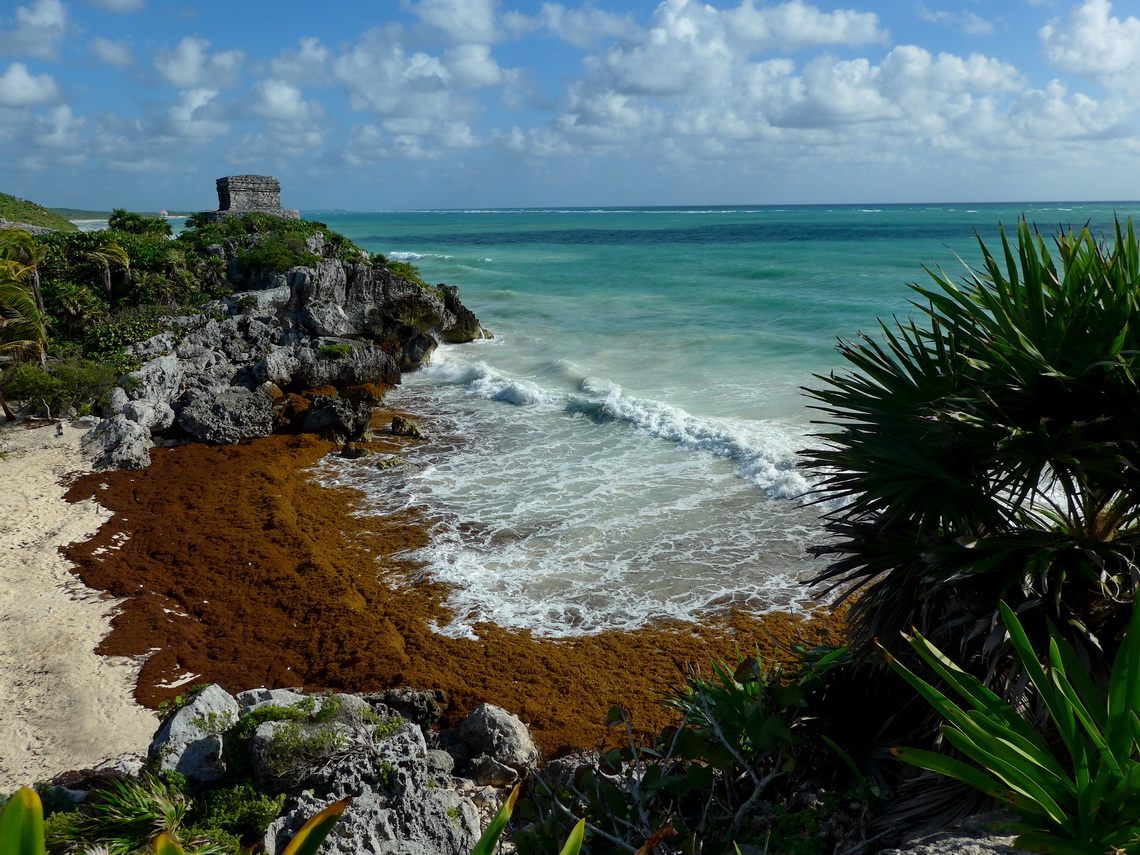 The Maya ruins of Cobá are lovely. It is wide area of three major site where you can walk or bicycle in the shadow of the jungle. Close to the ruins are several beautiful cenotes for acceptable prices. We could stay one night on the parking lot of the ruins (GPS coordinates: N20° 29.469' W87° 43.989').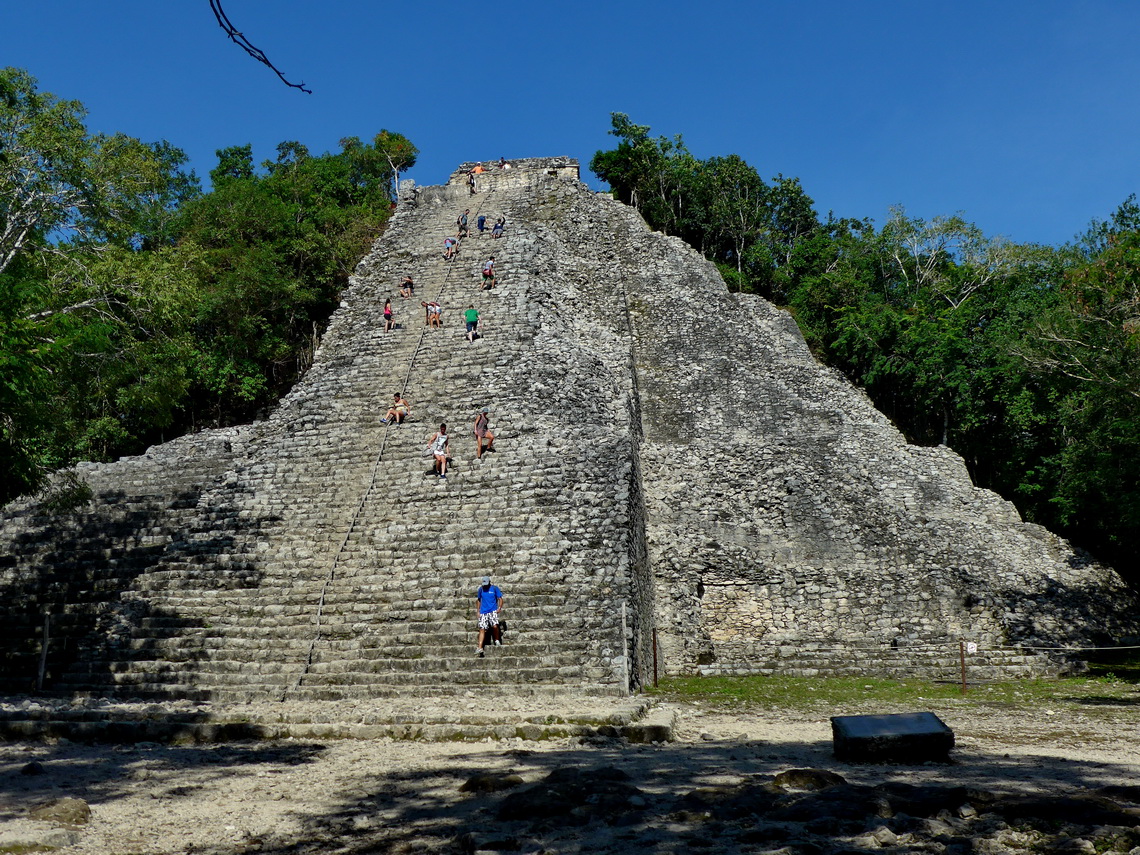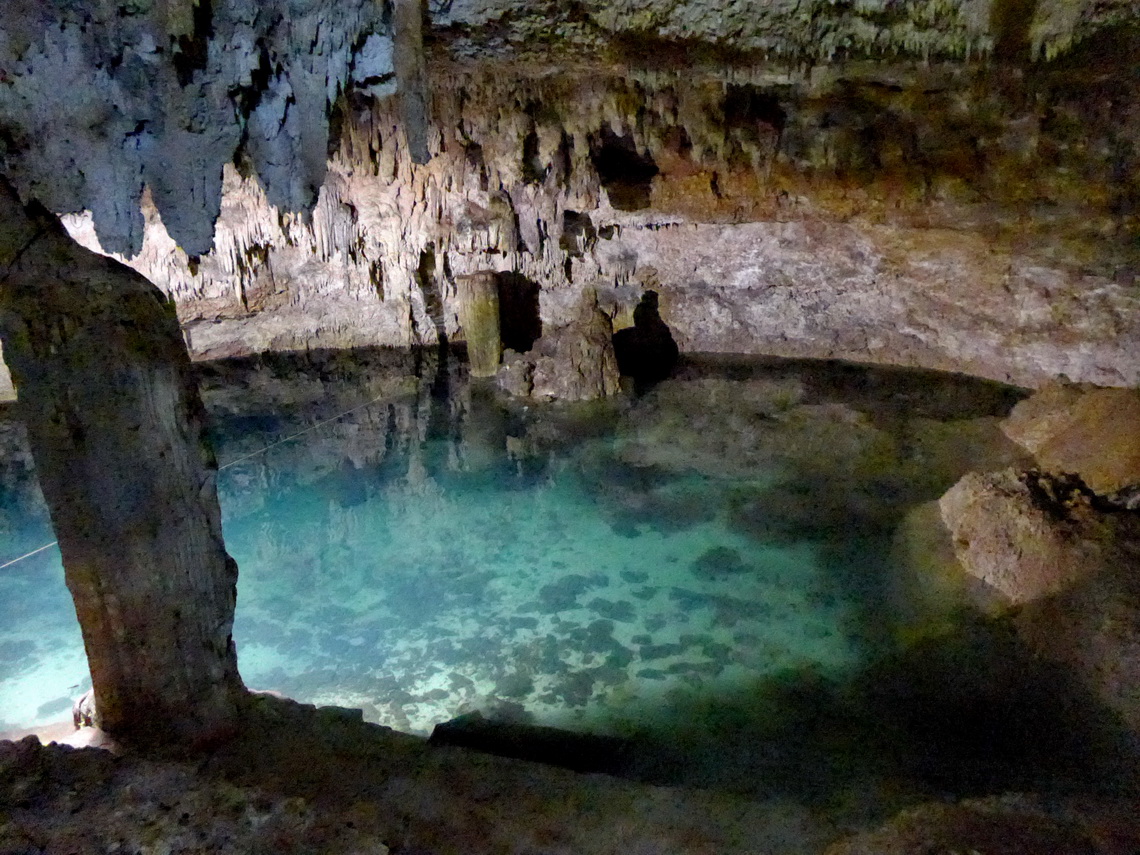 Before we crossed the border to Belize we spent a night and half a day on the Laguna Bacalar on the campground Cocalitos Bacalar (GPS coordinates: N18° 39.124' W88° 24.570'). Interesting sweet water corals are close to the beach with some nice fishes.
For more pictures, please click here For a map of our itineraries, click here
To download the GPS coordinates, click here