Cayambe is a mountain of superlatives: It is with 5790 meters sea-level the third highest peak of Ecuador. It is the only place on the equator of our planet where you find ice and snow permanently. It is a perfect white volcanic cone which a tremendous huge mass of ice.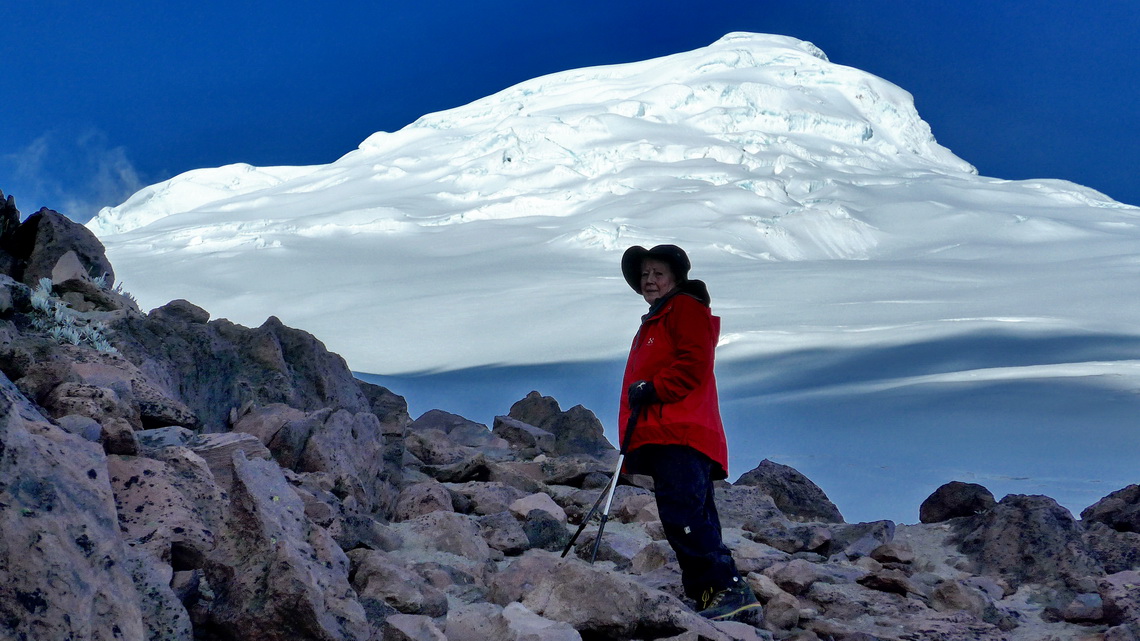 Before we dared to go to Cayambe we had climbed up 4790 meters Corazon which is few kilometers south of Quito west of the little town Machachi. Corazon means heart and indeed with some fantasy you might find a heart in its shape.
On November 14th 2014 we took in Machachi a four-wheel taxi to the upper western sloped, which brought us to a height of 3365 meters (GPS coordinates: S0° 31.180' W78° 37.139'). With heavy backpacks we hiked 5 hours to the end of a dirt and very rough road, where we placed our tent at 4308 meters sea-level (GPS coordinates: S0° 31.656' W78° 39.005'). No ice equipment is needed for Corazon but we took several liter drinking water with us. At sunset we had fantastic views to nearly all high mountains of Ecuador.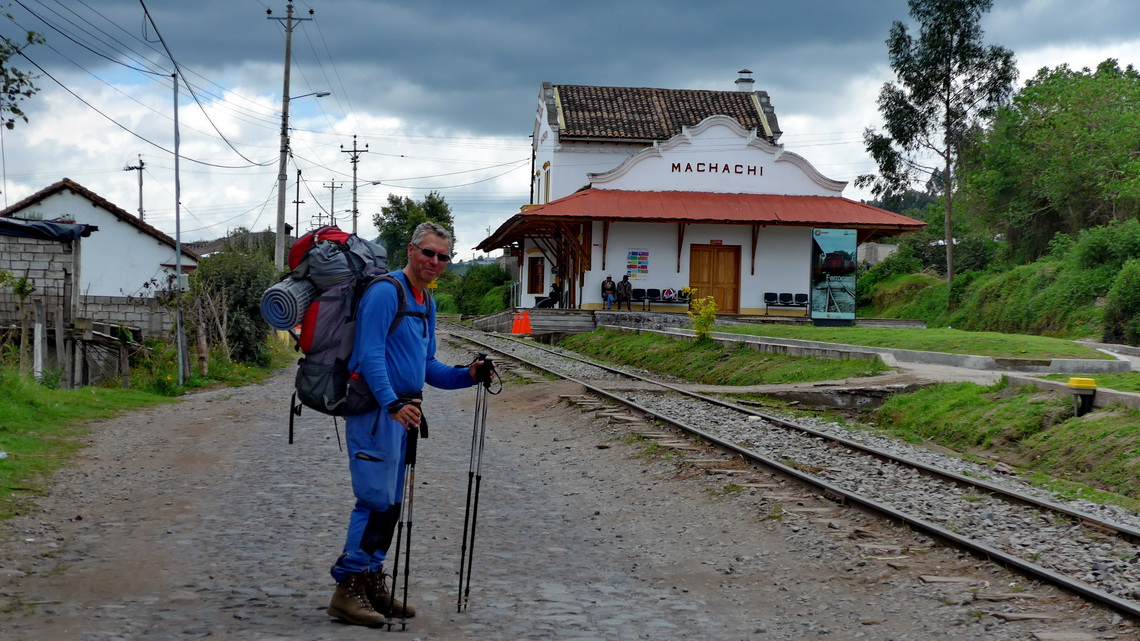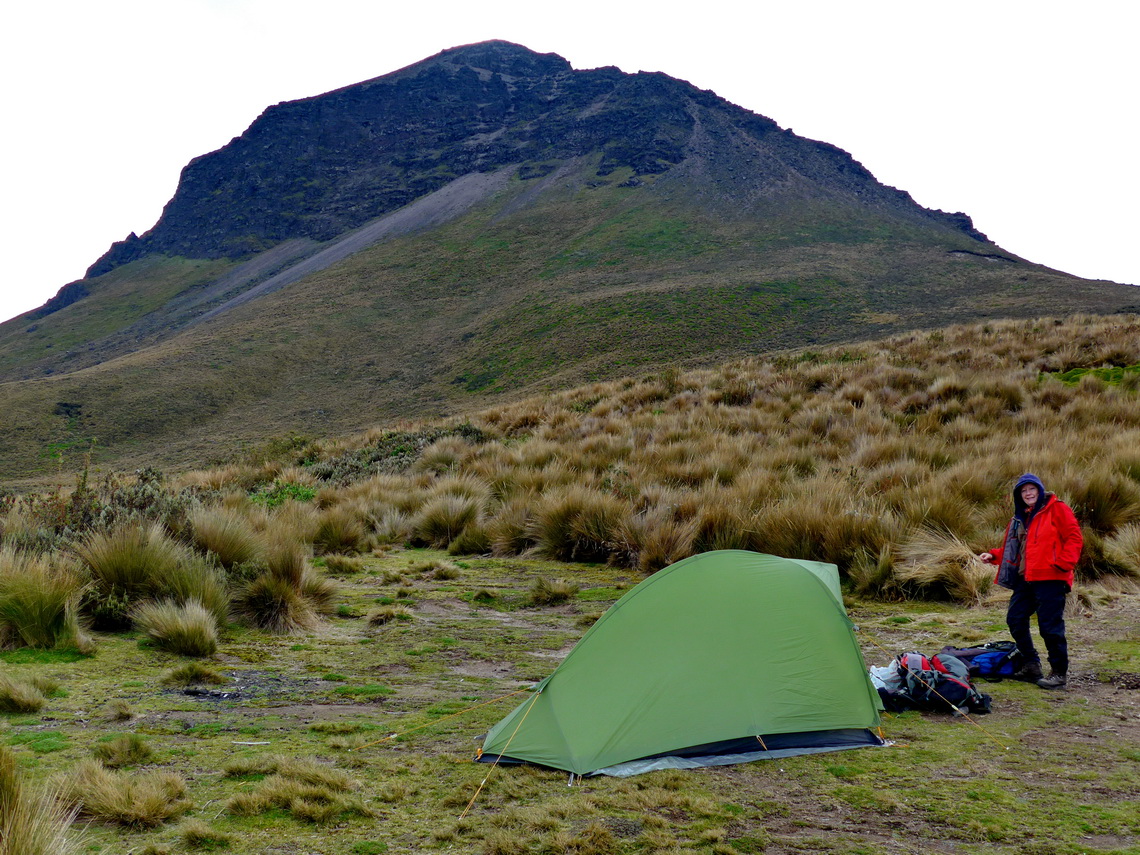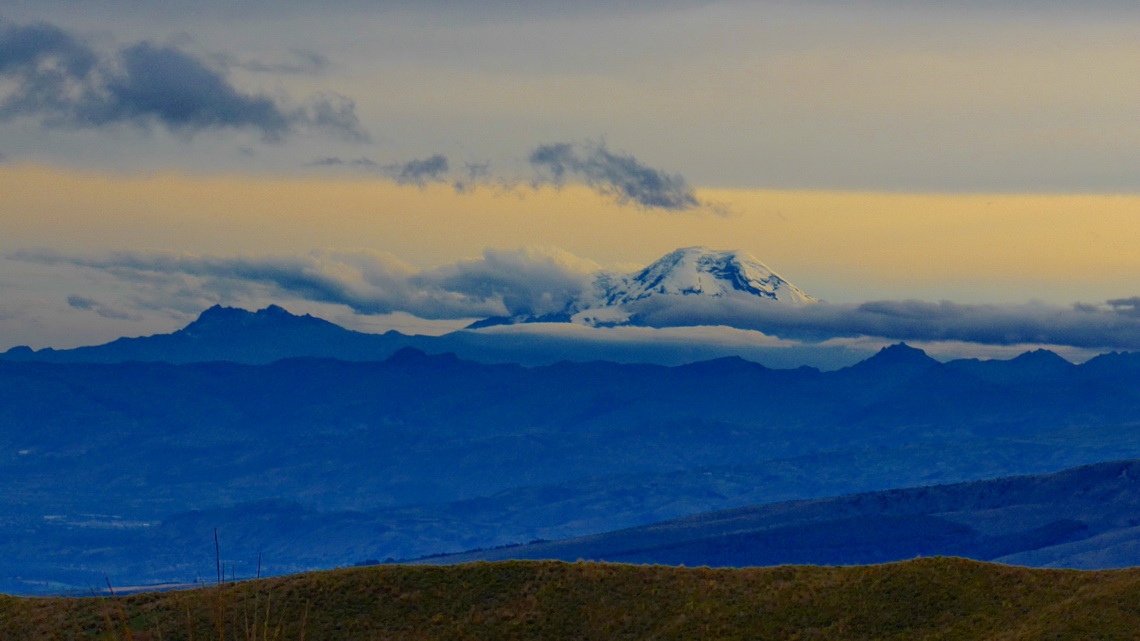 Like on most mountains we were totally alone. After a comfortable night we hiked two hours to the peak of Corazon. What a surprise when we came close to the hidden summit we heart some German voices. No ghosts because a bigger group from South Tyrol had came from the southern side. They looked also a little baffled when they realized that we clearly understood them.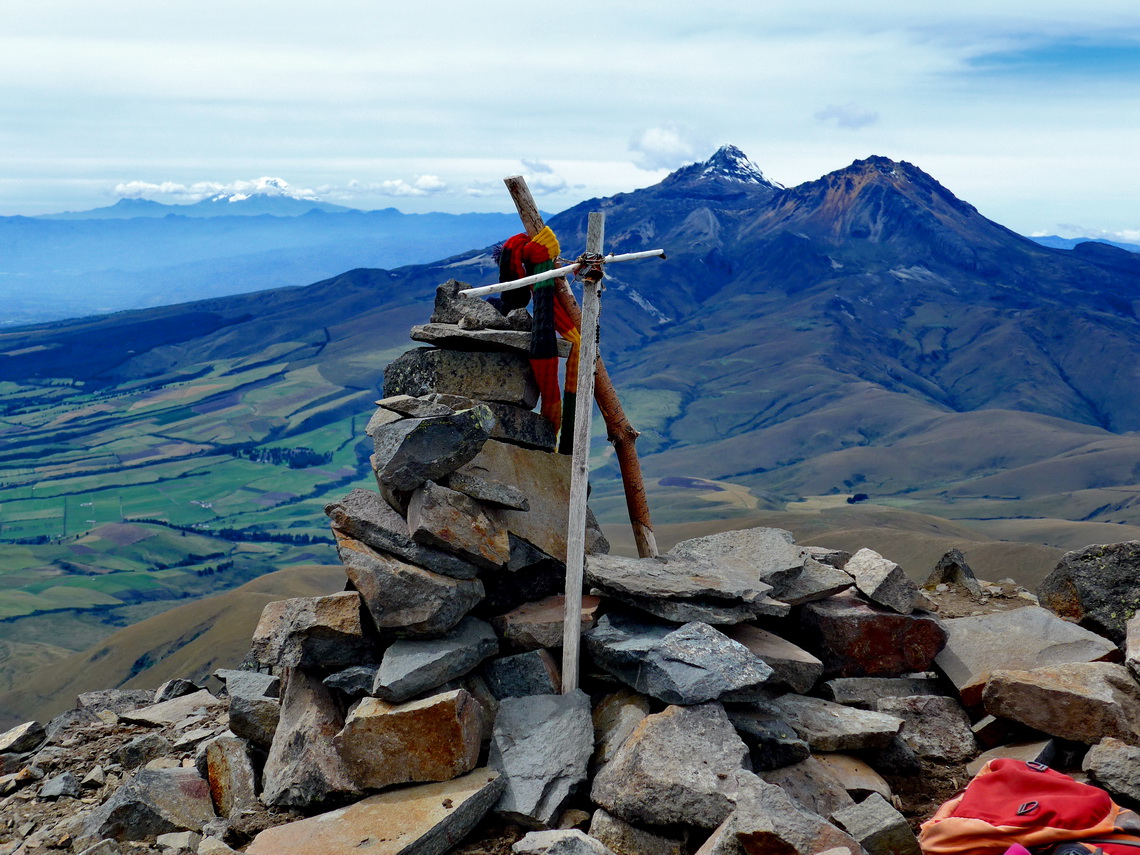 The return to Machachi was long and we were a little bit exhausted; thus we decided to stay another night close to the only water source we had found (Water at S0° 31.363' W78° 38.038', our camp at S0° 31.527' W78° 38.094'). The trail is included in the GPS coordinates file of Ecuador.
Two days later we rented a four-wheel taxi again. This time in the village Cayambe to the 4600 meters high Refugio Oleas Ruales, a stunning ride over some snow, big rocks and deep scree. Very comfortable for us because for the mountain Cayambe full ice equipment including rope is mandatory. When we arrived at the hut nobody was there and it was closed. We believed our driver that the caretaker will come soon and we used the time to explore the way to the glacier. Again we had marvelous view in the late afternoon.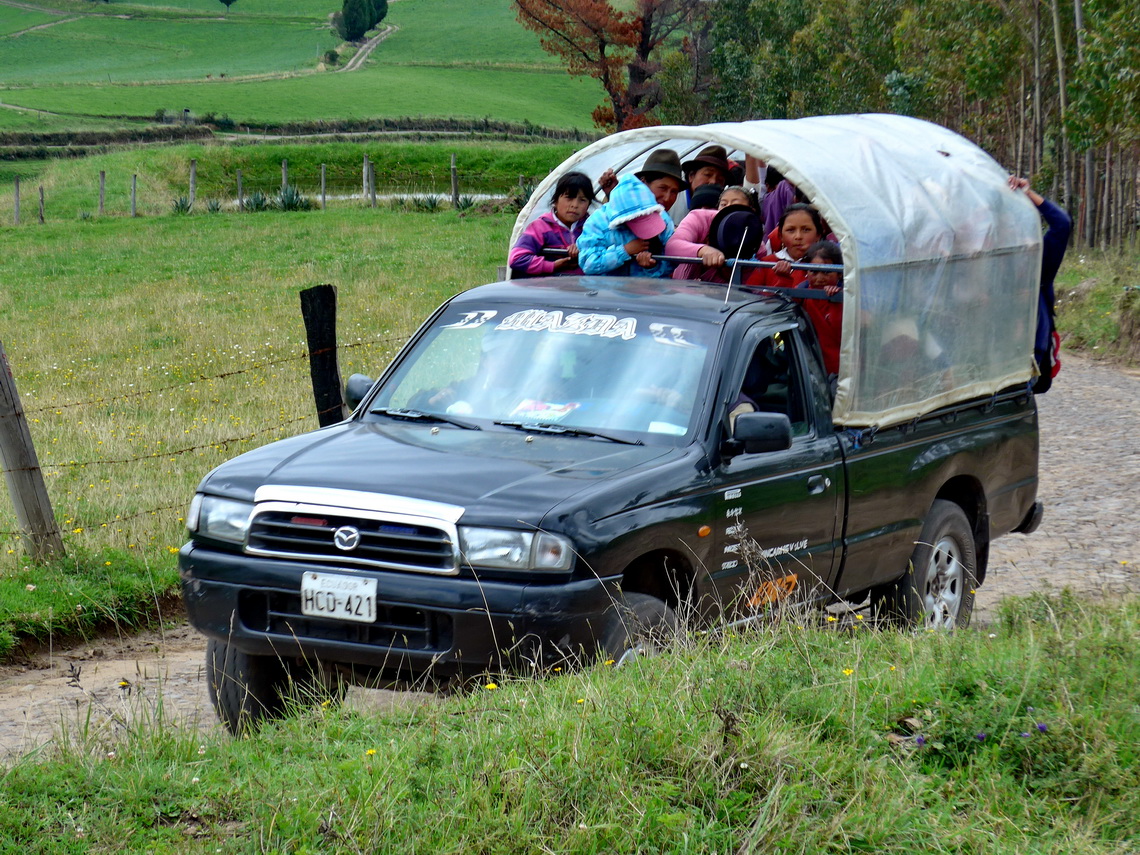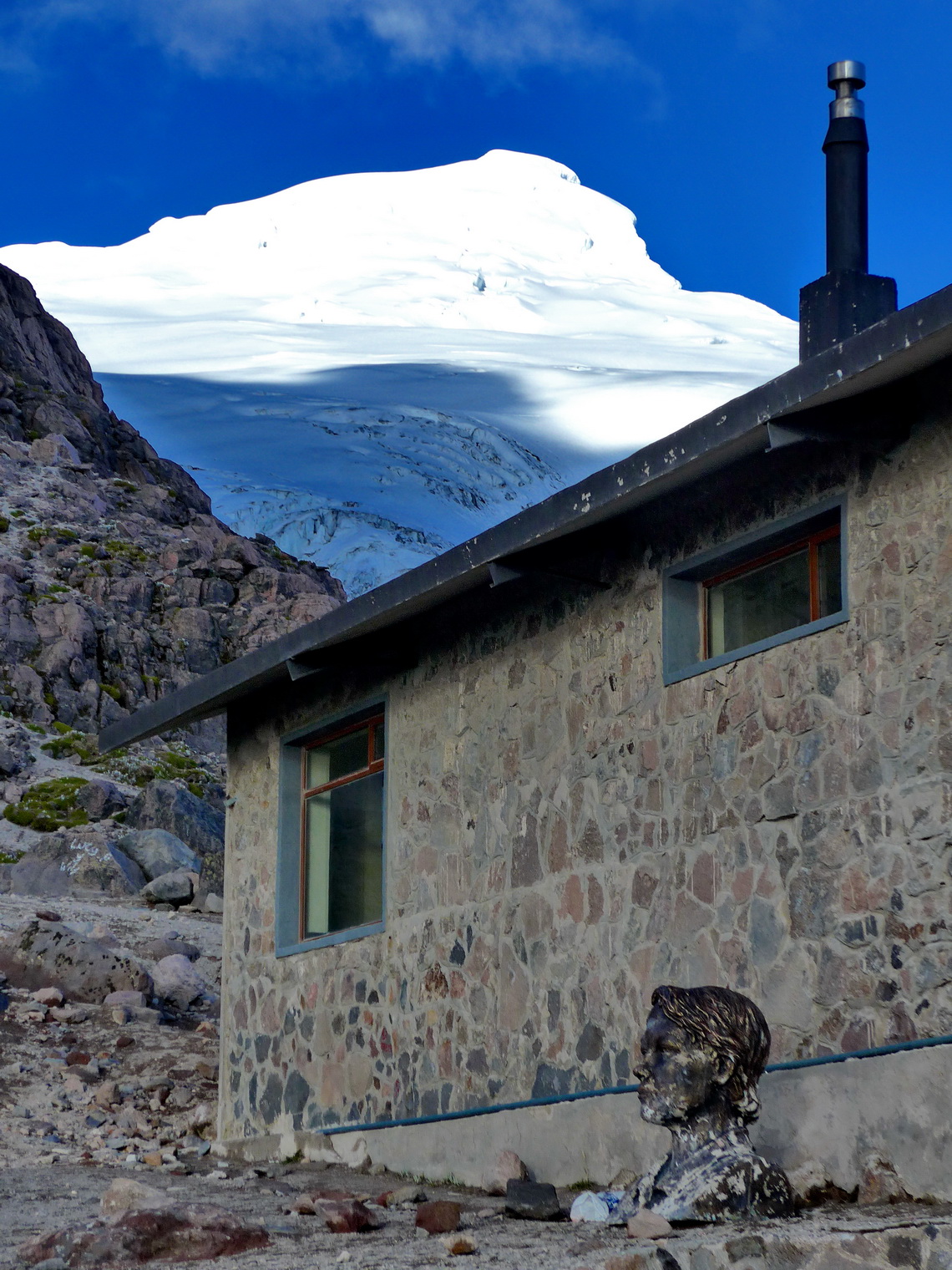 When we came back to the hut it was open and besides the caretaker a younger German couple was there with an Ecuadorian mountain guide. On the next morning wake up was at midnight and we started our ascent at 1:00AM in the darkness. Naturally the mountain guide with the man was slighly faster.
Soon after sunrise we came to the last very steep section. The snow besides the trail was groundless, it was warm and it became warmer. We were deeply concerned of avalanches. Besides the fact that the two other were on the summit we decided to turn back at 5690 meters sea-level, just 100 meters were missing.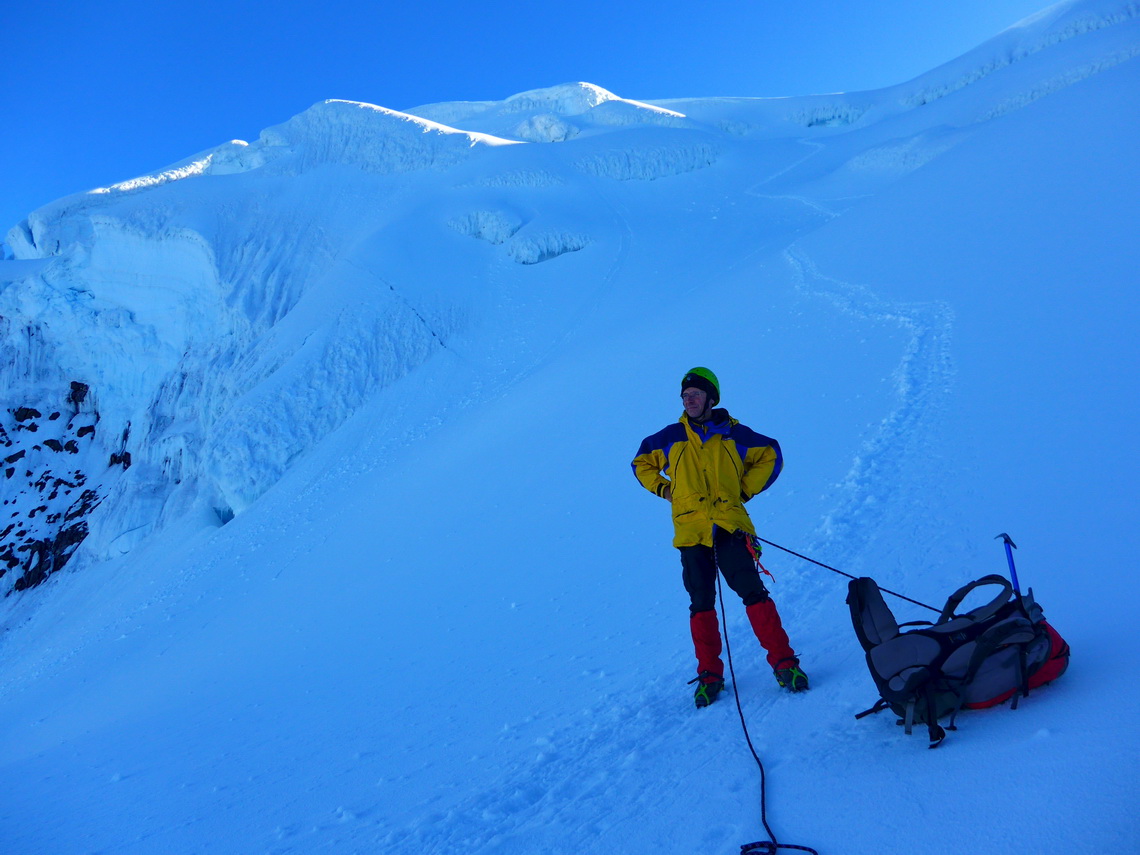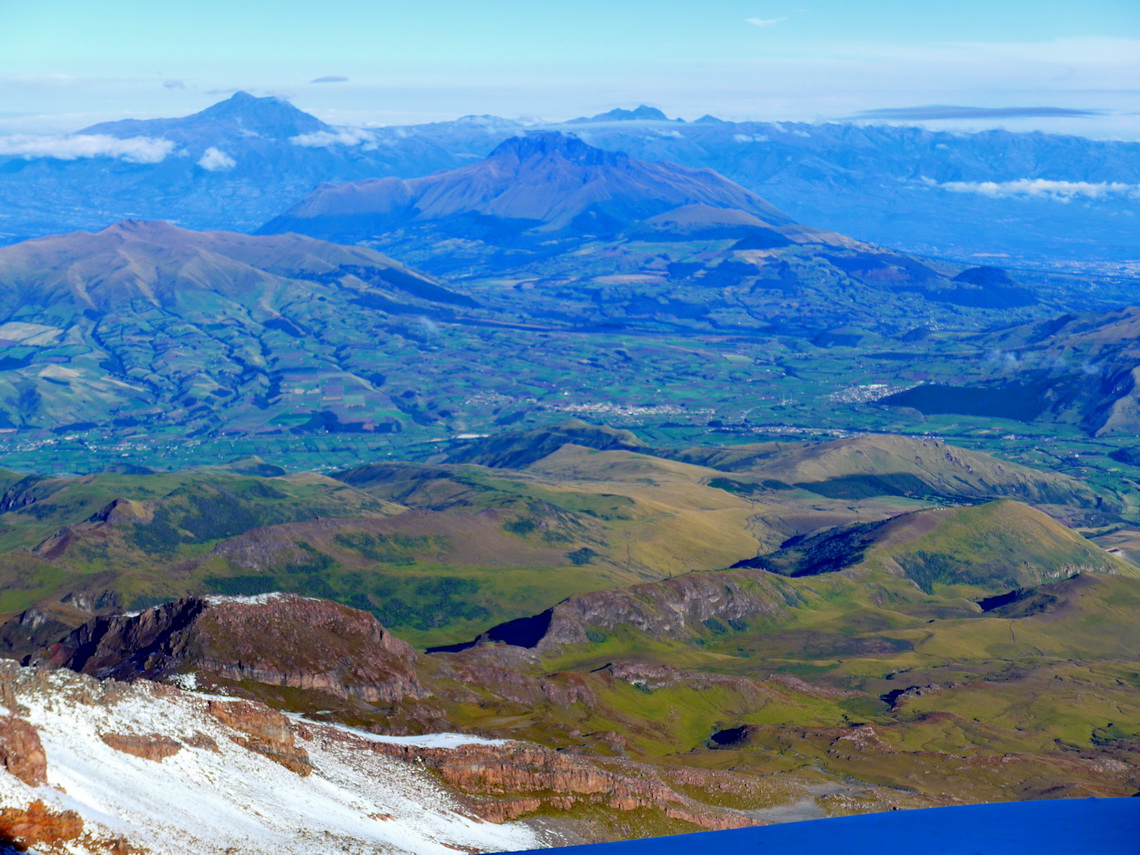 The trail is included in the GPS coordinates file of Ecuador.
 Three days later (November 21st 2014) Marion's brother Tommy was coming to us. He brought a lot of spare parts for our engine like new pistons. Thanks to the mess in Bogota (see side story in the article Bogota and Coffee Farms) it had to be revised nearly completely. We could use only the existing housing and the crankshaft, all other parts were renewed. We had to deal two times with the customs of Ecuador at Quito's airport - it was horrible and we lost a lot of time and money.
After we brought the missing spare parts to the work shop we traveled with buses to the little town Baños on the way to the Amazon jungle, before we continued to Misahualli (see our article The Oriente - Misahualli) and to the Galapagos islands (see our article Galapagos). 1800 meters high Baños has some superb hiking opportunities on foot of the very active Volcan Tunguahura, see the second picture in the article Pico Fuya Fuya, Volcan Rumiñahui and Laguna de Cuicocha. Unfortunately this time the volcano was always in clouds.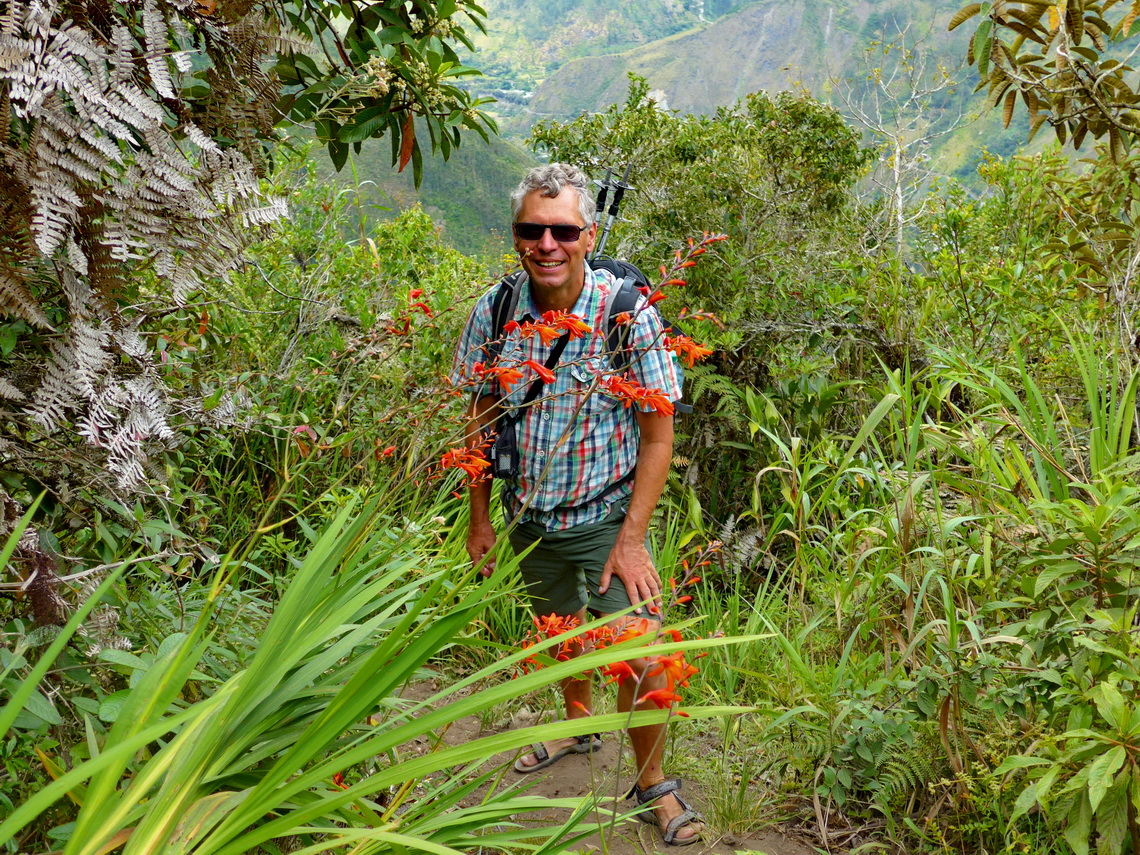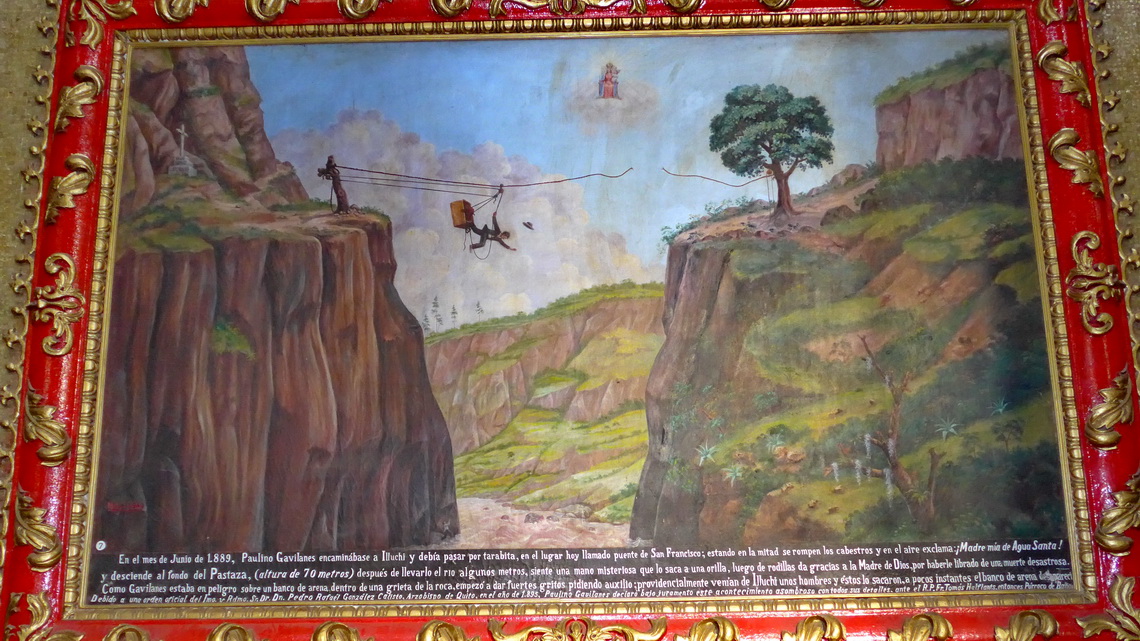 Thanks to the outstanding support of Don Hans from the Finca Sommerwind our engine was ground and ready for mounting when we came from the Galapagos island. Alfred stayed in the workshop; Marion and Tommy went to Otavalo to visit Laguna Mojanda and the bird park Parque El Condor, where we had been in October 2013 (see article Pico Fuya Fuya, Volcan Rumiñahui and Laguna de Cuicocha).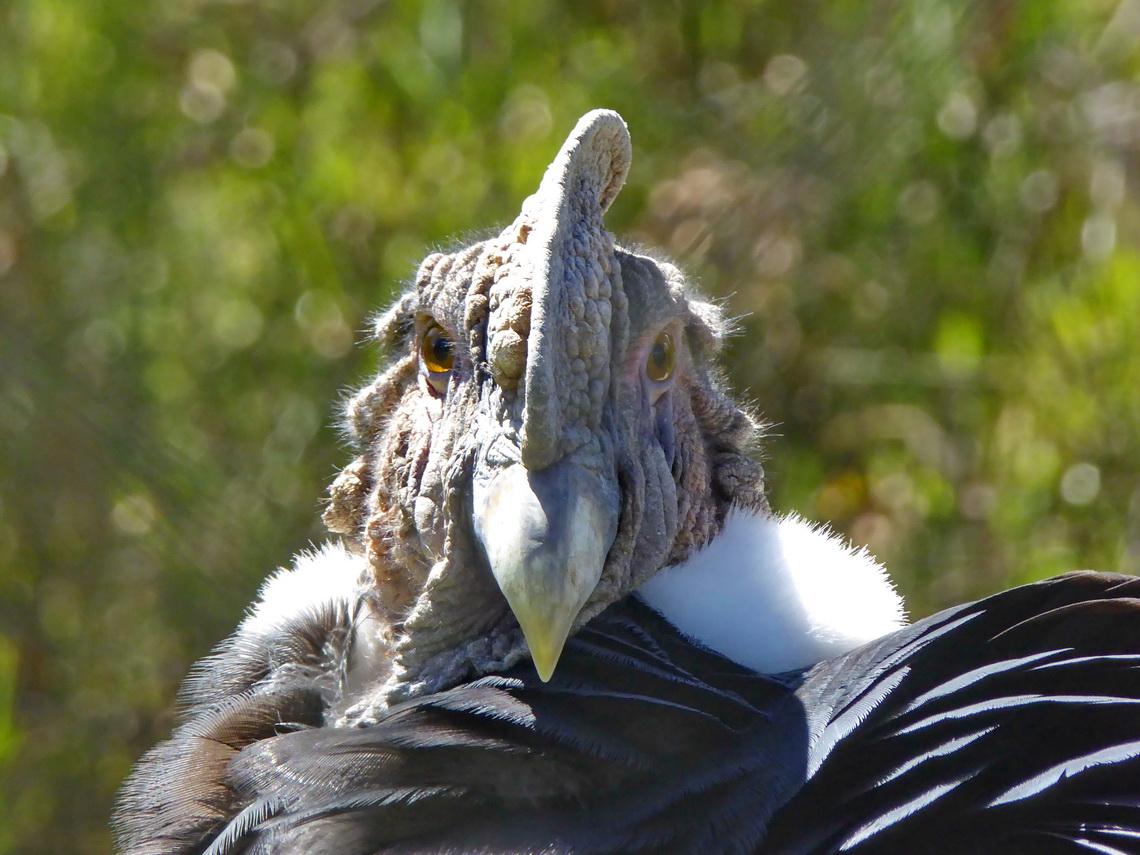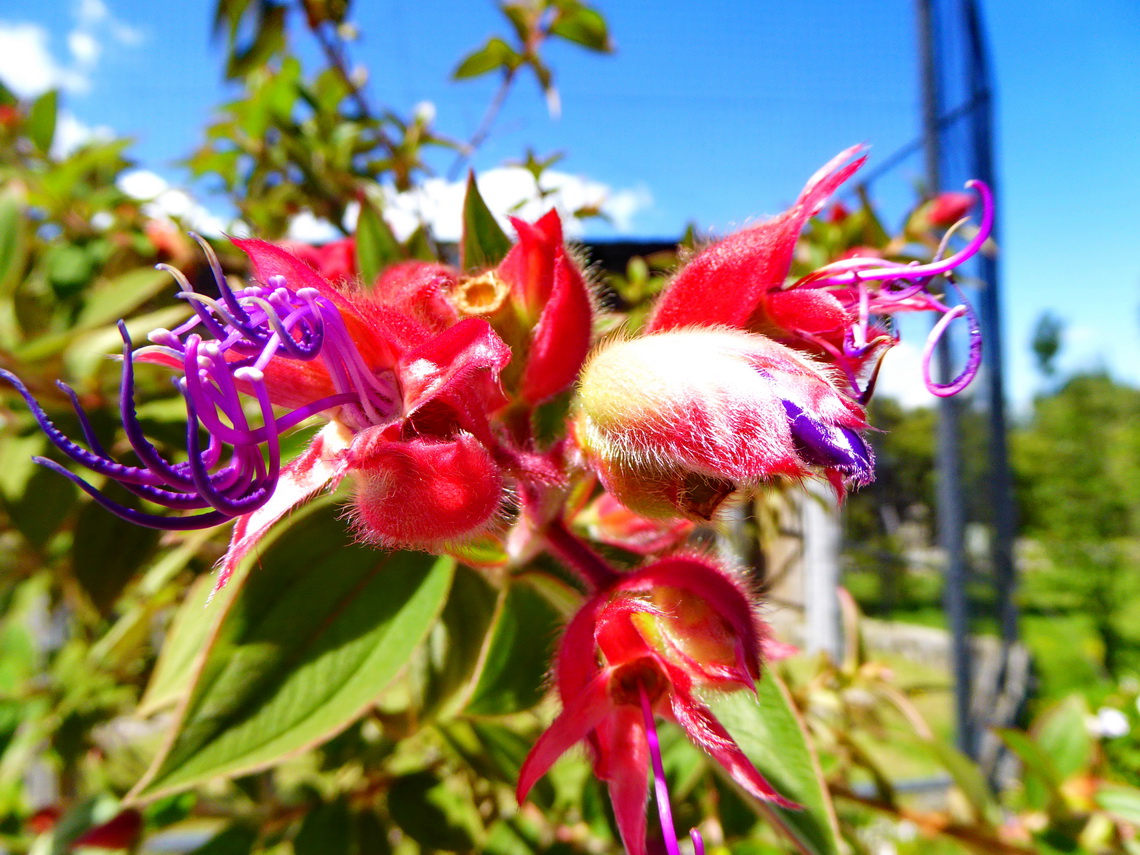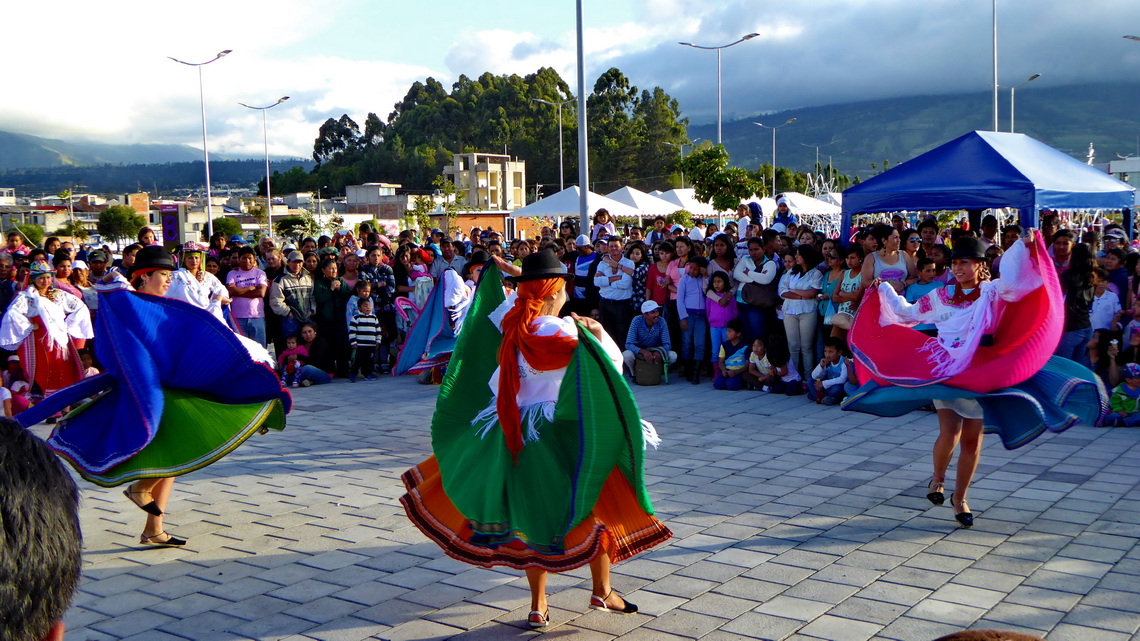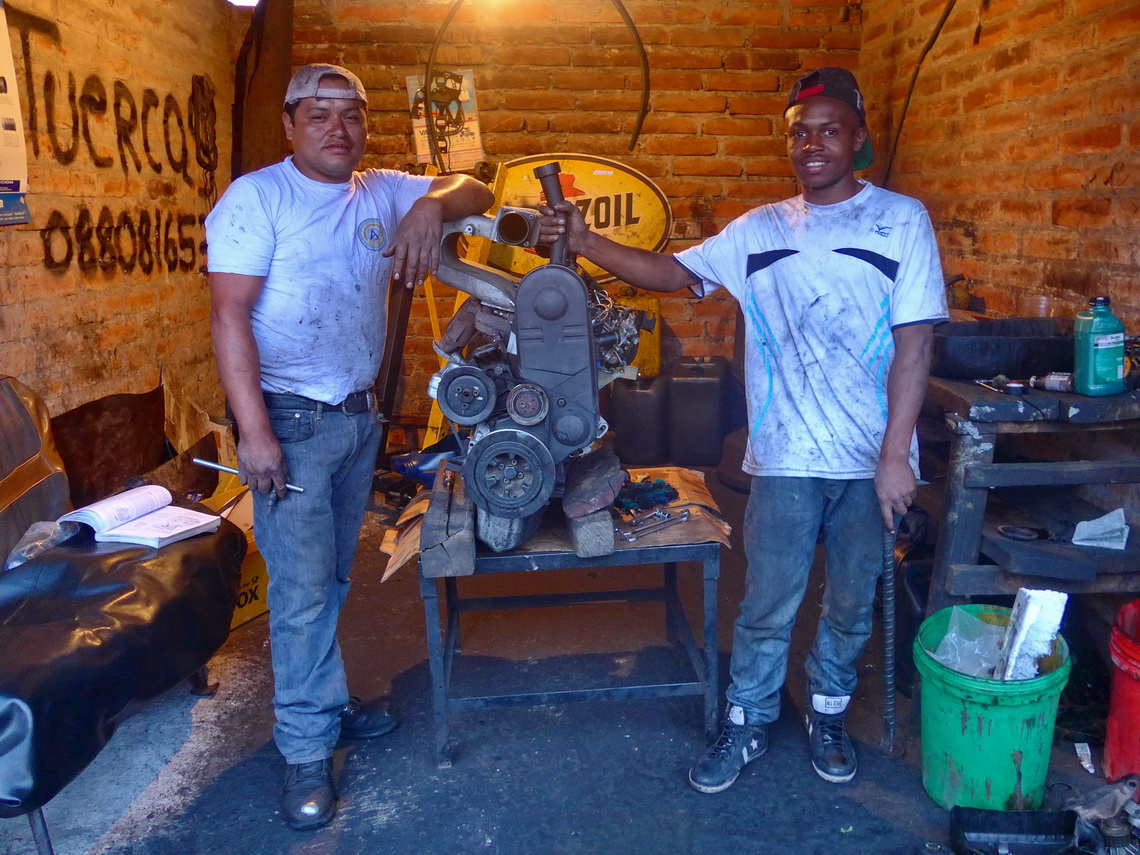 Unbelievable our car had a working engine when Marion and Tommy returned from Otavalo. Thus we drove to the Colombian border and left Ecuador on December 16th 2014 - Bye Bye Ecuador!
For more pictures, please click here          For a map of our itineraries, click here
To download the GPS coordinates file of Ecuador click here