Welcome to Marion and Alfred
Friday, 17 April 2015 19:46
Beautific and hot Nicaragua is the largest country of Central America. Parallel to its Pacific coast runs the Cordillera los Marrabios, a mountain range with some very active volcanoes. Its southeastern end shapes with two peaks the island Isla de Ometepe, which is located in the sweet water lake Lago de Cocibolca (or in newer times Lago de Nicaragua), which is the biggest lake of Central America. Southeast of the vast lake is more or less rain forest up the pristine and remote Atlantic coast. Northeast are highlands with a lot of coffee farms. In the north of Nicaragua was the nucleus of the Sandinistic revolution end of the 1970thies, which had its roots from injustice, exploitation, oppression and poverty of the majority of the Nicaraguan people.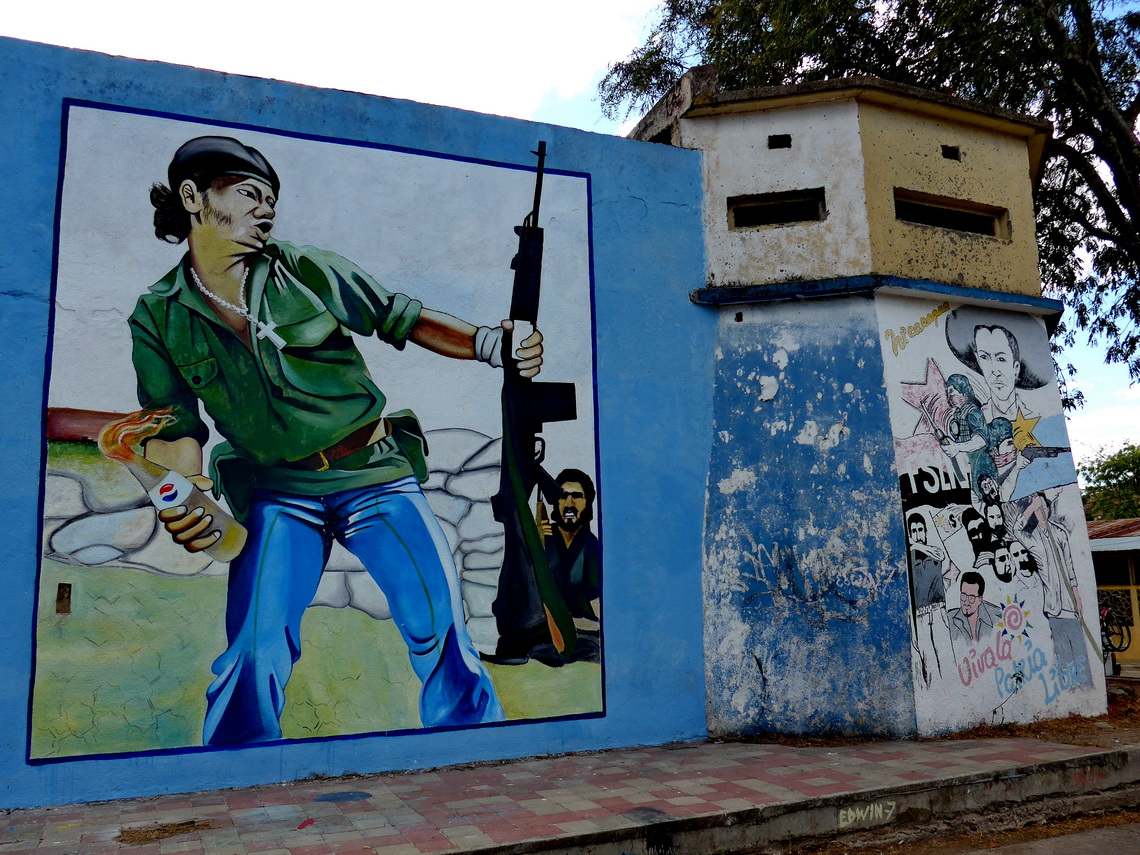 Wednesday, 25 March 2015 00:04
We found some of the most beautiful beaches in Costa Rica so far. It was possible to camp literally directly in the sand in front of the Pacific Ocean. Indeed Costa Rica means rich cost. Christopher Columbus had given this name on his first visit of continental America in the false hope that this marvelous country provides gold, silver and other treasuries.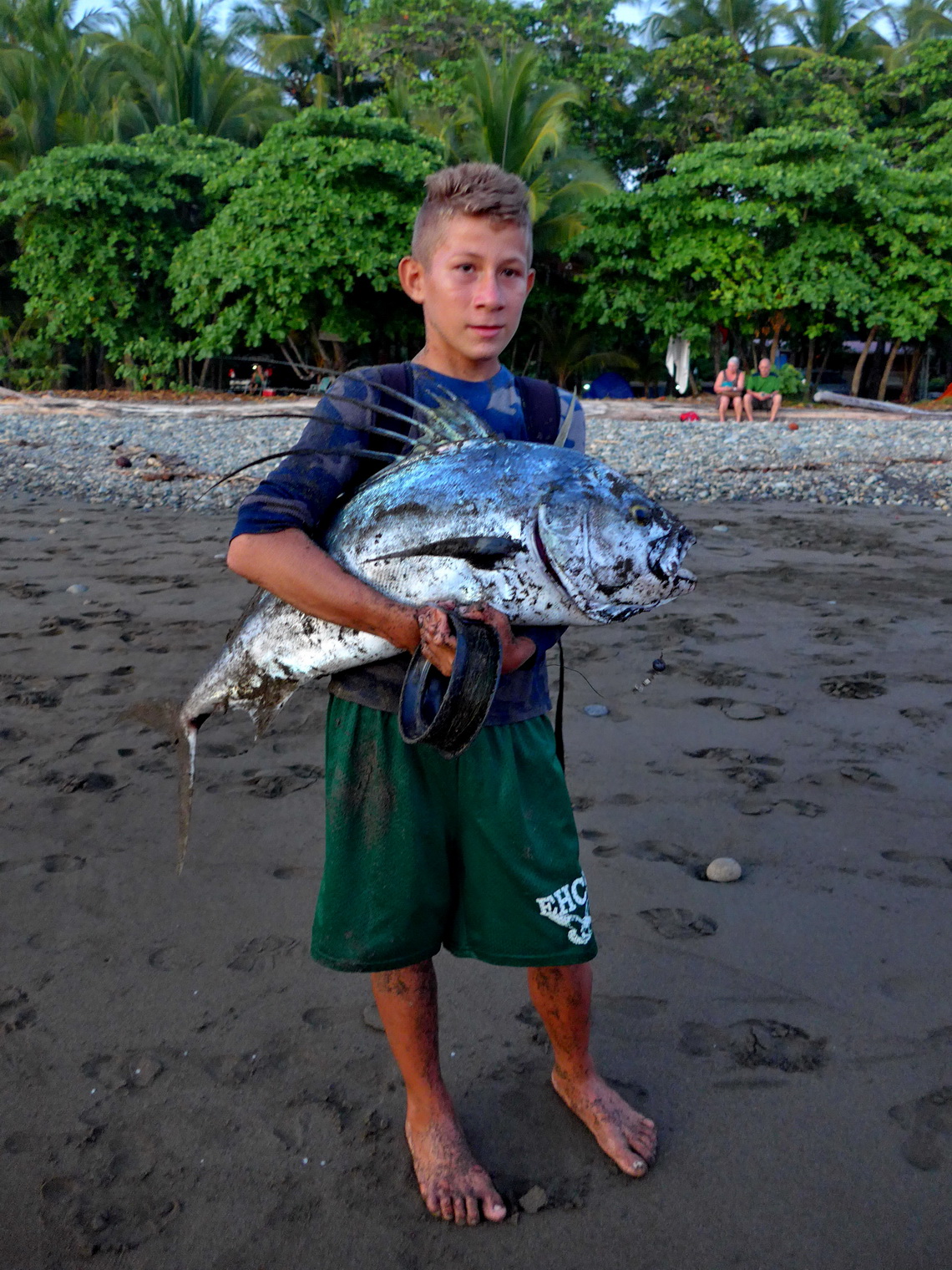 Besides beaches Costa Rica is famous for its some very active volcanoes and mountains up to 3820 meters sea-level, few meters higher than the tallest peak of Austria. But the paradise has its drawbacks. Its is the most expensive country we had visited on our trip through Latin America, yet. And we had some surprises when we tried to cross the border from Panama to Costa Rica.
Sunday, 08 March 2015 17:27
Panama is a marvelous country for travelers with gorgeous beaches, lush rain forests, friendly people and some mountains. Indeed its highest point Volcan Barú is more than 500 meters higher than the tallest peak of Germany.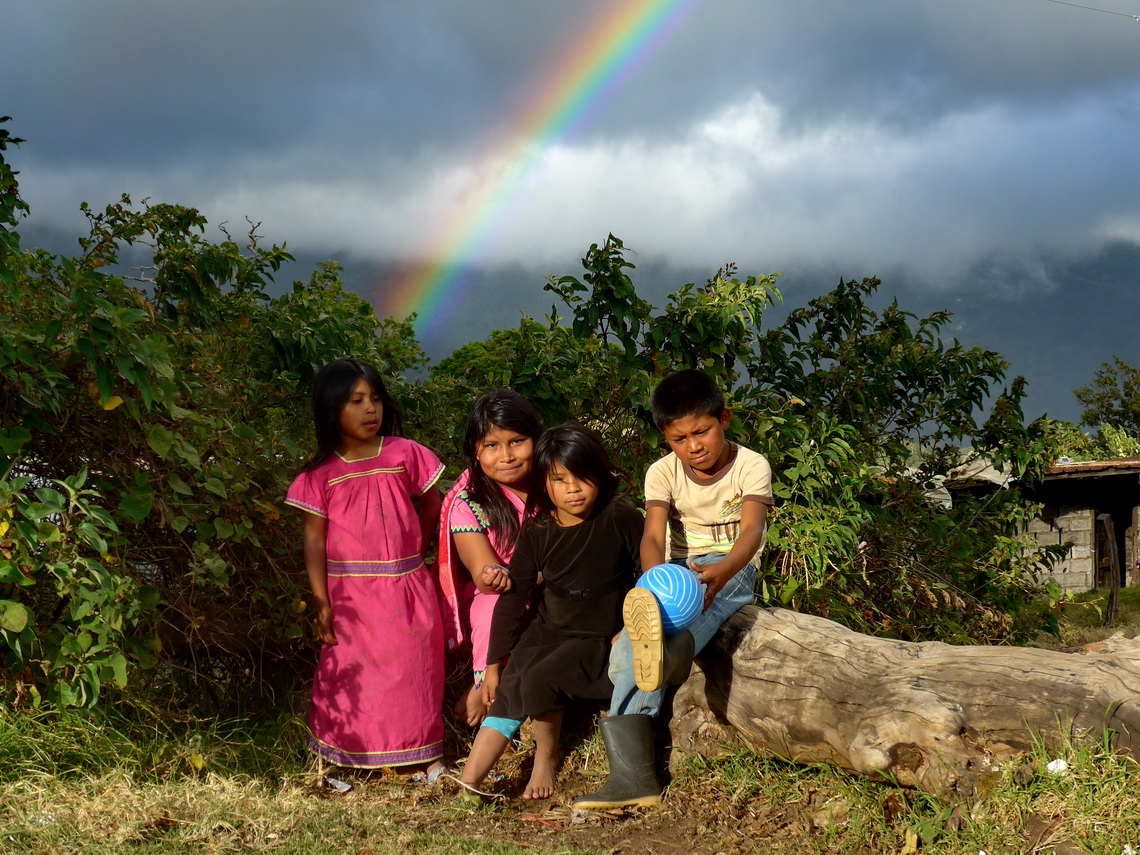 Its size equals Bavaria with less than a third of its population. It is famous for its canal which connects the Atlantic and Pacific Oceans for huge vessels. But there is a lot more to explore. Soon we felt in love for Panama.

Sunday, 22 February 2015 00:20
The UNESCO World heritage site Cartagena is the undisputed Queen of the Caribbean world. Its mystic old town is surrounded by an ancient impeccable city wall, which contains a labyrinth of cobbled streets, antique balconies with exuberant flowers, medieval buildings and places full of live.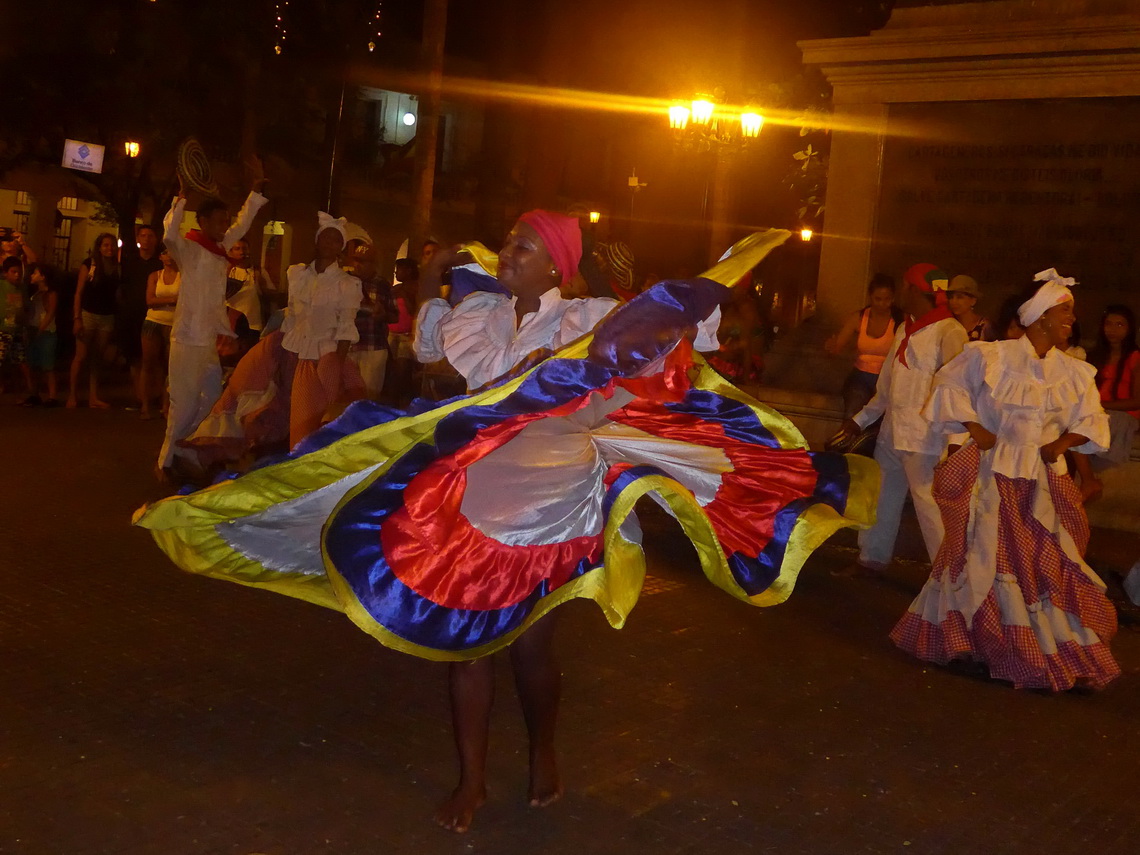 In Cartagena's quarter Bocagrande with its impressive skyline are fancy beaches and many hotels of all categories - this makes it the number one touristic destination in Colombia. In addition Cartagena has a nice environment with marvelous island which are protected by a national park and the active volcano Lodo El Totumo, where you can bath in the mud of its crater. But the cosmopolitan city with more than 1 million inhabitants has also its shadows like slums with unbearable poverty and violent crime.
Few kilometers southeast of Cartagena is a second UNESCO world heritage, the sleepy little town Mompòs in the hot swamps of the lower river Rio Magdalena.

Tuesday, 10 February 2015 22:36
The Sierra Nevada de Cocuy is one of the most spectacular ranges of the Andes with 15 peaks higher than 5000 meters sea-level. Green lush valleys lead to huge glaciers, stunning pinnacles and marvelous lakes. It is located approximately 300 kilometers northeast of Bogotá in the eastern range of the Colombian Andes, the Cordillera Oriental. Besides bumpy dirt roads access to the this paradise is relatively easy, also to some of its summits and glaciers. Many Colombian people come to these mountains to see and feel snow once in their life.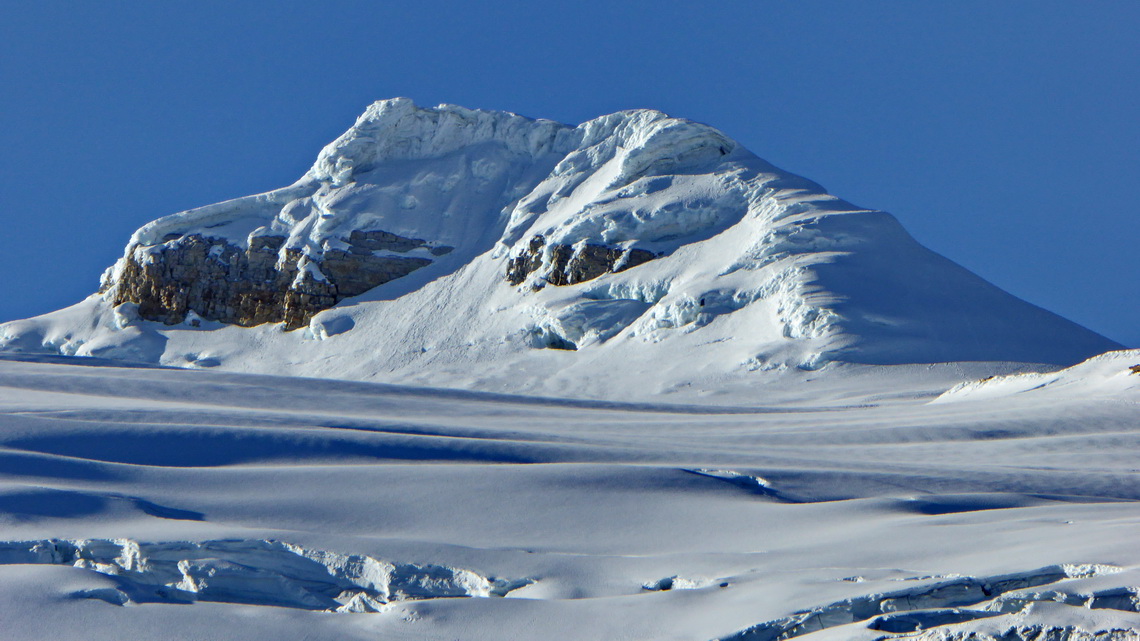 Tuesday, 03 February 2015 19:36
Nevado Puracé is with 4646 meters sea-level the highest mountain in the area of the beautiful city Popayan in the southwest corner of Colombia (see article Nevado del Tolima and Farallones de Cali). It is an active and heavily smoking volcano in the Cordillera Central (central range) of the Andes which erupted in 1977 the last time. Still it is called Nevado - Snow mountain but due to global warming we saw no bigger snow fields on its top.
The eastern side of Nevado Puracé leads to the Rio Magdalena. This river is called Mother of Colombia because it is the longest one in Colombia, many provinces are on its shore with huge population and it crosses the nearly the whole country from the Ecuadorian border to the marvelous Caribbean beaches. The upper Rio Magdalena valley is a beautiful, pleasant, lush and fruitful area with two Cultural UNESCO World heritage sites: San Agustin, which is famous for its several 1000 years old effigies and Tierradentro, which is grand for its mystic tombs.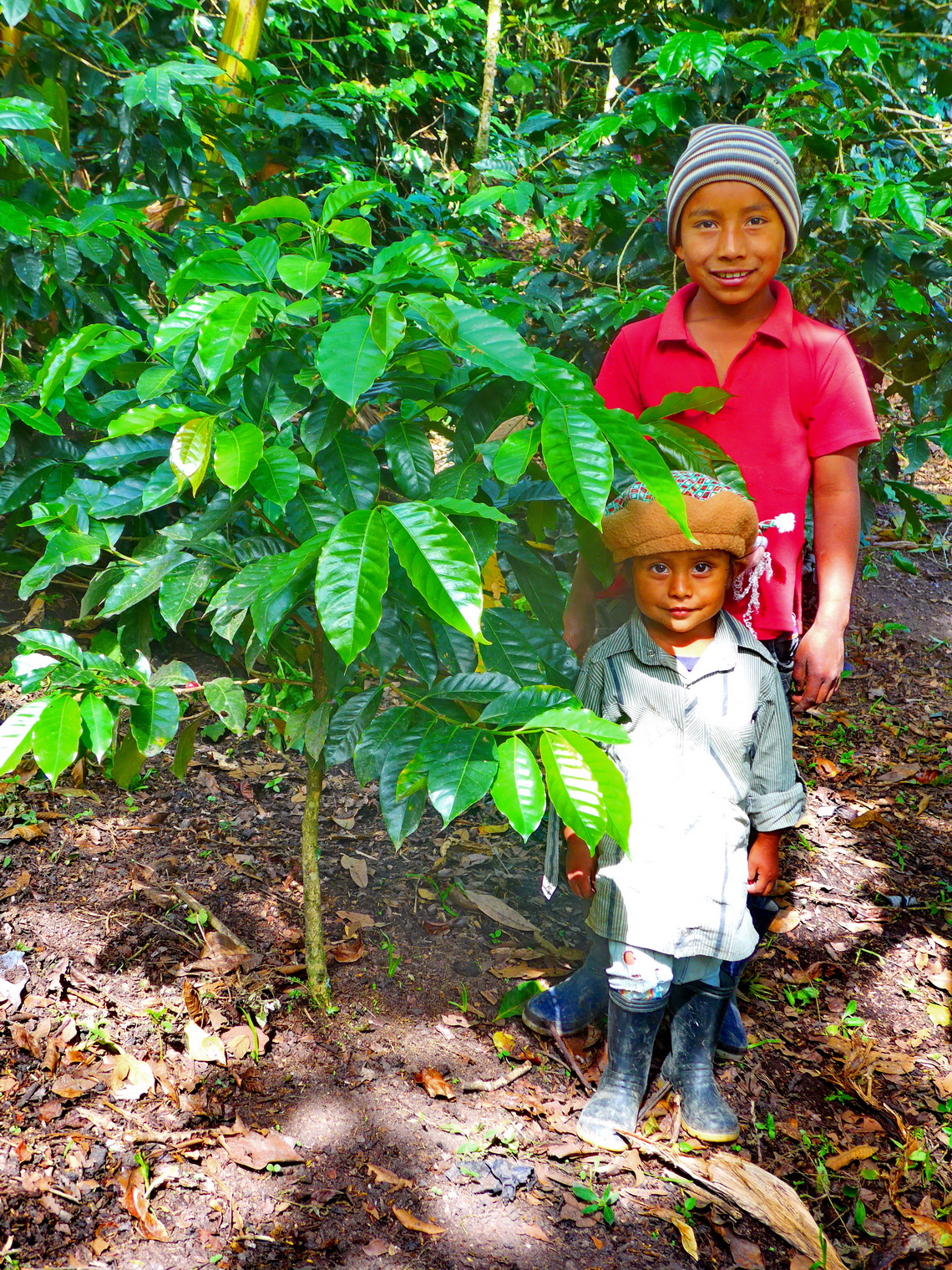 We came to Colombia in the late afternoon of December 16th 2014 and we headed to the little town Tuquerres to visit Laguna Verde and Volcan Azufral. But it was raining cats and dogs when we wanted to start early next morning.

Saturday, 24 January 2015 20:31
Cayambe is a mountain of superlatives: It is with 5790 meters sea-level the third highest peak of Ecuador. It is the only place on the equator of our planet where you find ice and snow permanently. It is a perfect white volcanic cone which a tremendous huge mass of ice.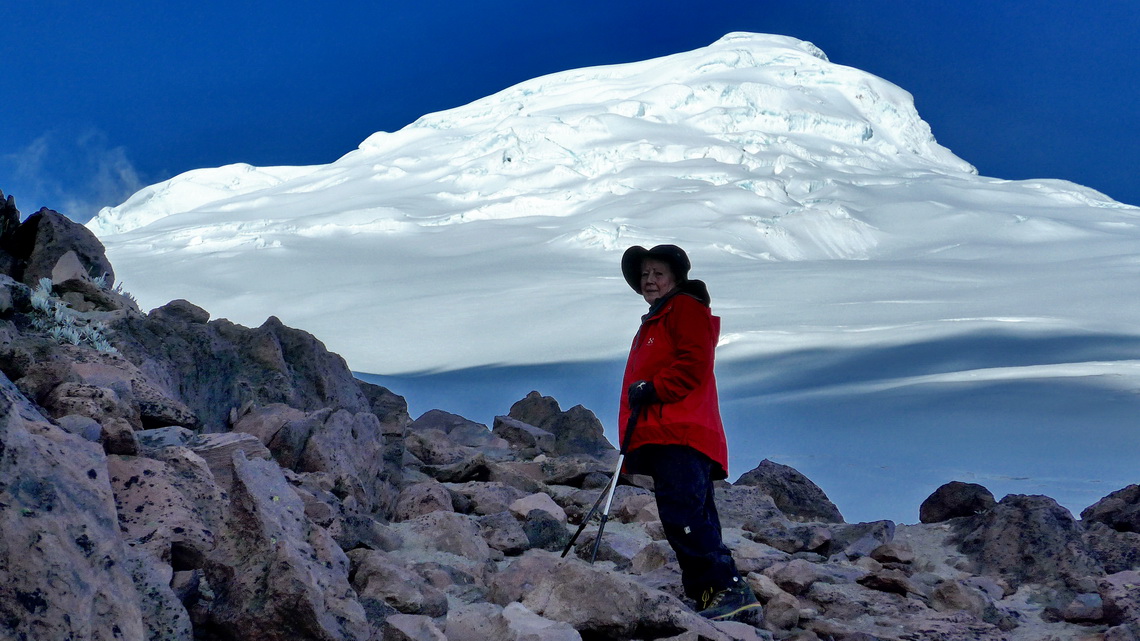 Before we dared to go to Cayambe we had climbed up 4790 meters Corazon which is few kilometers south of Quito west of the little town Machachi. Corazon means heart and indeed with some fantasy you might find a heart in its shape.
Saturday, 24 January 2015 18:21
The little village Misahualli is the main touristic destination in the eastern part of Ecuador - El Oriente in the hot, humid, green and lush area of Amazonia. It is located on shore of the river Rio Napo, one of the mightiest tributary of the Amazon river. Misahualli is an ideal base for trips into the jungle with a very good infrastructure.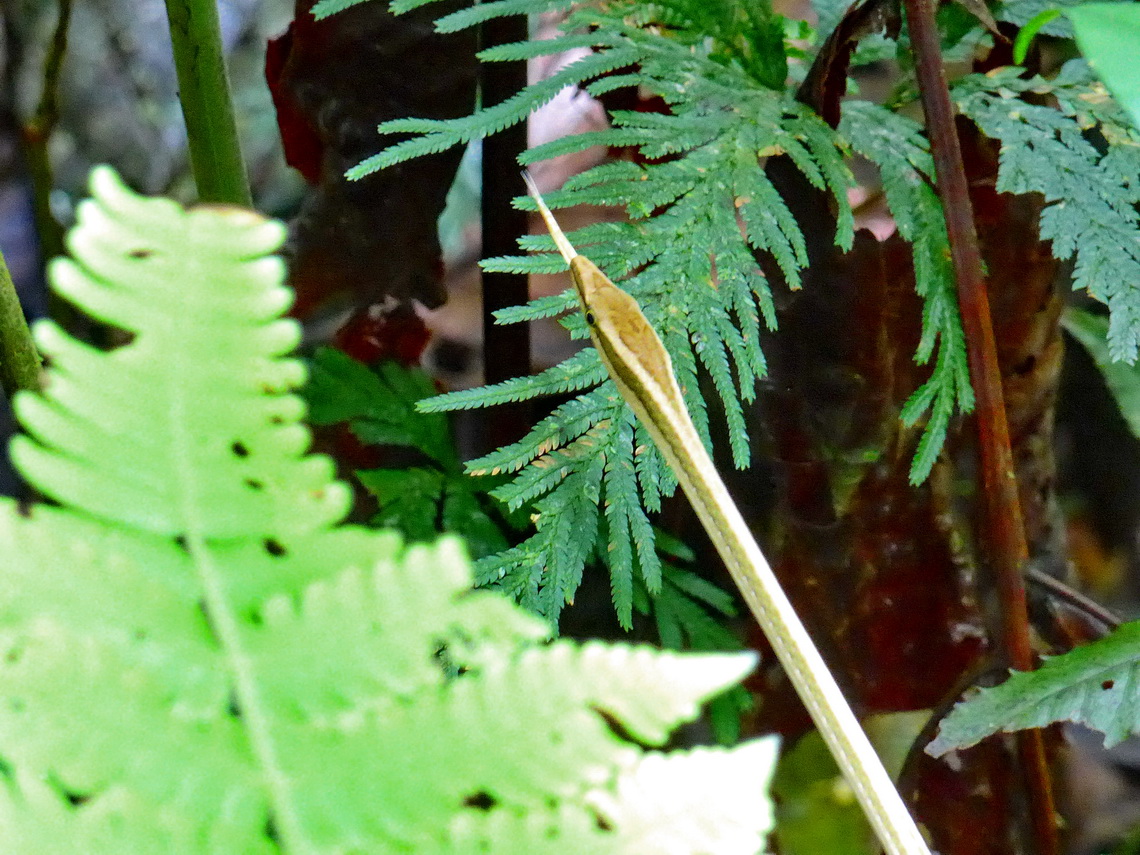 We had been already two times in Ecuador, firstly in May 1981 and secondly in January 2004. 1981 we had been visiting the indigenous people Aucas- an exhausting 5 days trip. 2004 we had taken a public boat to Coca - a 10 hours voyage, which is no longer possible because today is a good paved road to Coca and the public transportation is done with buses. Tommy had been never in Amazonia, thus we decided to travel a third time to Misahualli. Again it was an amazing trip into the wonders and secrets of Amazonia.
Monday, 29 December 2014 22:08
The Galapagos island are famous for its enormous biodiversity. Is it one of the place on earth with the highest level on endemism, for instance 97% of the reptiles are found nowhere else. Due to its remoteness most animals are everything but shy. It is a perfect place to watch incredible many, different and nice birds, reptiles, turtles, sea lions and others. In addition its marine fauna is fabulous; there are excellent snorkeling and diving opportunities. In 1835 Charles Darwin started on Galapagos his work of the theory of evolution by natural selection.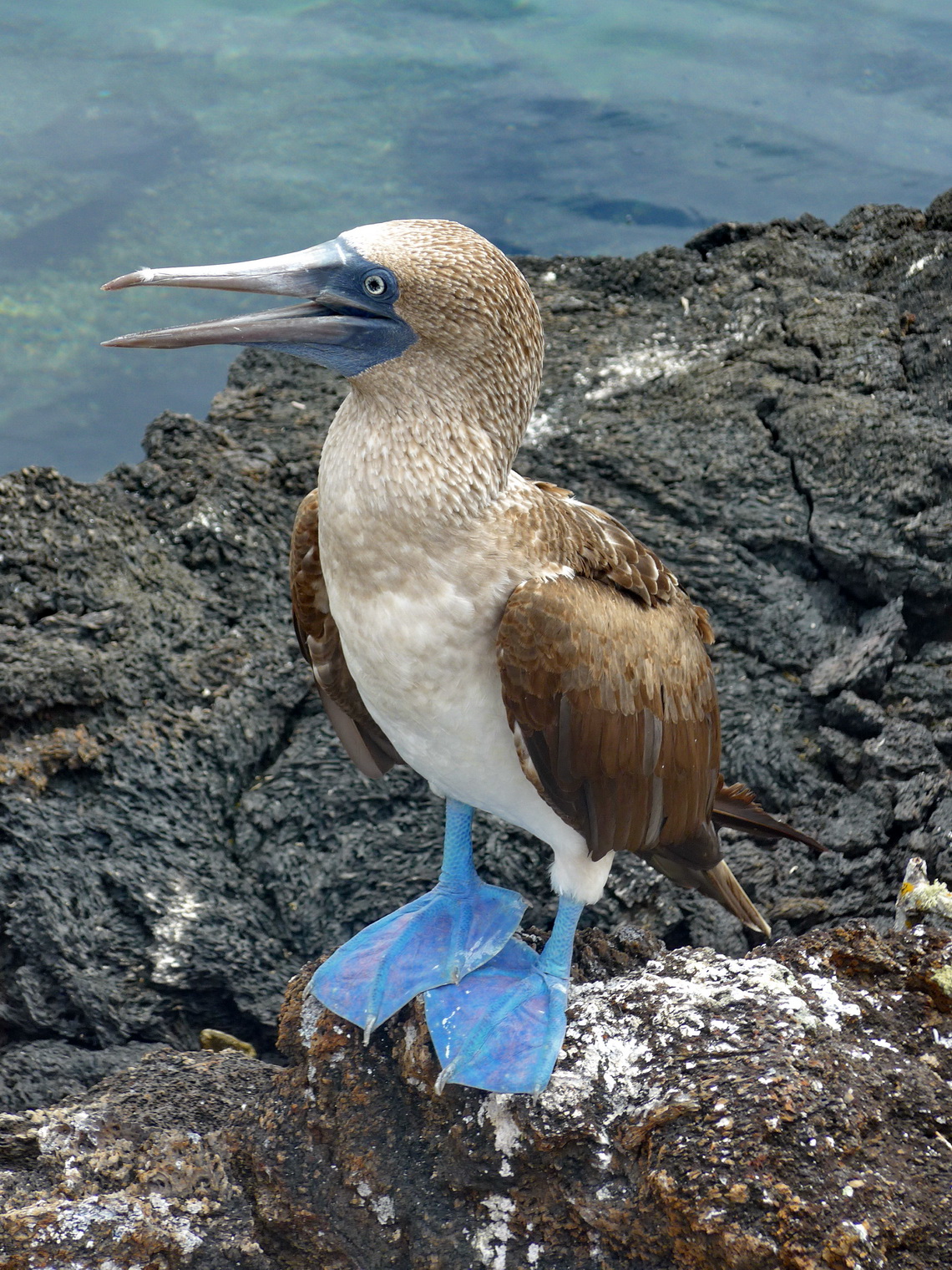 The islands are 900 km west of Ecuador's shore and located on the Nazca tectonic plate on a hot spot which is moving, yet. Their origin is caused by volcanic activity, which is still ongoing with eruptions in the western part. Usually clouds are coming from the south and sticking on the single volcano of the major islands. Just the largest one, Isla Isabela consists of six. Only there human settlement is possible on the larger island. All other sides of the volcanos and smaller islands are pristine and hostile deserts without any fresh water.
Monday, 10 November 2014 18:15
The volcanos Pichinchas are located few kilometers West of Quito, Ecuador's capital. Besides their proximity to Quito it is a remote and pristine area in altitudes higher than 4000 meters with excellent mountaineering capabilities. The highest summit is 4794 meters high Guagua Pichincha - new Pichincha, which erupted in the year 1999 and covered the 2 million city Quito with a thick layer of ash. Marks of this incident are still clearly visible and Guagua Pichincha has a huge caldera with many smoking and stinking points.
The second main peak is the rocky Rucu Pichincha - old Pichincha, which can be accessed easily from the funicular TeleferiQo, a main attraction of Quito which brings you up to 3950 meters sea-level in few minutes. We did the marvelous traverse between these two peaks - a wonderful two days hike.

When we came back to Ecuador in autumn 2014 we visited primary the beautiful Pacific coast South of the medium sized town Manta with the stunning Machalilla National Park. Our base in October and November 2014 was the cozy Finca Sommerwind on shore of Laguna Yahuacocha nearby Ibarra because we had trouble with our car, again.
Sunday, 20 July 2014 13:33
The little town Mindo is located on the lower western slopes of the Andes close to Quito in a terrific rain forest. Many different birds like toucans and hummingbirds can be seen there. Its vegetation is abundant, its climate is perfect for orchids and other beautiful plants. Ecuador's hot northern Pacific coast is little Africa because the majority of its inhabitants are descendents of former slaves. This region is touched only punctually by tourism despite marvelous beaches and picturesque villages. Its largest town Esmeralda is Ecuador's main port for oil, which is found on the eastern slopes of the Andes.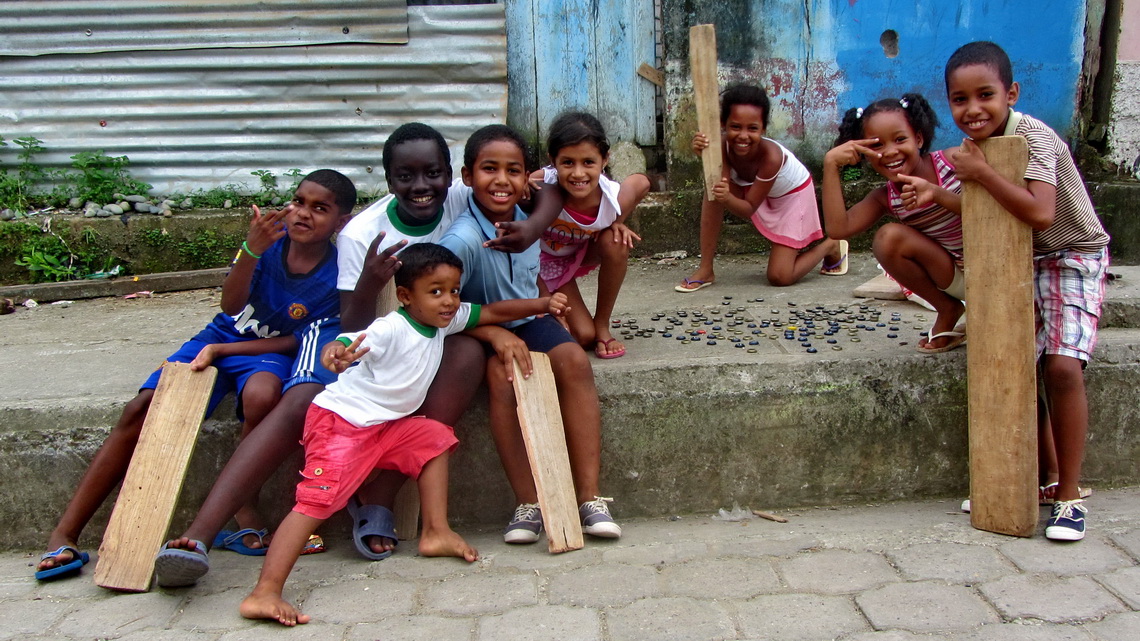 Before we flew back from Ecuador to Germany beginning of May 2014 we did a circle from Ibarra via the good street to the coast (San Lorenzo), along Ecuador's northern coast to Galera and to Quito over the direct excellent road which touches Mindo.
Thursday, 12 June 2014 18:38
The sunny and hot Caribbean cost around Santa Marta is a terrific part of Colombia with amiable people, stunning beaches, snowy mountains, lively towns, incredible nature and a lot of history.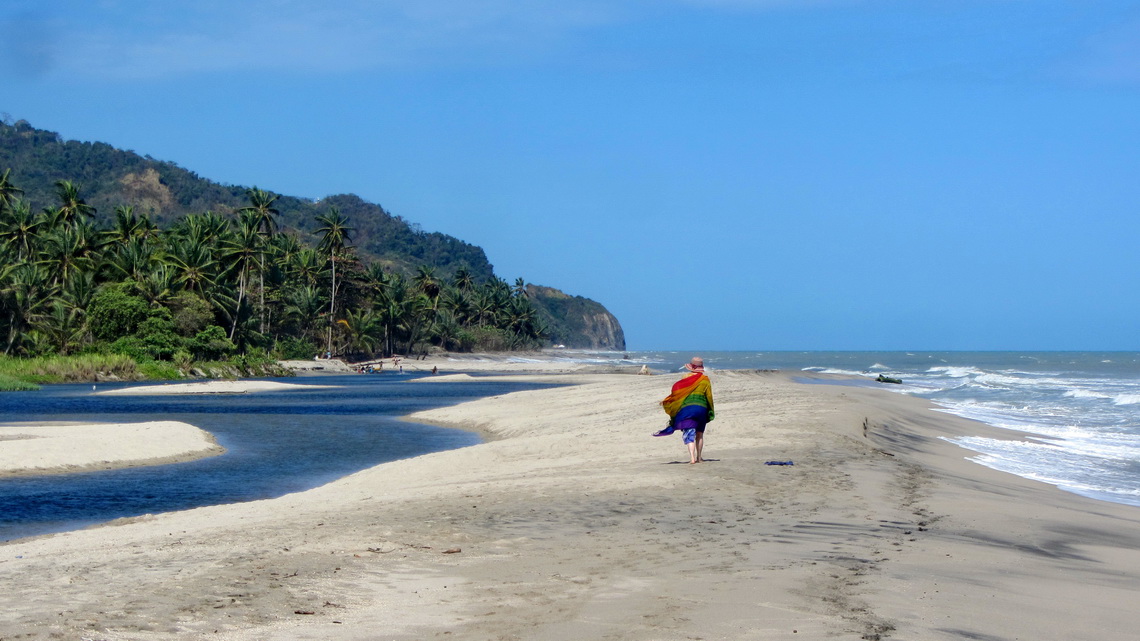 The Caribbean cost is the major tourist destination in Colombia with countless domestic and foreign visitors. Its infrastructure is pretty good developed. We hurried by plane in a rush to Santa Marta because we wanted to see the carnival of its neighbor city Barranquilla. Colombian people claim that this is the second biggest and most important carnival of the continent after Rio's.
Saturday, 08 March 2014 03:14
Leticia is exactly on the triangle border Brazil, Colombia and Peru. No street leads to the capital of the Colombian province Amazonas. Leticia is the southernmost town of Colombia and an important port city of the Amazon river. It is a bustling town of approximately 40,000 inhabitants more or less grown together with the Brazilian town Tabatinga. There are no real border between Brazil, Colombia and Peru on the other side of mighty Amazon, and it is possible to pass the virtual borders without passports, stamps or visas. The people living here are feeling like Amazon citizens and not Brazilians, Colombians or Peruvians. Most of them speak Spanish as well as Portuguese. Thanks to its remoteness the jungle in this region is relatively well preserved with huge trees, abundant wild life and some indigenous tribes.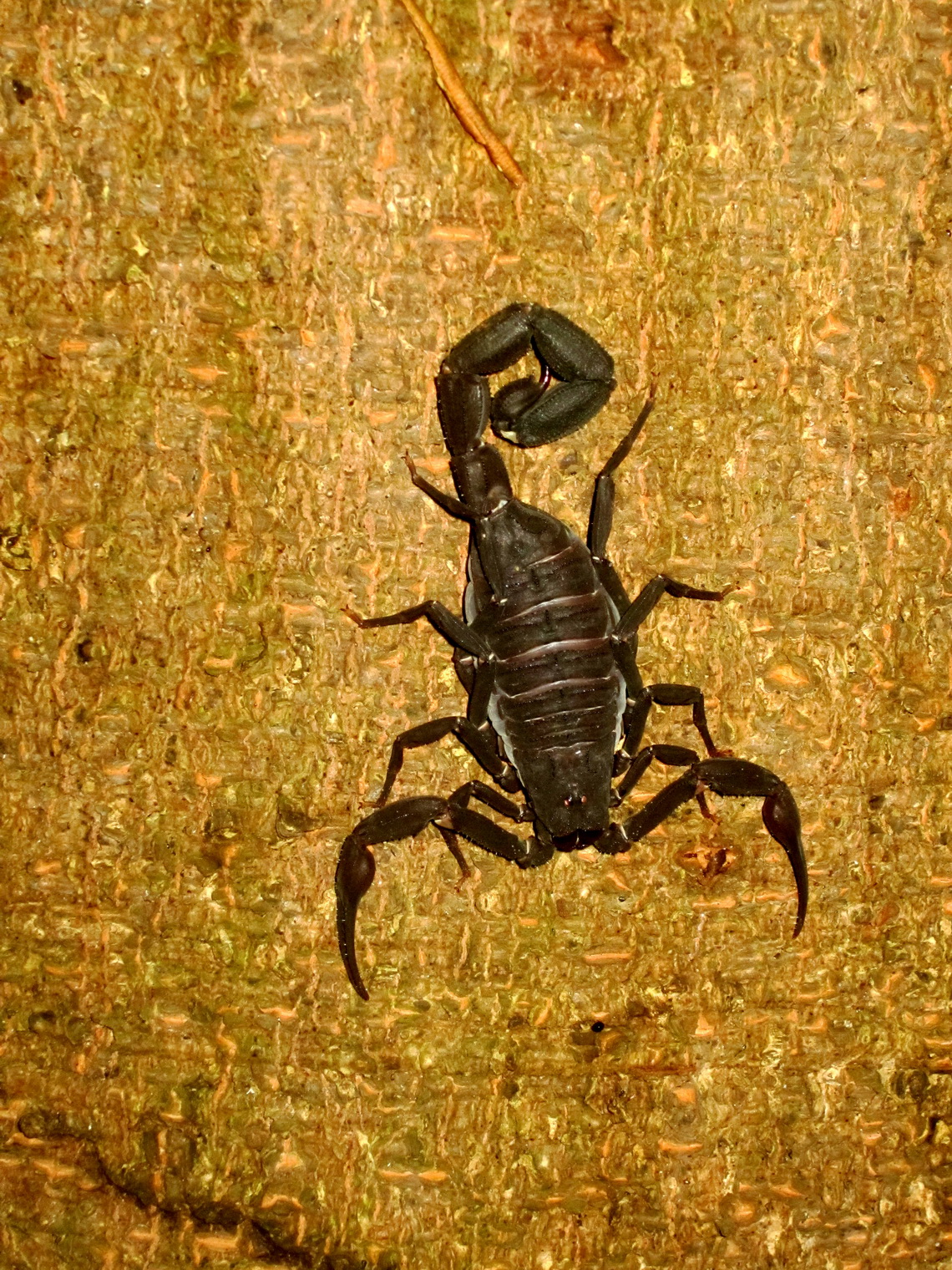 When we came to the nice hostel La Jangada owned by the Swiss guy Herve, he convinced us to do a three days trip on Rio Yavari together with the German / Australian couple Anna and Duncan.
Page 3 of 9