Las Vegas bills itself as The Entertainment Capital of the World for its innumerably casinos, huge resorts and fancy shows and other leisure activities. More than 40 millions tourists come to Las Vegas every year, also many couples for marriage which is quite easy in there.
Before we came to Las Vegas beginning of May 2017 we visited the outstanding National Parks Capitol Reef, Bryce Canyon and Zion of southern Utah.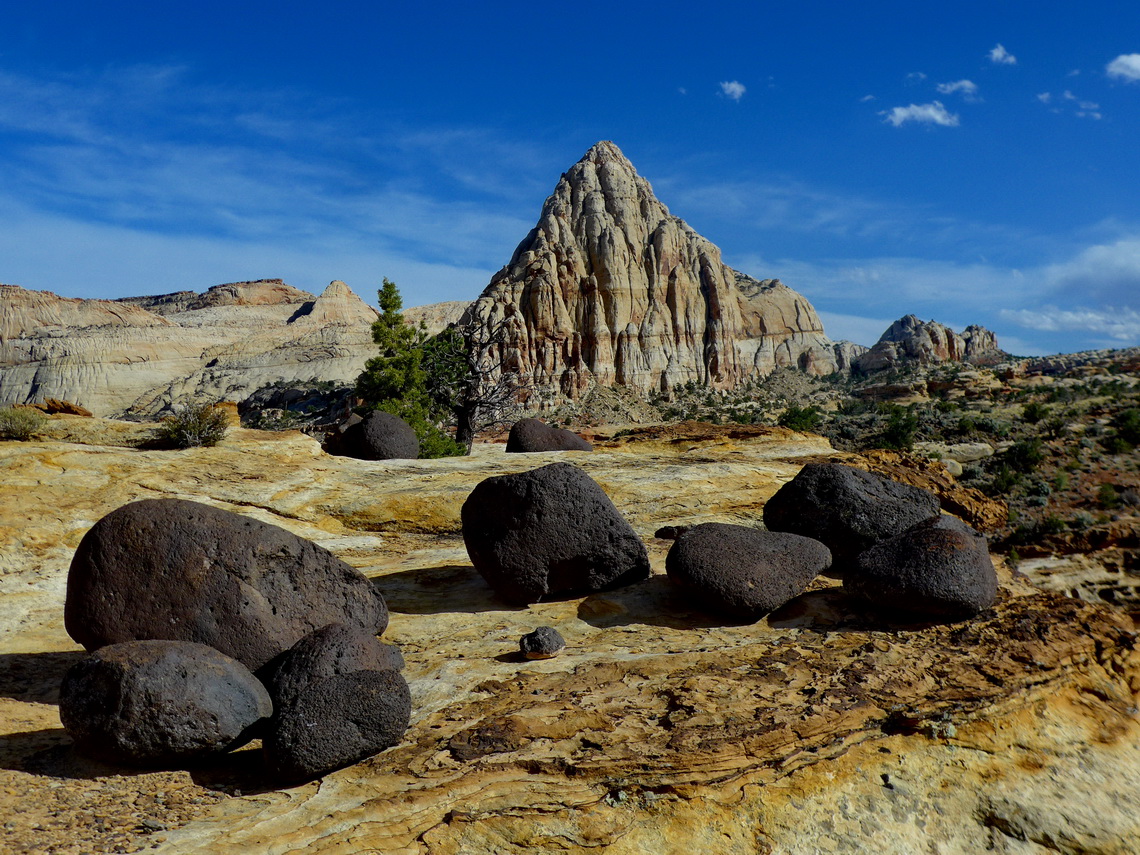 Capitol Reef's defining feature is a wrinkle in the Earth's crust extending more than 150 kilometers from Thousand Lake Mountain to Lake Powell. It is a classical one-sided fold with a formidable barrier in the east like a barrier reef in an ocean.

We spent two fabulous days in this rough, pristine and fruitful environment which seems a little bit neglected by tourists due to nearby Arches and Bryce Canyon National Parks. Superb were the hikes to the 2122 meters high summit of the Navajo Knobs and the Golden Throne Viewpoint. Few kilometers east of its entrance is a perfect free camping place on BLM lands (GPS coordinates: N38° 16.690' W111° 07.896'). Both trails and some way-points are included in our GPS coordinates file of Utah.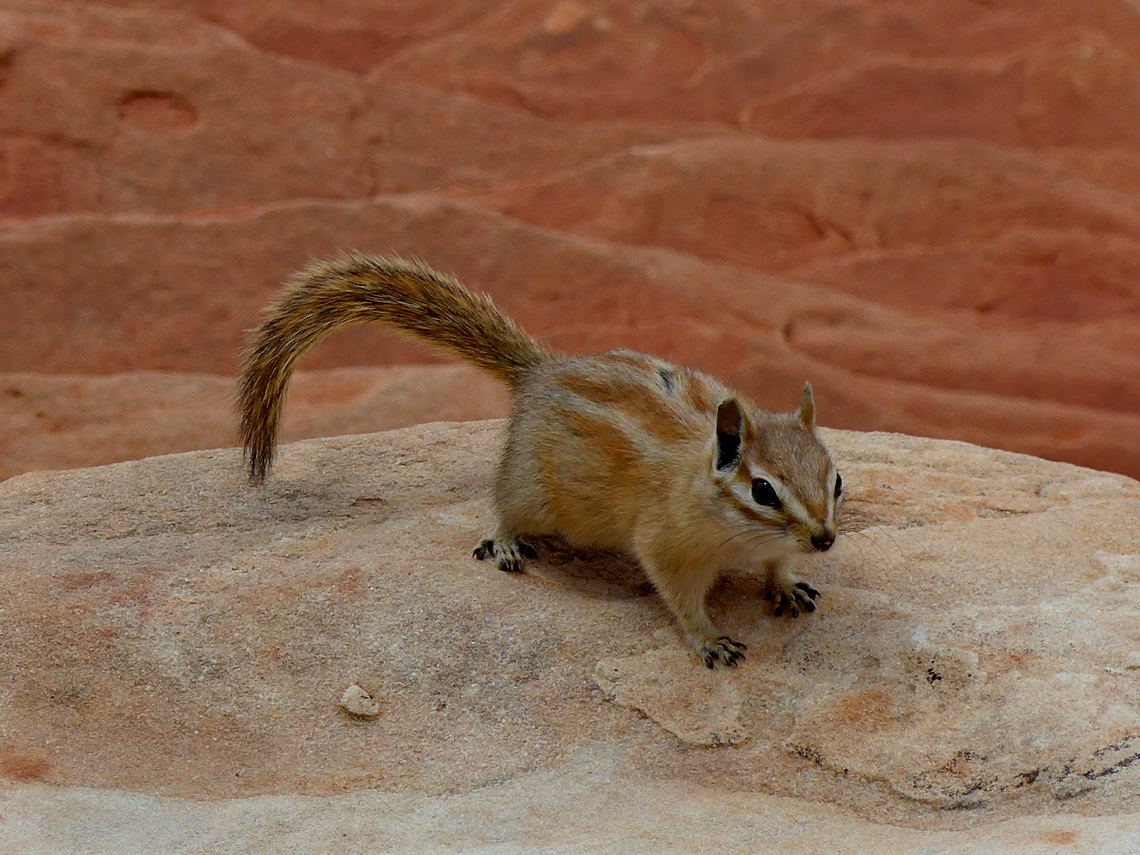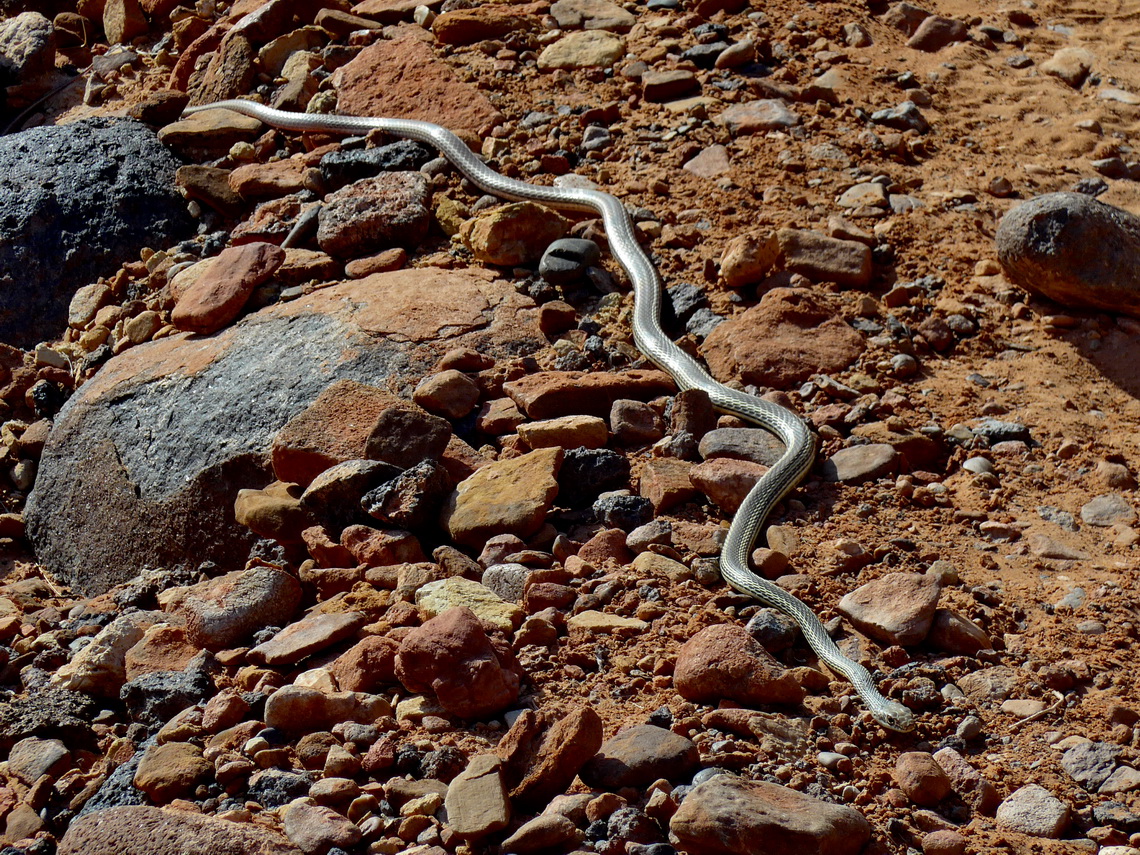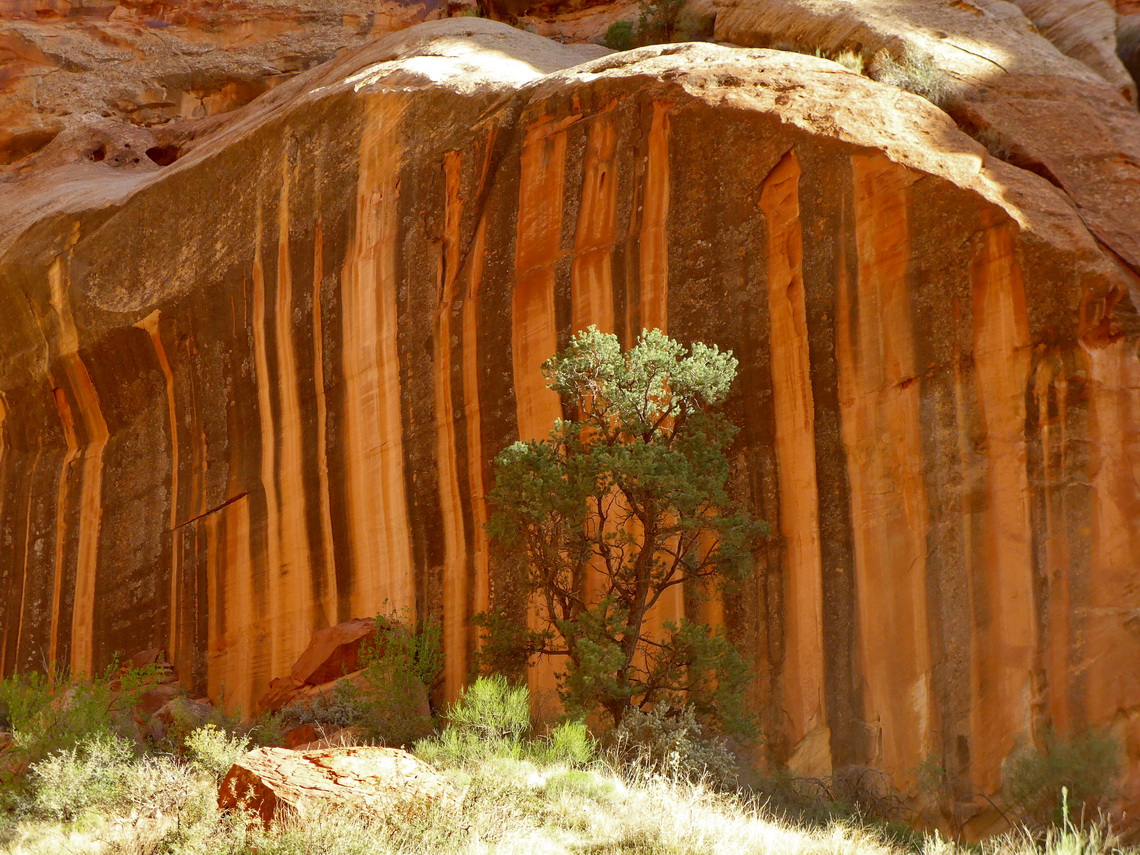 There is no place on earth like Bryce Canyon. It is the largest collection of hoodoos (odd-shaped pillars of rock left standing from the forces of erosion) in the world. Its name is a little bit misleading because it is not a canyon but a range of giant natural amphitheaters along the eastern side of the Paunsaugunt Plateau which is the highest part of the Grand Staircase of the Colorado plateau. It is with sea-levels more than 2,700 meters its highest step and relatively cold.
Again we found a nice and free campsite few kilometers outside of the National Park (GPS coordinates: N37° 40.183' W112° 10.449'). Queens Gardens and Peekaboo trails can be combined into an eight which is a superb hike for one day. It is included in our GPS coordinates file of Utah. In addition we drove the street along the rim to its end (Rainbow Point) and enjoyed several viewpoints in the late afternoon.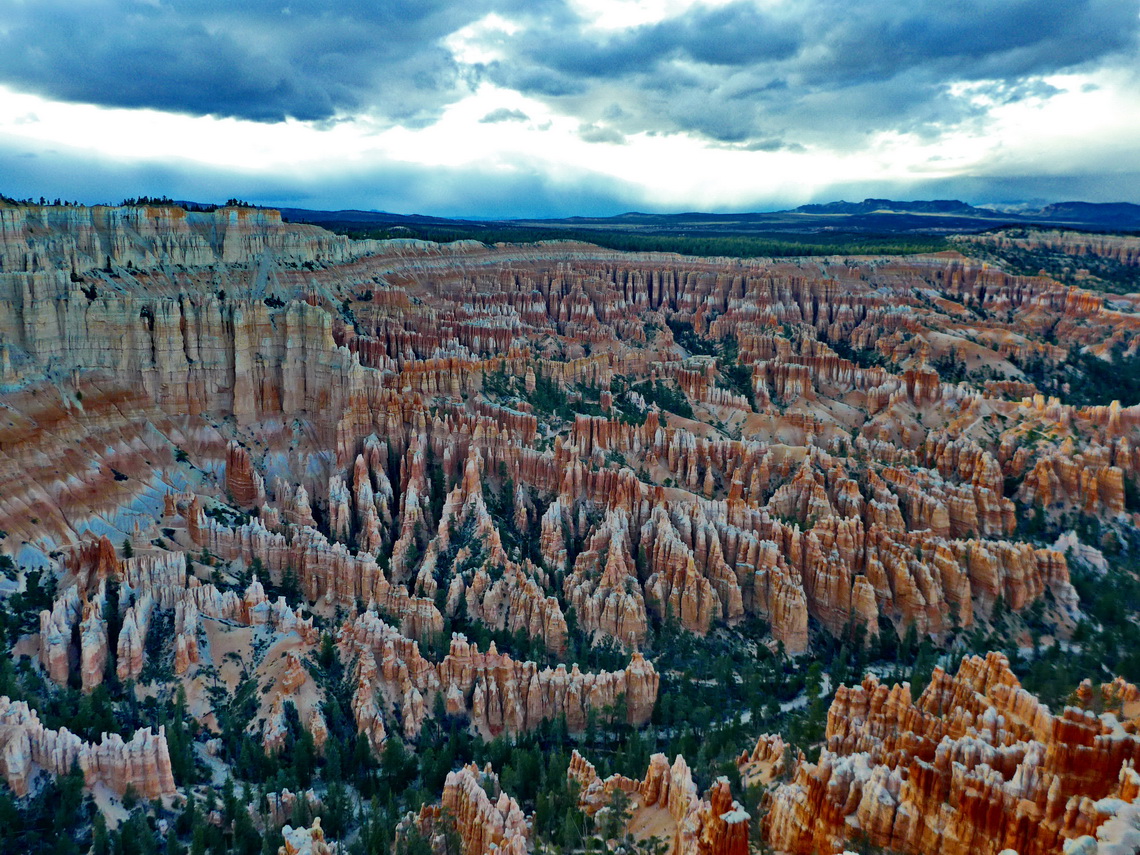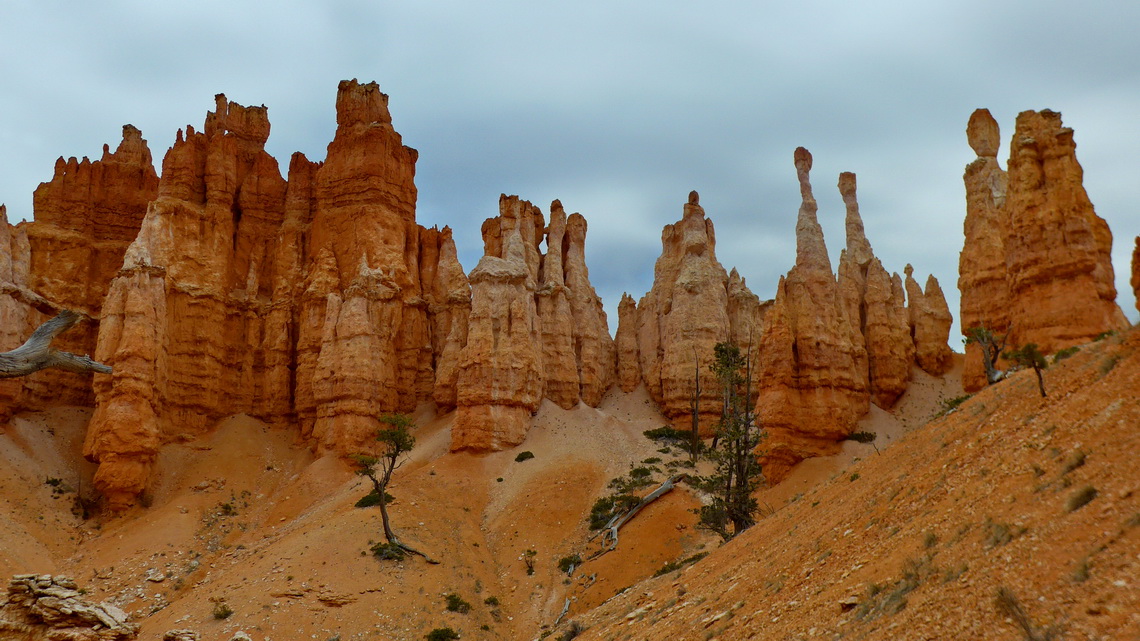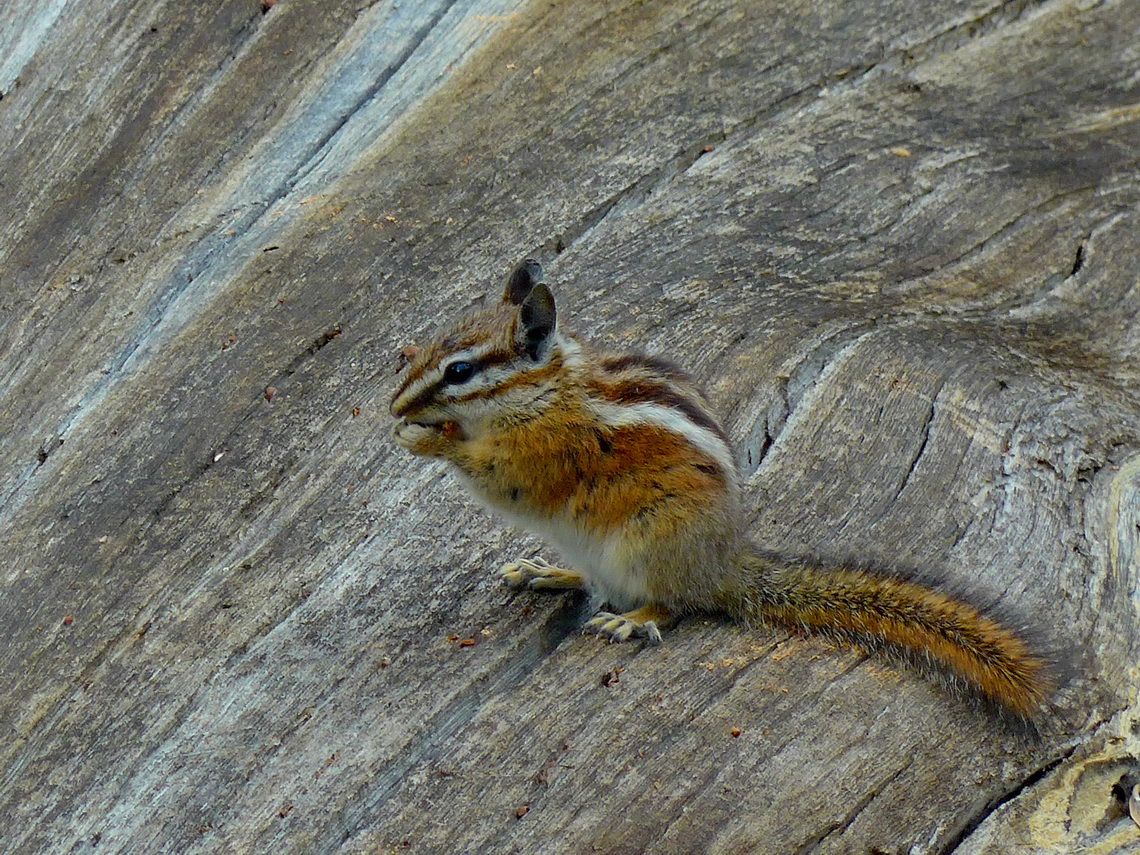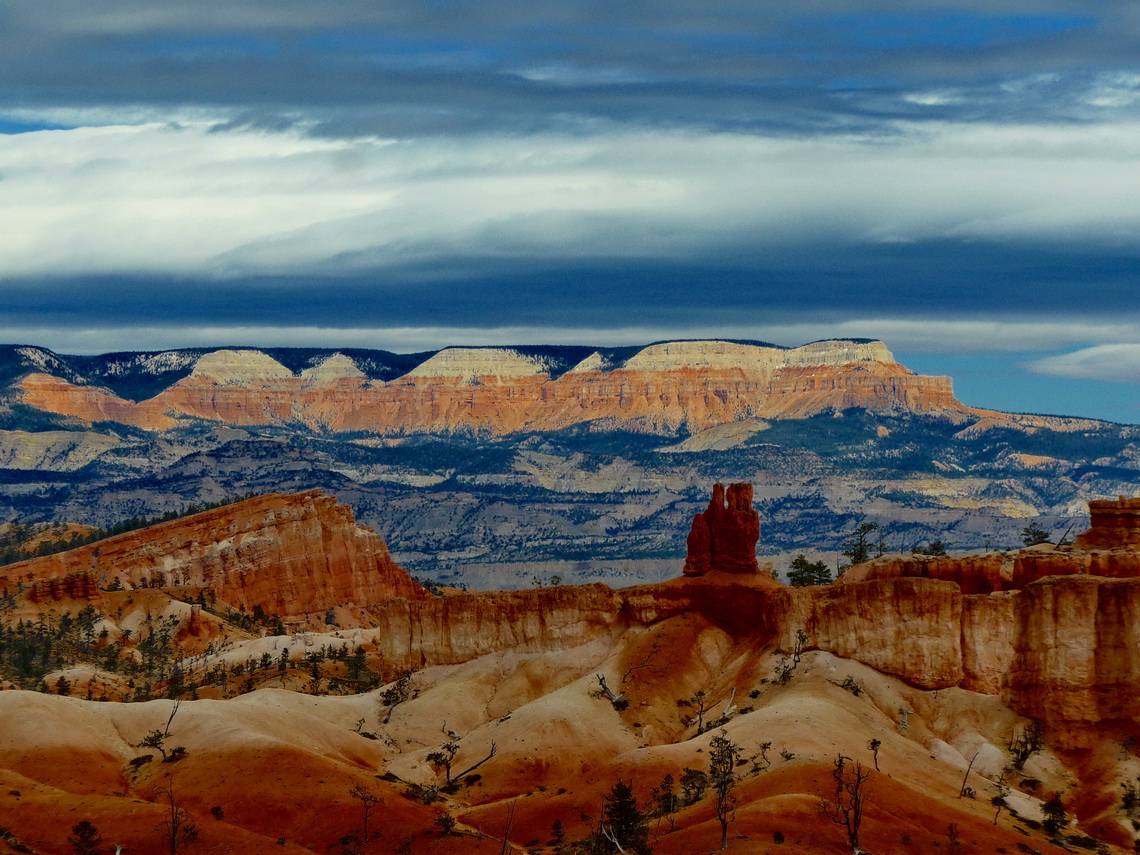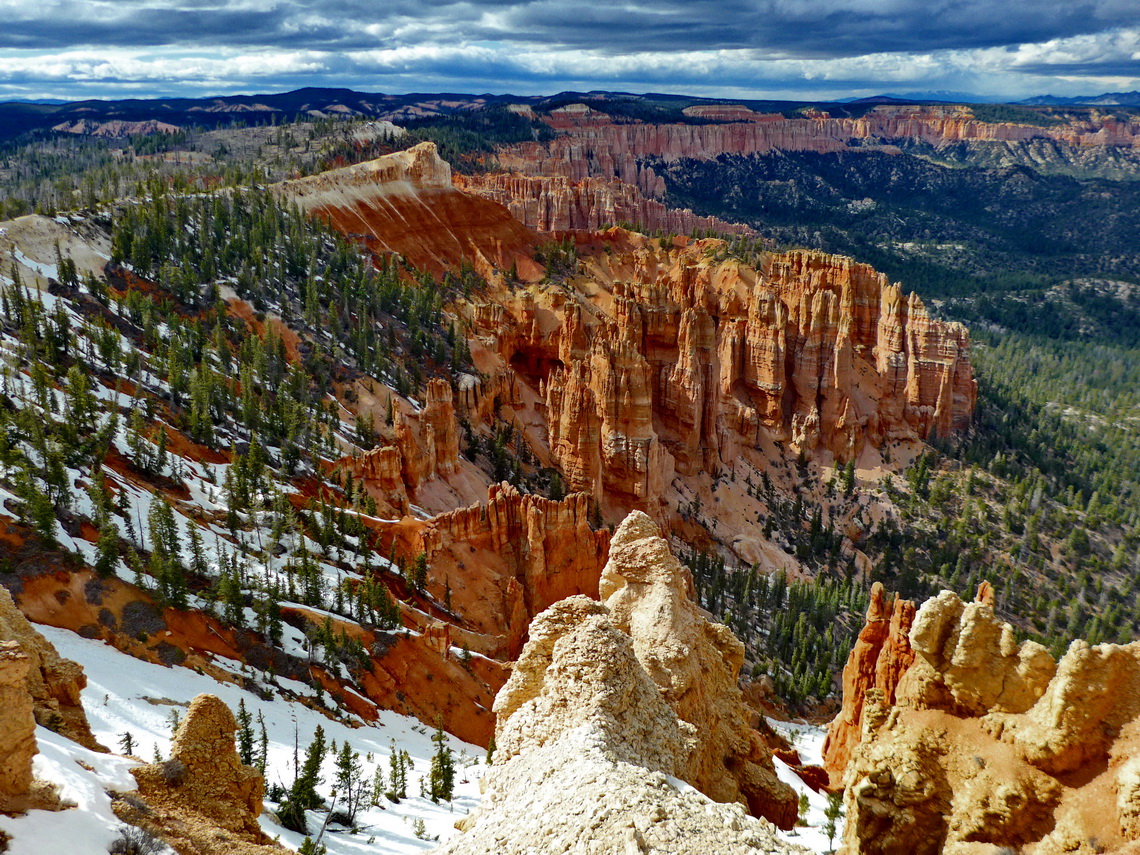 "There is an eloquence to their forms which stirs the imagination with a singular power and kindles in the mind ... a glowing response.... Nothing can exceed the wondrous beauty of Zion.... in the nobility and beauty of the sculptures there is no comparison." When geologist Clarence E. Dutton wrote that description in 1880, southern Utah was a wild, rugged country of little-known canyons and plateaus. Slowly, scientific reports, magazine articles and photographs spread the word that deep within this remote territory lay the scenic phenomenon of Zion. Some refuse to believe such a place existed.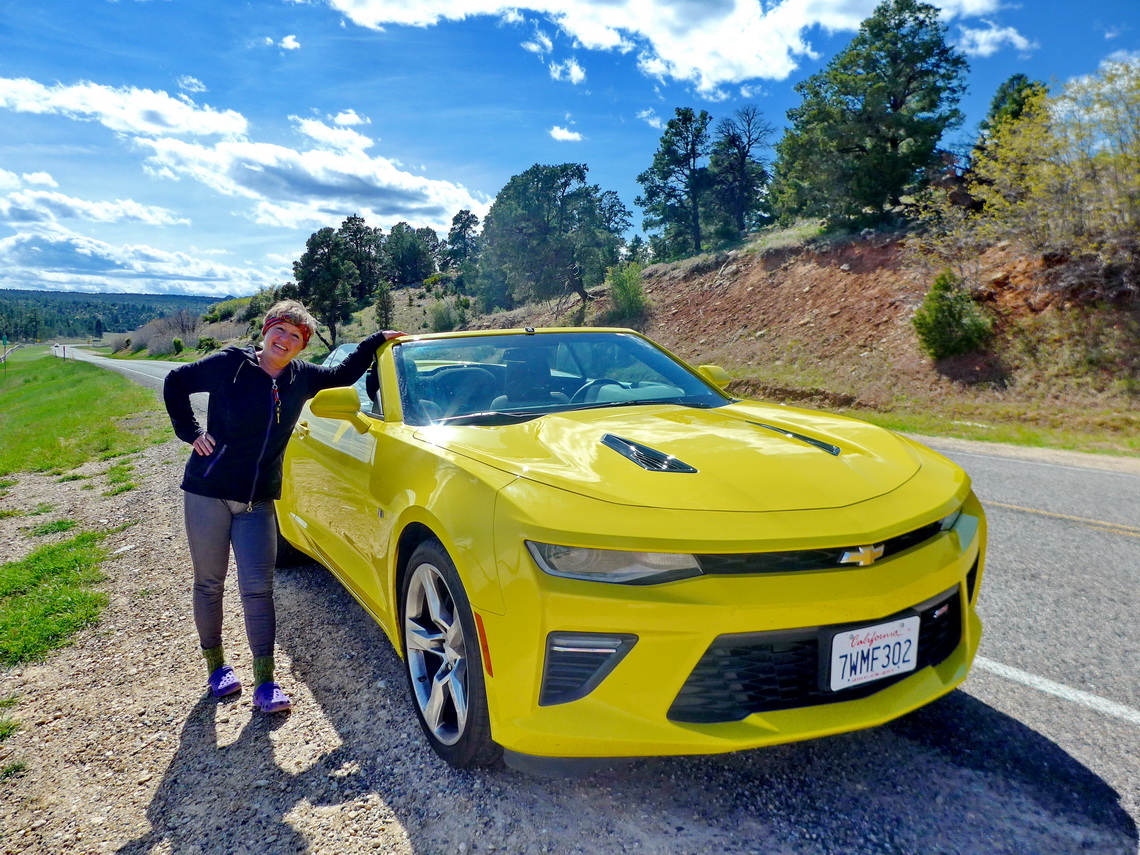 Driving into Zion Canyon is not permitted between end of March and mid of November. Instead there is a perfect public transportation system with busses running every few minutes and no additional cost to the National Park entrance fee. Also parking is free of charge in Springdale and bus stations are very close.
Nice and free campsites are on the Kolob Terrace in the next western valley which runs parallel to Zion Canyon (GPS coordinates: N37° 13.258' W113° 09.681'). In this valley we hiked to The Subway Gorges which is a strenuous full day trip in an outstanding beautiful, pristine and remote environment. Our trail is included in our GPS coordinates file of Utah. In Zion Canyon we climbed up to 1795 meters high Angels Landing and 1983 meters high Observation Point including the side trip to Hidden Canyon. Angels Landing is quite challenging even dangerous due to its airy ridge.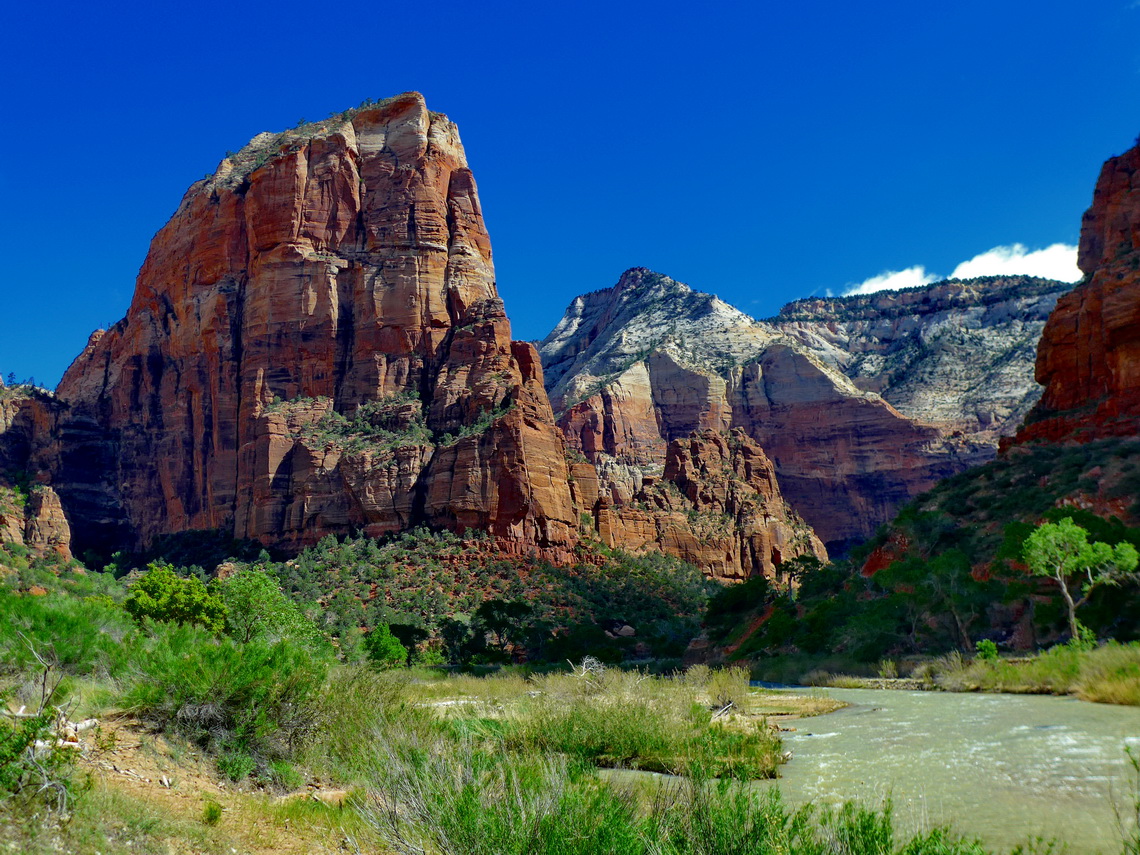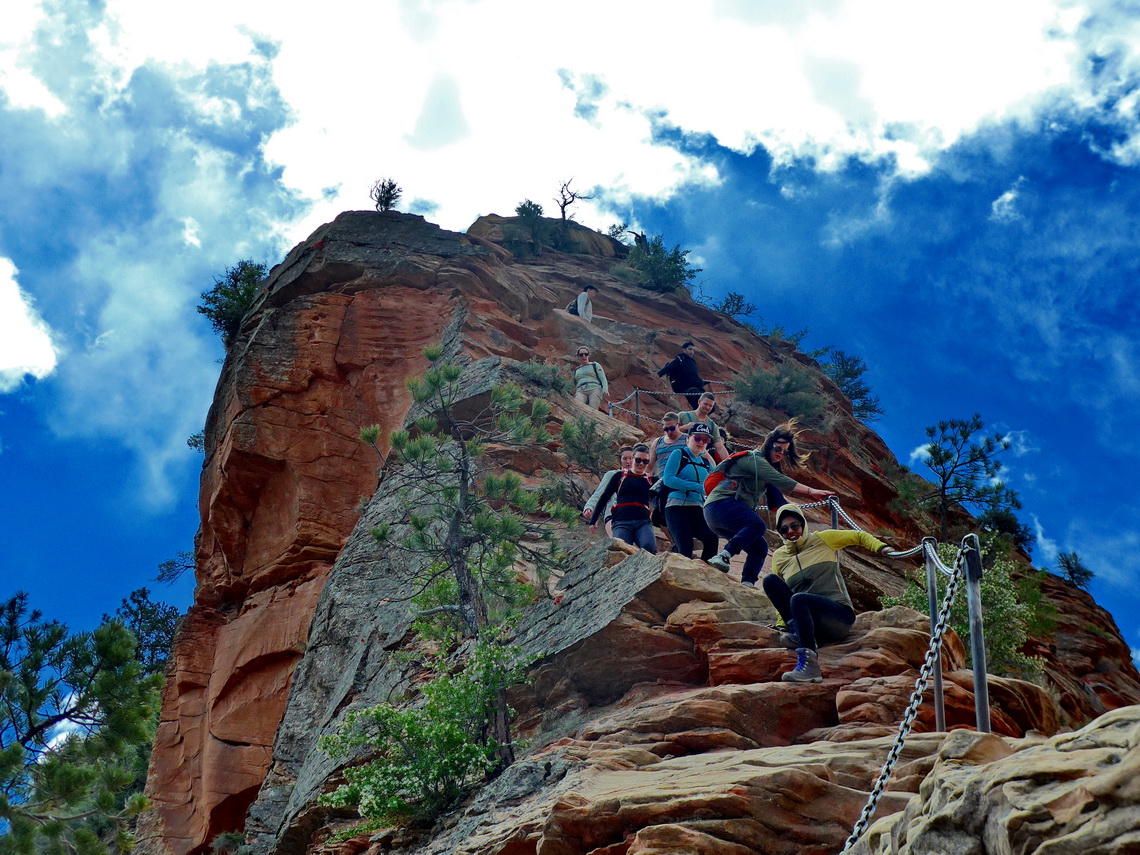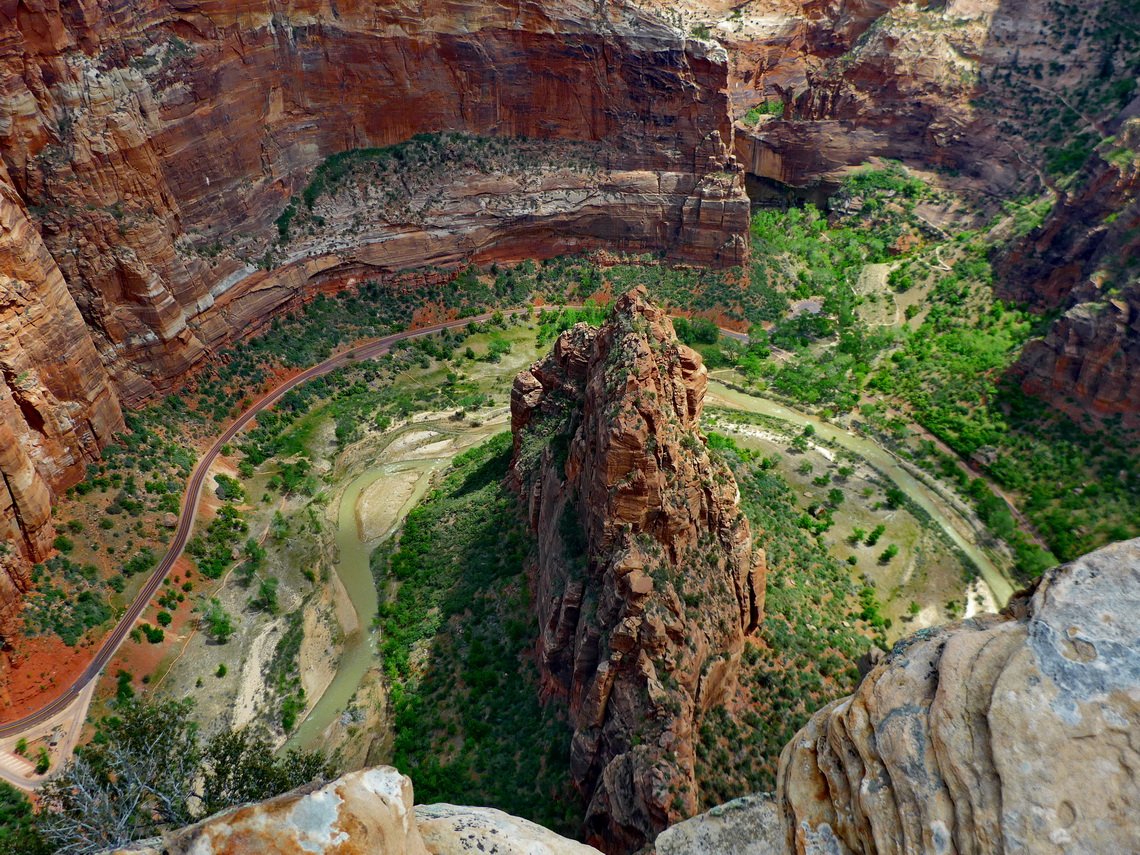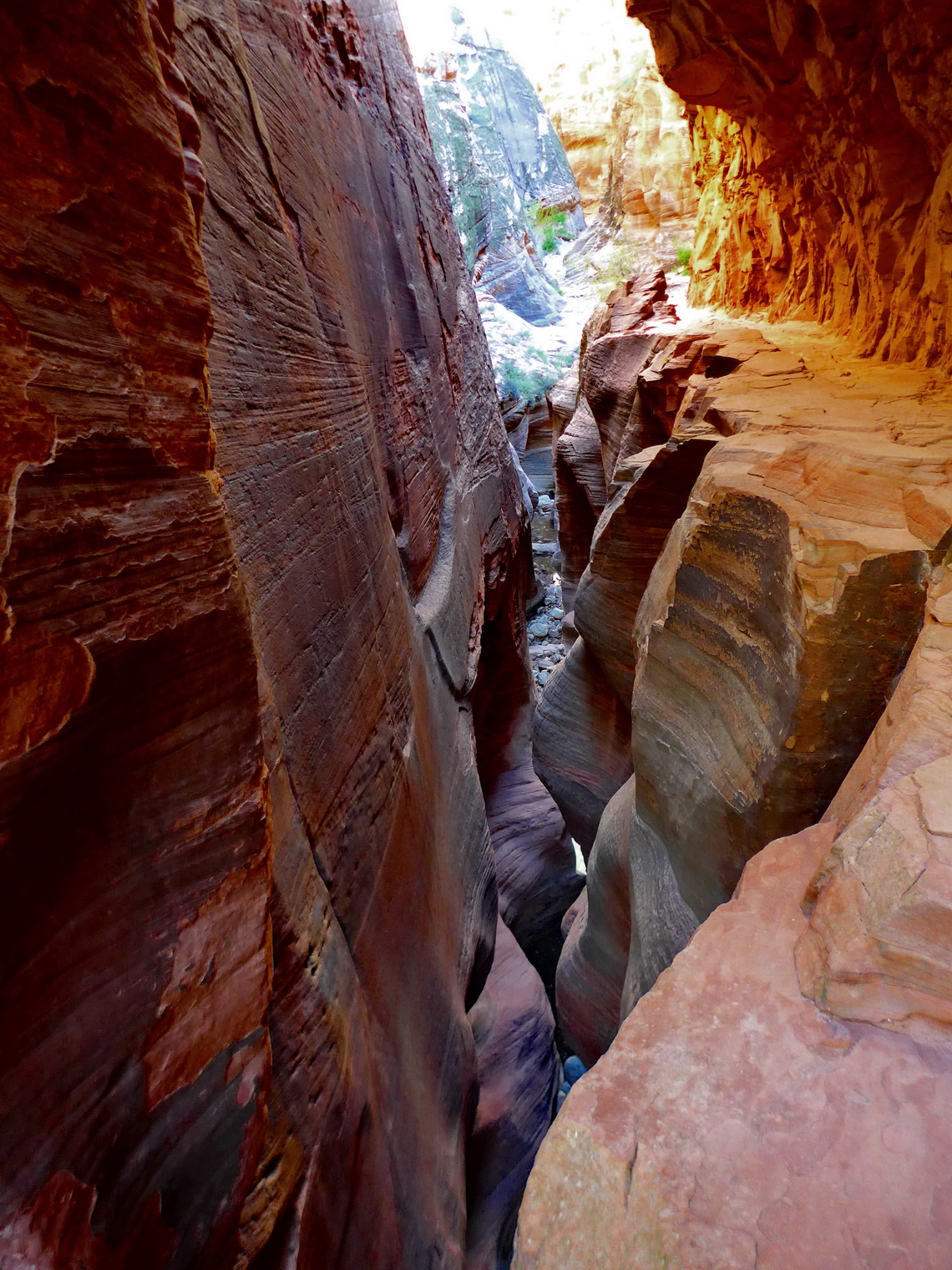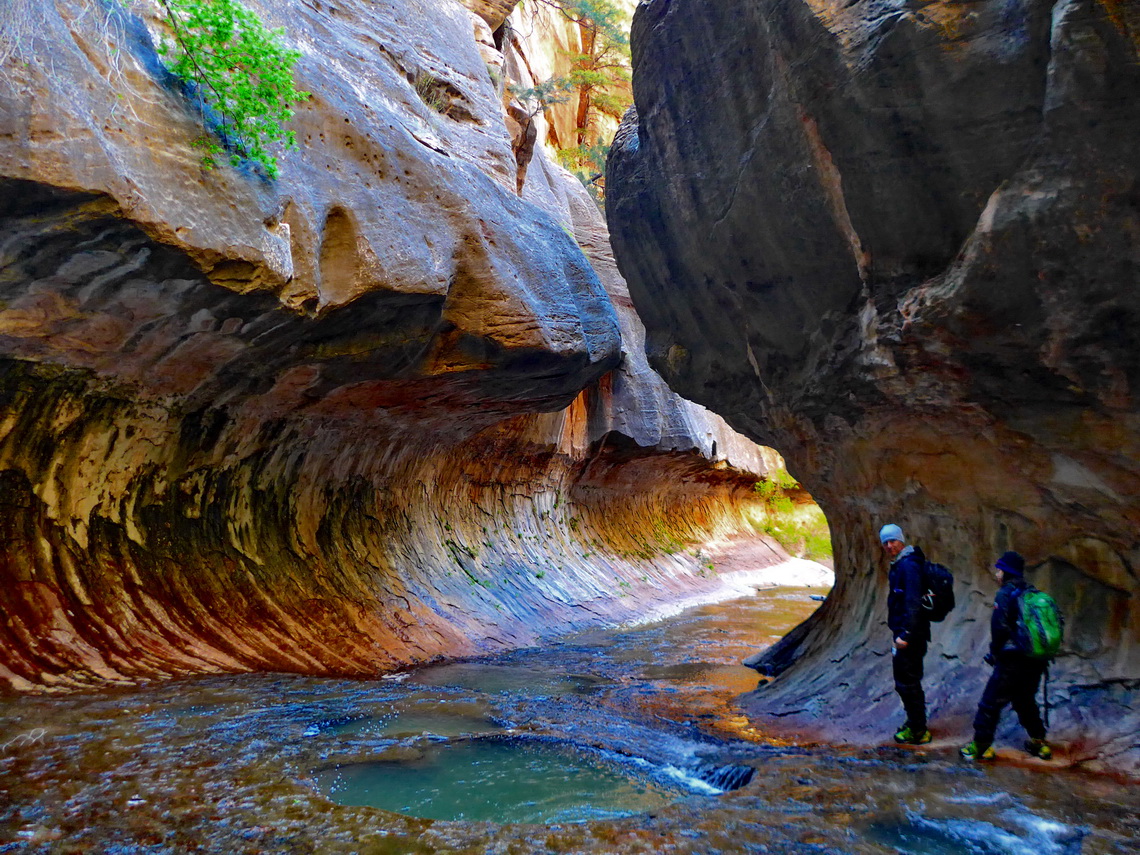 Part of Las Vegas is an artificial world. There are replicas of many grand and picturesque places of our world like the Eiffel Tower of Paris, one of the pyramids of Luxor of the Egypt or the Marcus Place of Venice with gondoliers on channels. Most of the clones include busy mega casinos and huge hotels. The sky of Las Vegas is always blue, often thanks to proper illumination.
Today, Las Vegas ranks one most visited tourist destination on earth. Most attractions are close to Las Vegas Boulevard - the famous Las Vegas Strip. Besides holiday activities Las Vegas is popular as a convention center and for its wedding service. Nearly every hotel has its own wedding chapel.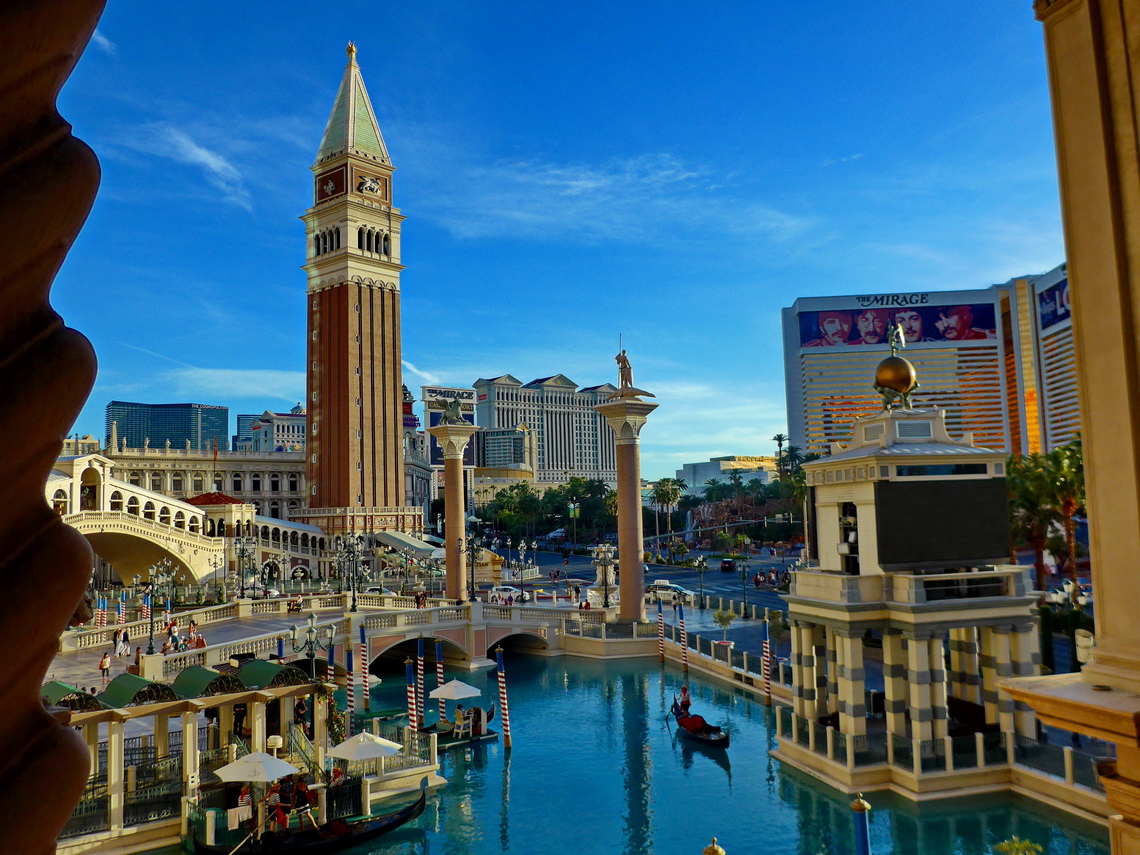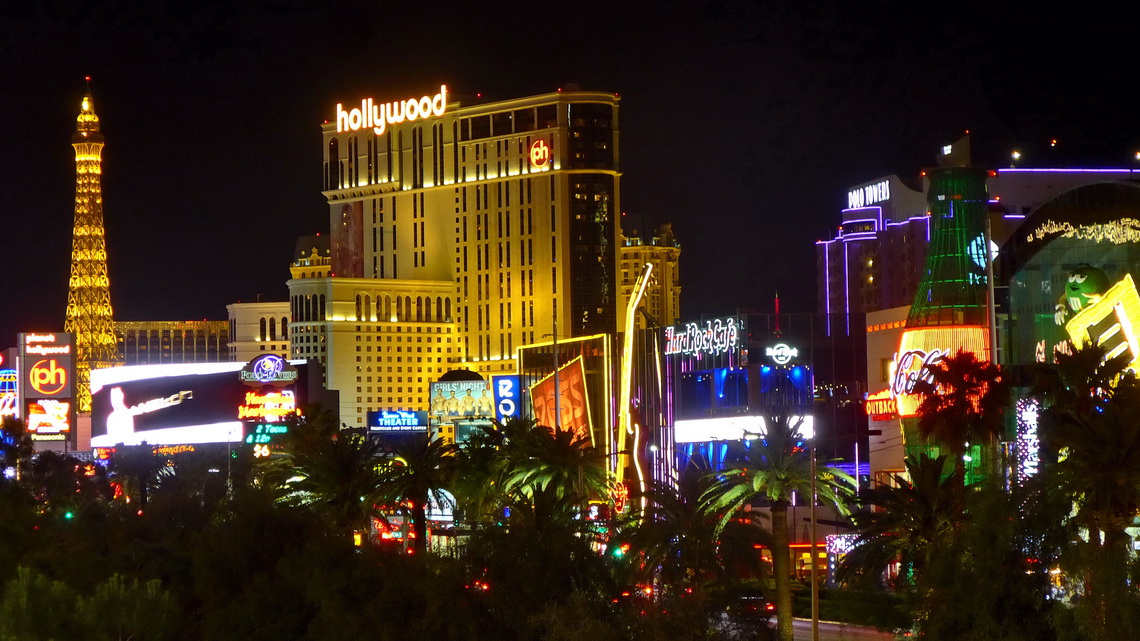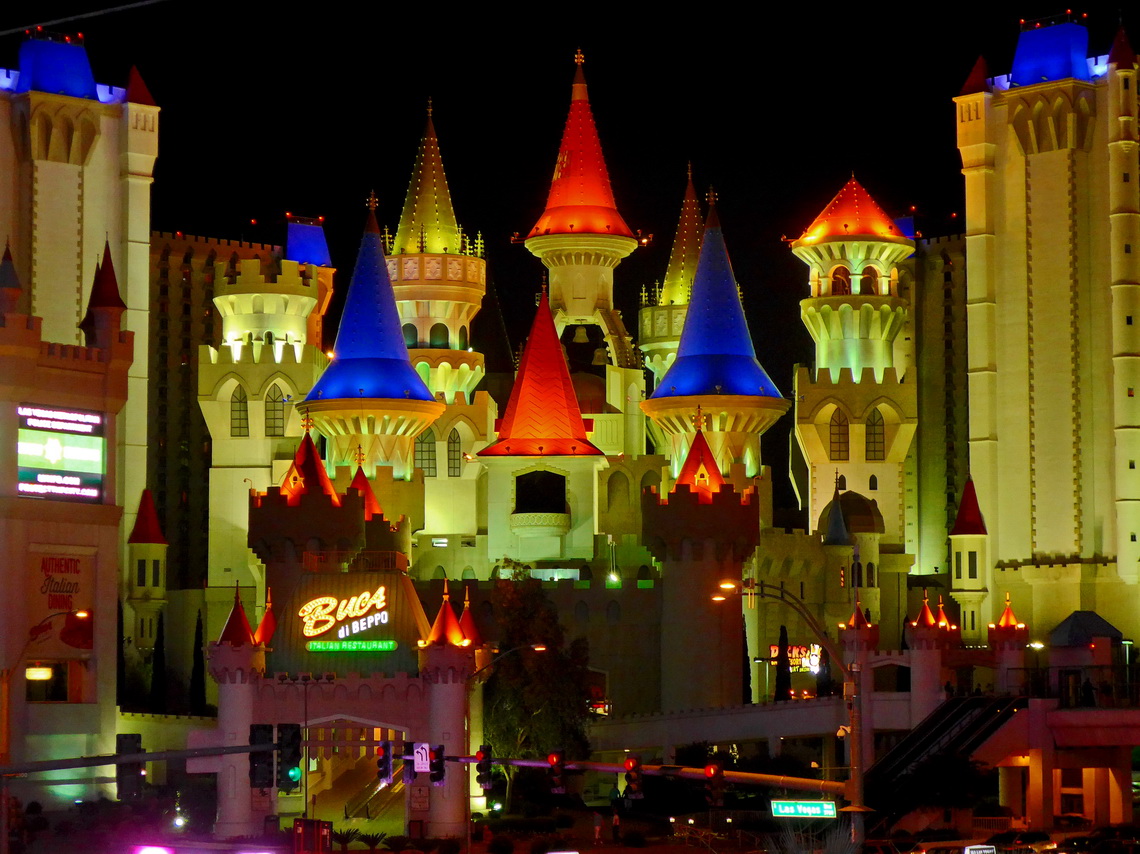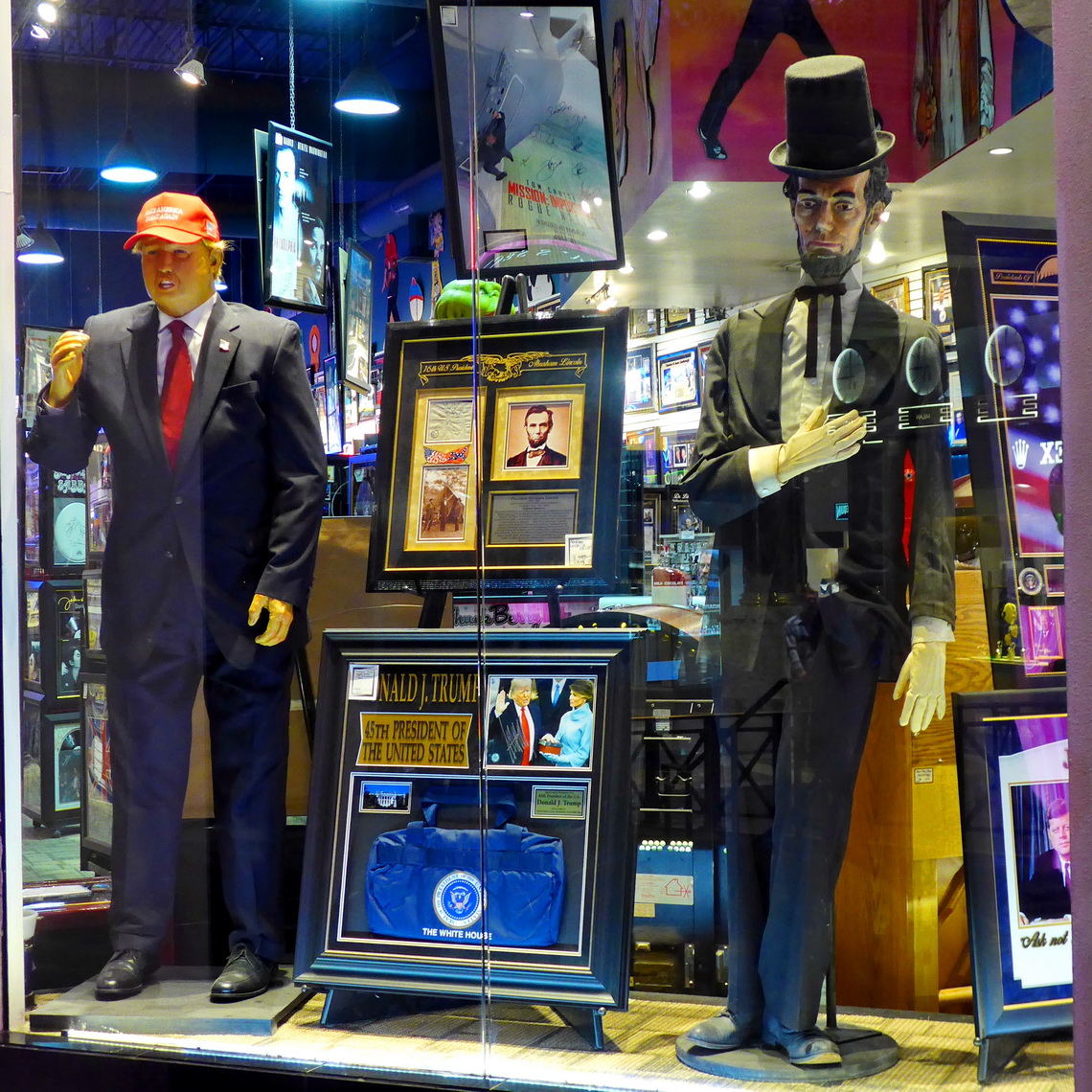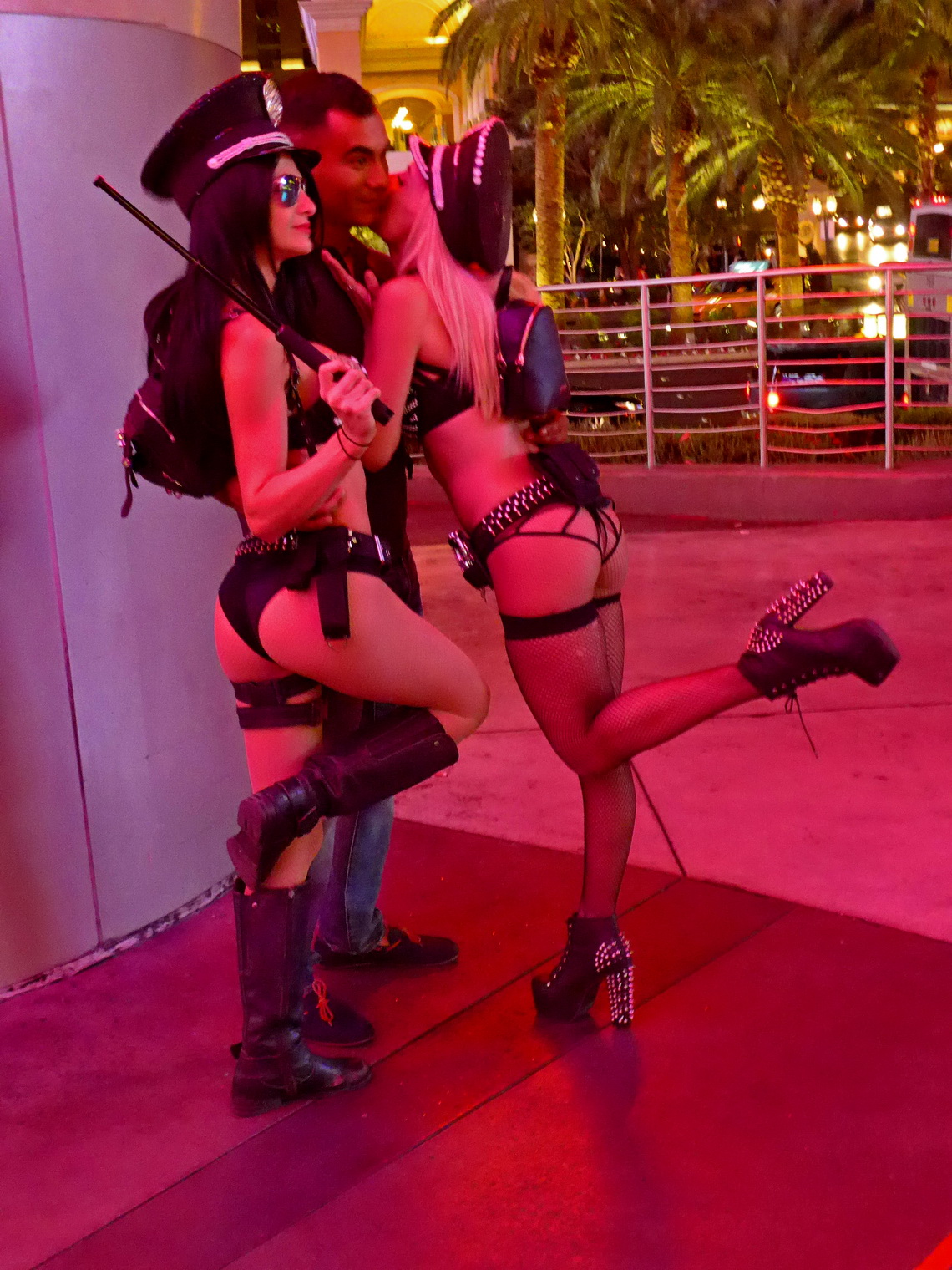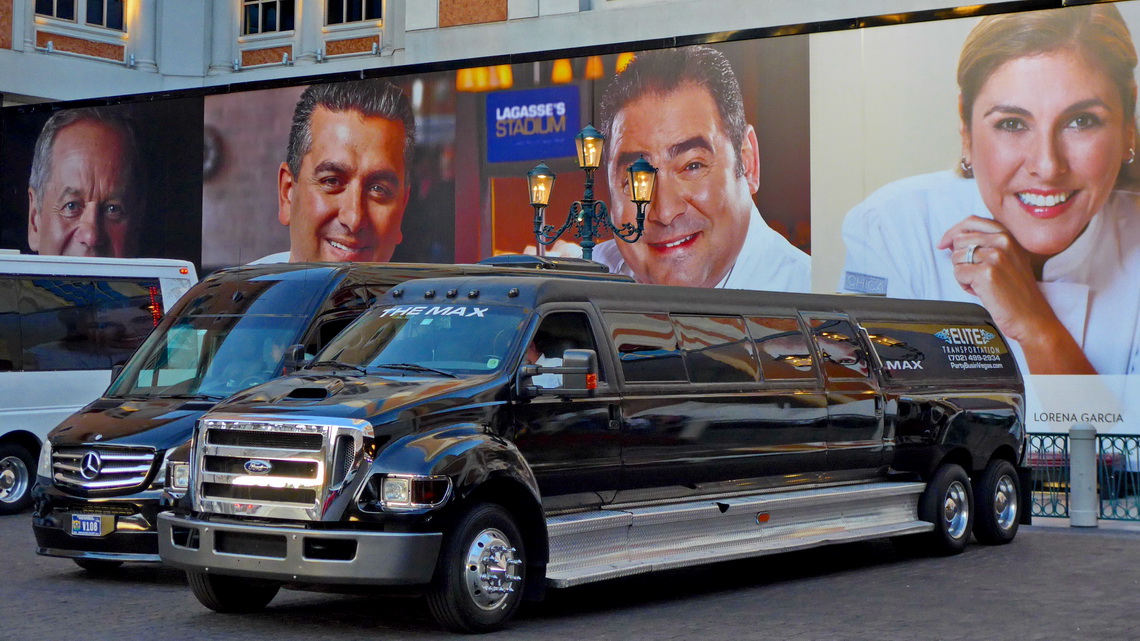 Las Vegas is with 2 millions inhabitants the largest city of Nevada located in the middle of the extreme arid Mojave Desert. The sun shines ever in Las Vegas but water supply is a critical issue, also due to its mainly ever growing tourism and economy. Its main source is the nearby artificial Lake Mead where the Colorado and Virgin Rivers are dammed by the more than 200 meters high Hoover Dam. Since 1999 the water level of Lake Mead declined by more than 30 meters! The marina on Echo Bay is scary: Many rotten fancy and expensive boats and docks are far away from water, now.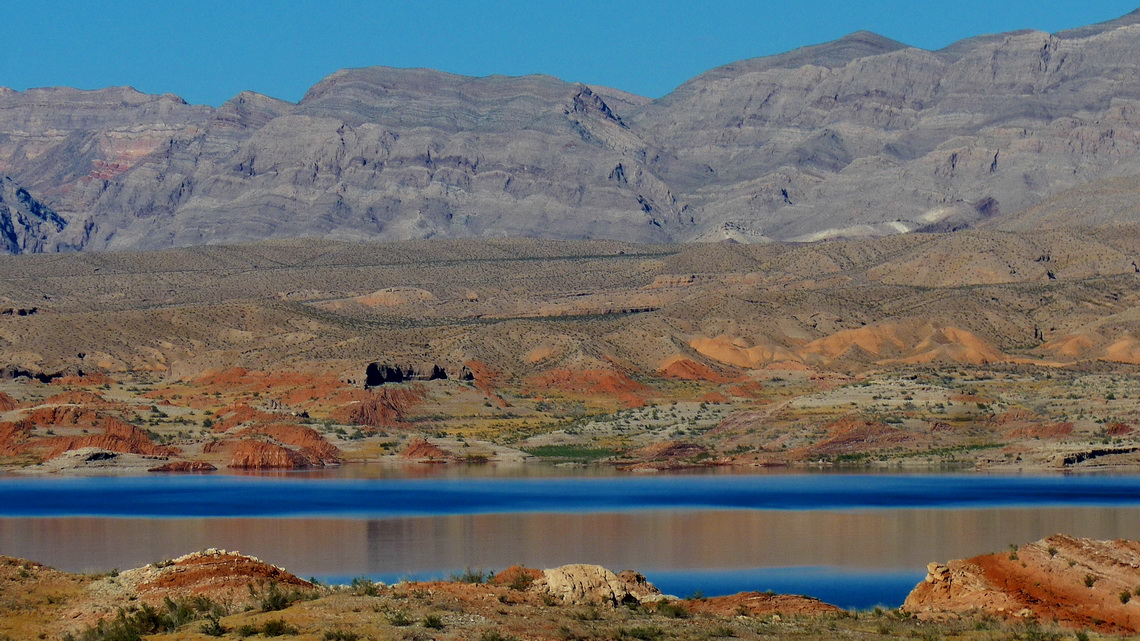 Las Vegas is well-known for low cost flights, also directly to Europe. Thus we decided to return to Germany from Las Vegas on may 4th 2017. Close to the northern shore of Lake Mead we found a perfect long-term parking lot under a roof for our motor-home, the Overton Boat & RV Storage (GPS coordinates: N36° 31.559' W114° 26.029'), see also www.overtonboatnrvstorage.com. Its owner Frank is very friendly and helpful.
Few kilometers South are nice and free campsite to organize everything for a longer storage (GPS coordinates: N36° 28.813' W114° 27.190'). Overton is a small town with all needed facilities besides public transportation. Our only problem was how to come to the airport of Las Vegas. Finally we rented a little car at the airport, drove approximately 100 kilometers to Overton with two vehicles and returned with the rented car to the airport.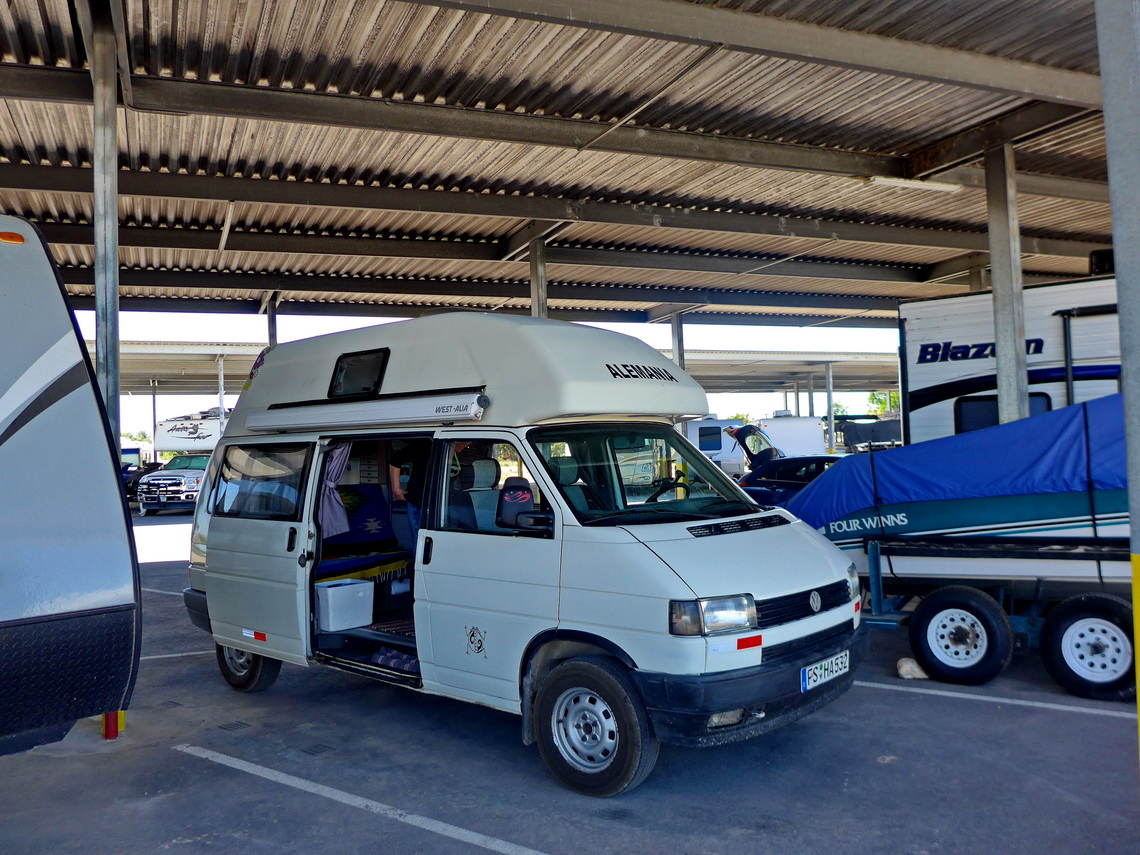 Fore more pictures, please click here                              For a map of our itineraries, click here

To download the GPS coordinates files of Utah and Nevada, click here