Volcan Tinguiririca is with 4280 meters sea level one of the most dominant mountains 200 kilometers South of Santiago de Chile and 50km East of San Fernando. It is located in an extreme remote but beautiful environment. An aircraft crashed on its slopes in the early spring of 1972. One of the survivor went down after 72 days (!) to get help. Earlier rescue was impossible due to enormous amount of snow and bad weather. Some passengers survived because they had eaten the dead people. This touching story is described in the book "ALIVE".
There are the superb hot springs Termas del Flaco on the base of Volcan Tinguiririca. Few kilometers South is the bustling city Talca with approximately 200,000 inhabitants. Paso Maule or Pehuenche leads to Argentina via a pristine and marvelous landscape. Highlights are the hot springs Termas Campanario, the waterfalls Cascada del Arco Iris and the incredible blue lake Lago Maule. When we came to Talca we could watch an exciting event.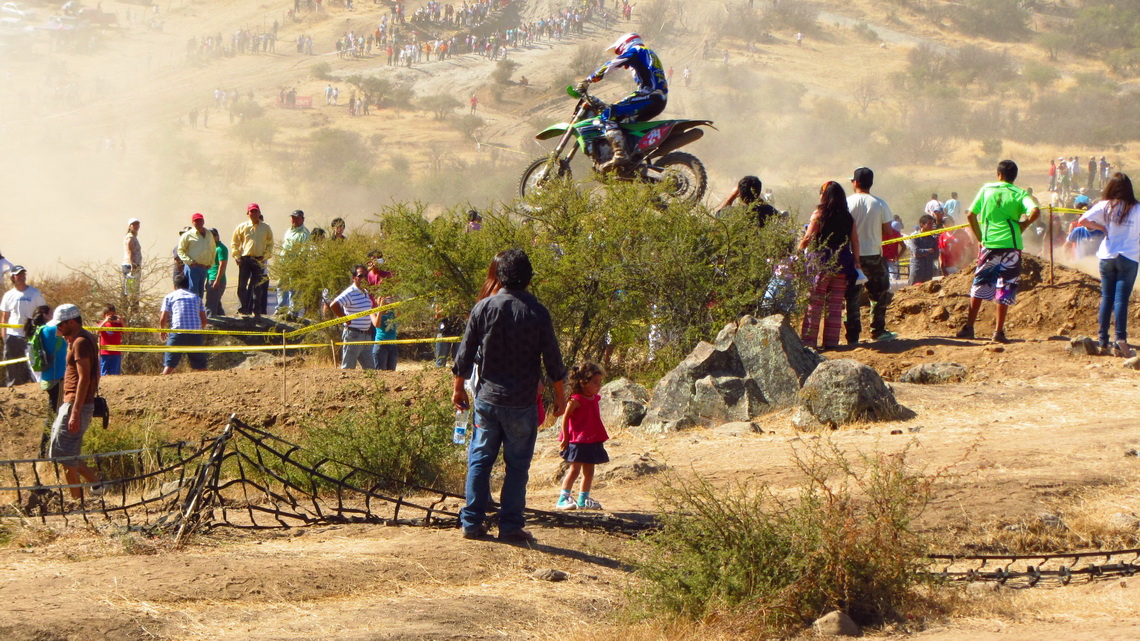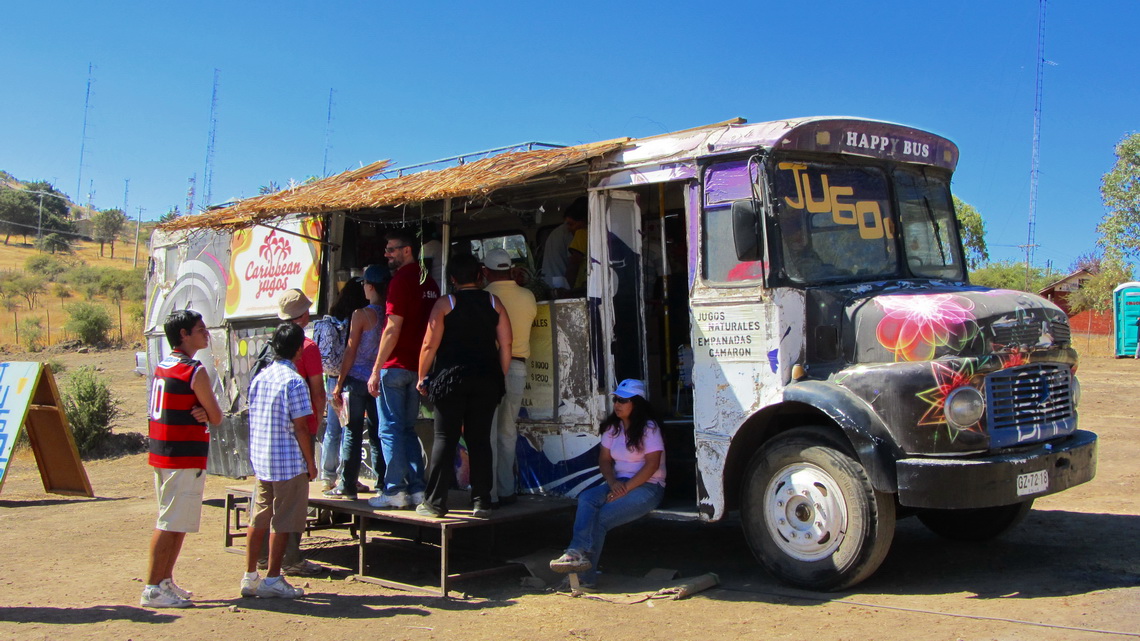 Our idea was to head to Argentina over Paso Maule or Pehuenche. We found a nice campground at the parking lot of the hot springs Termas Campanario (GPS coordinates: S35° 56.142' W70° 36.341').
On the next morning the last part of the street to Paso Maule was closed due to construction and tarring work of the road. Besides that a lot of small and large rocks were covering the street. A worker told us that an earthquake had been last night. We had realized nothing in our car. But we enjoyed this wonderful area and thanks to Geocaching ayuda Chile 15. Cascada del arco iris (GPS coordinates: S35° 57.162' W70° 34.016') we hiked some hours and we found stunning places. Our track is included in the GPS coordinates file of Chile.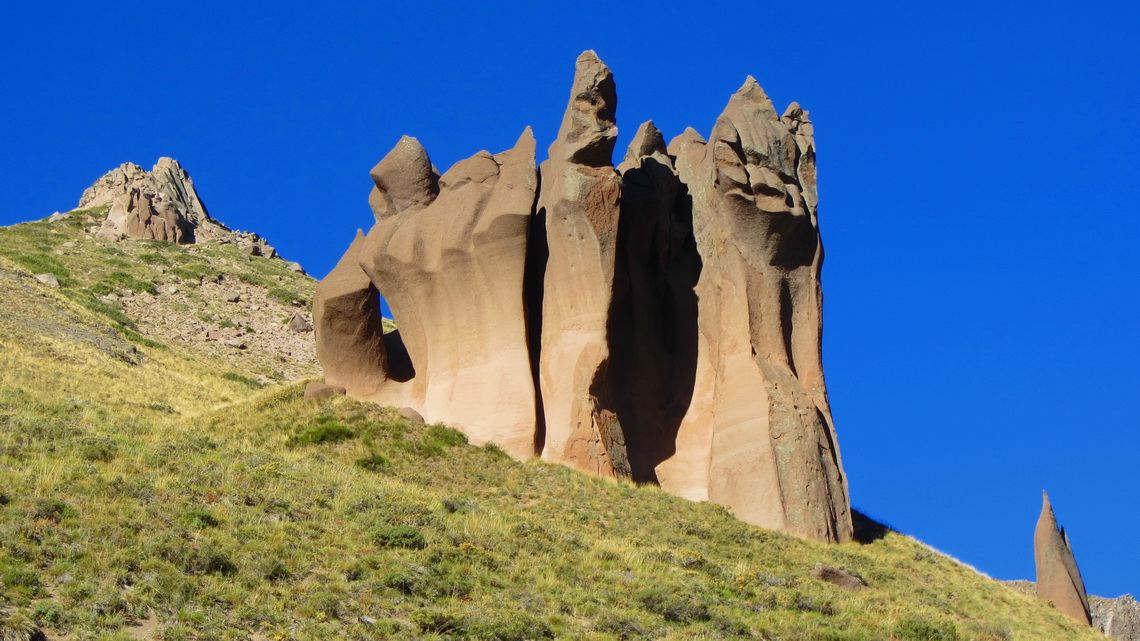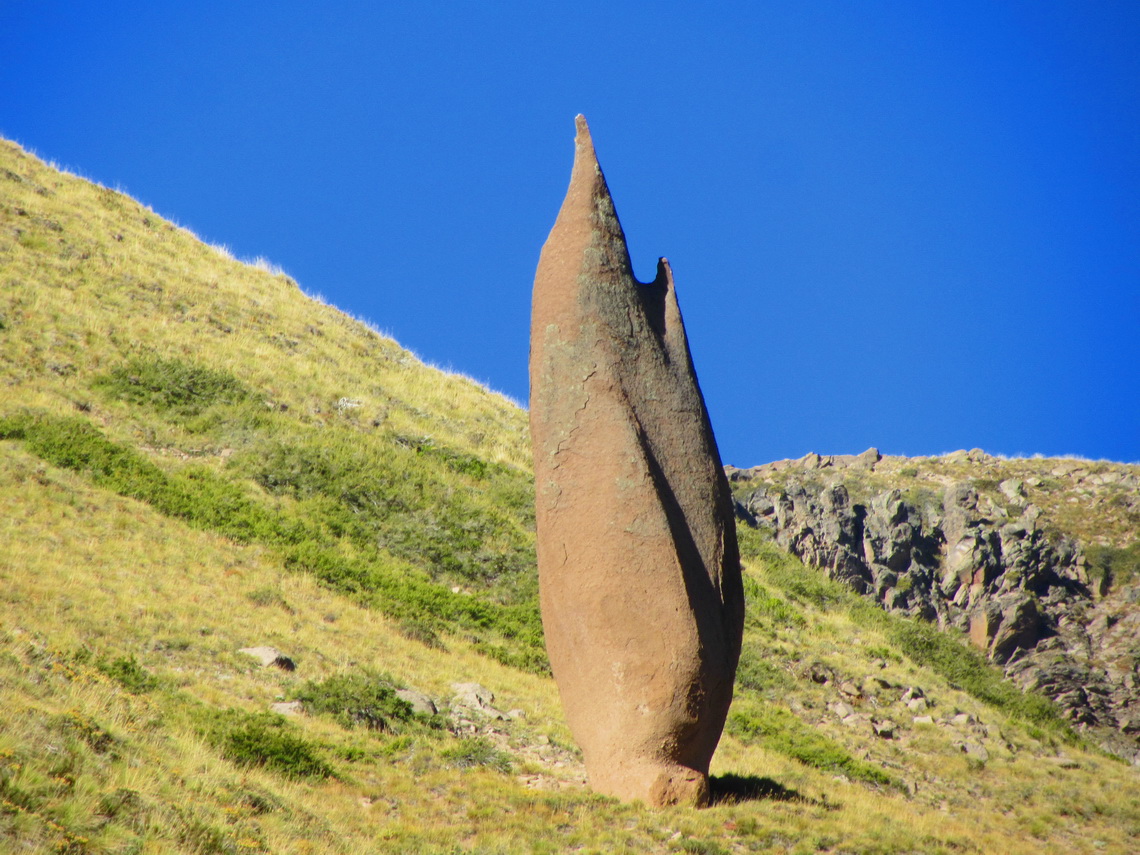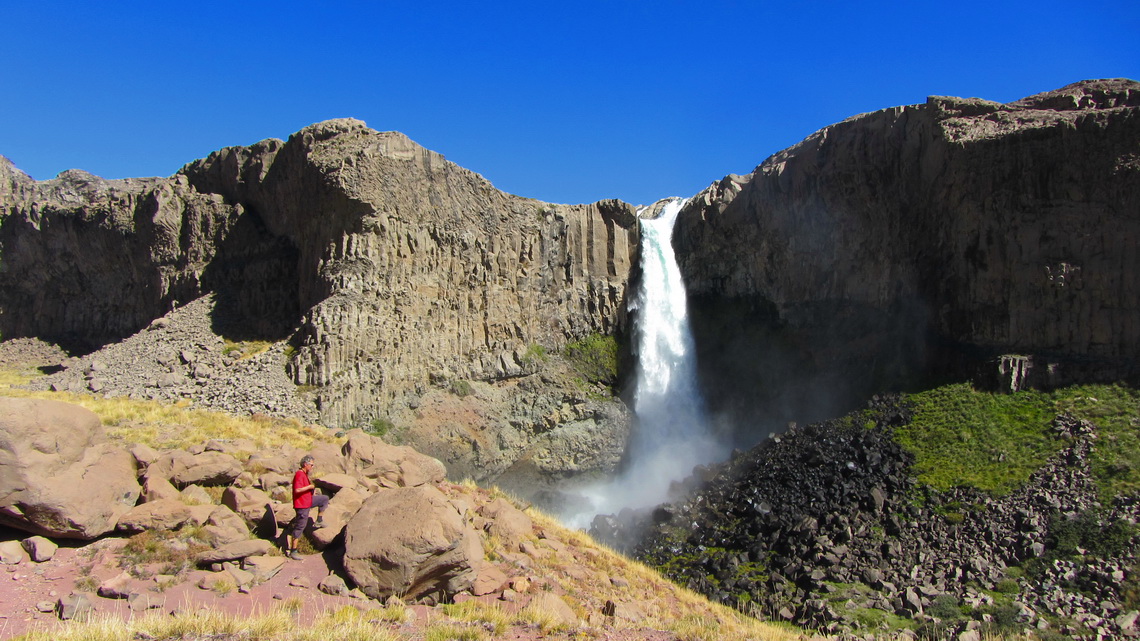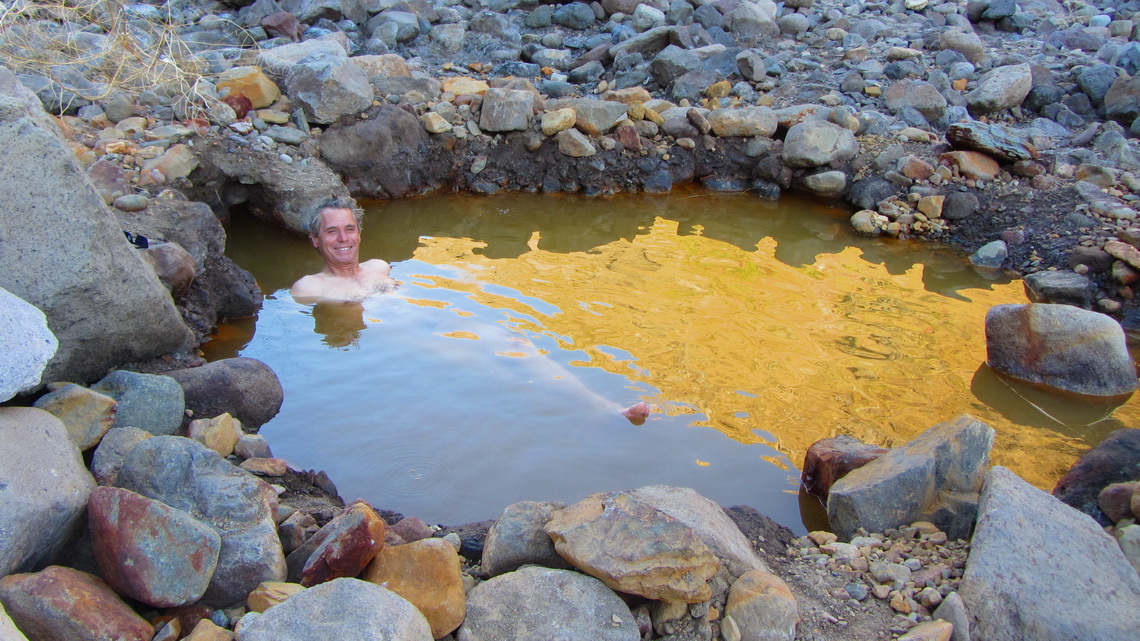 This region is true and wild Gaucho country.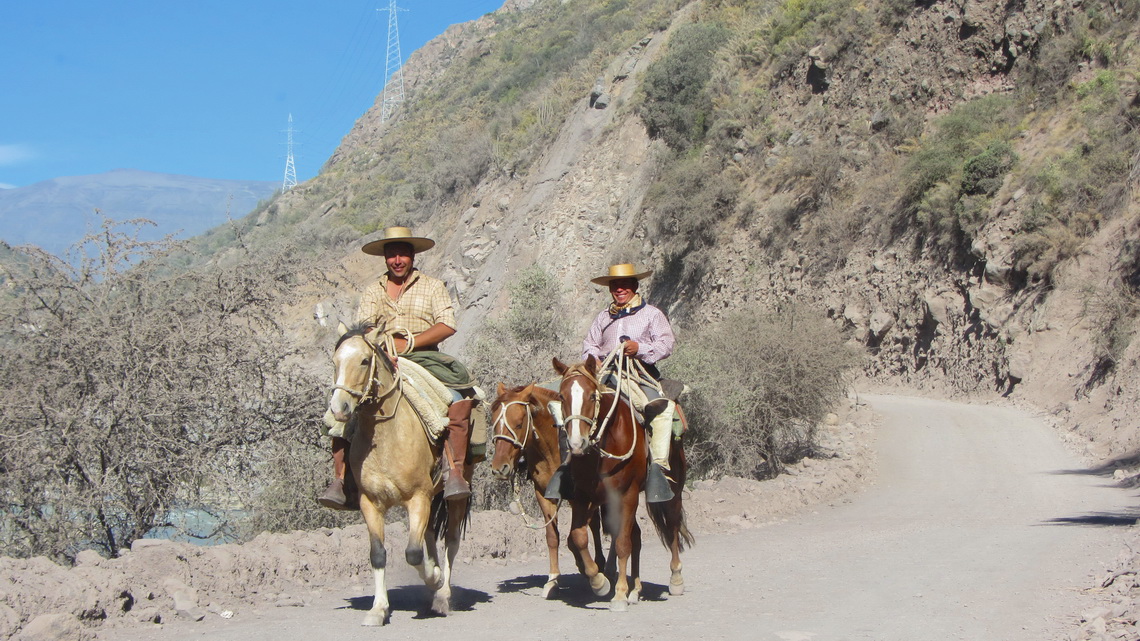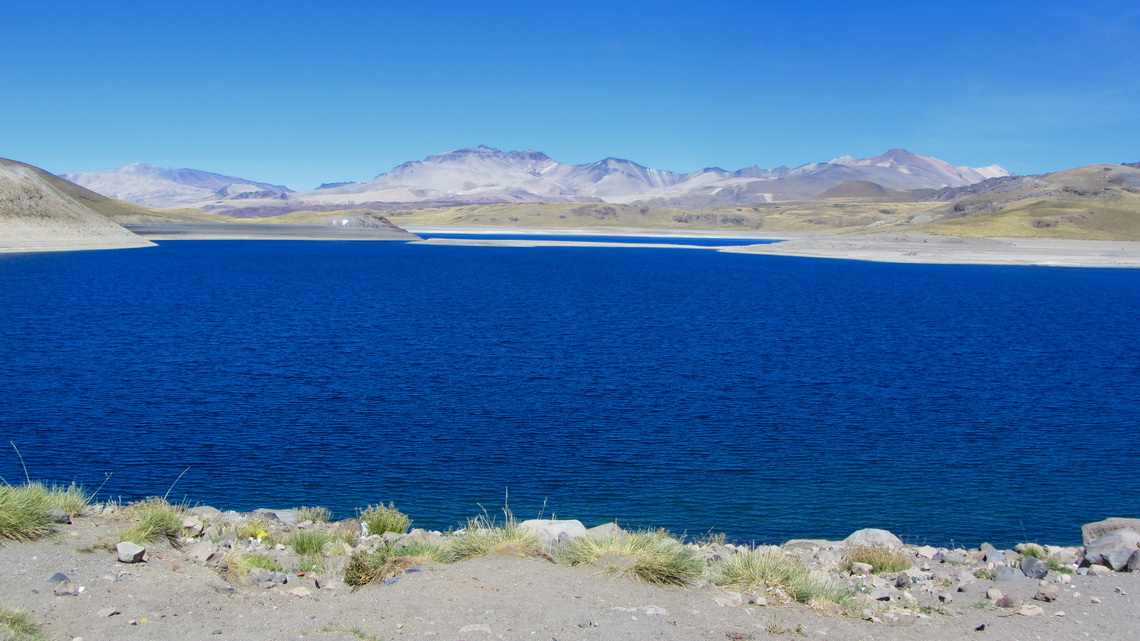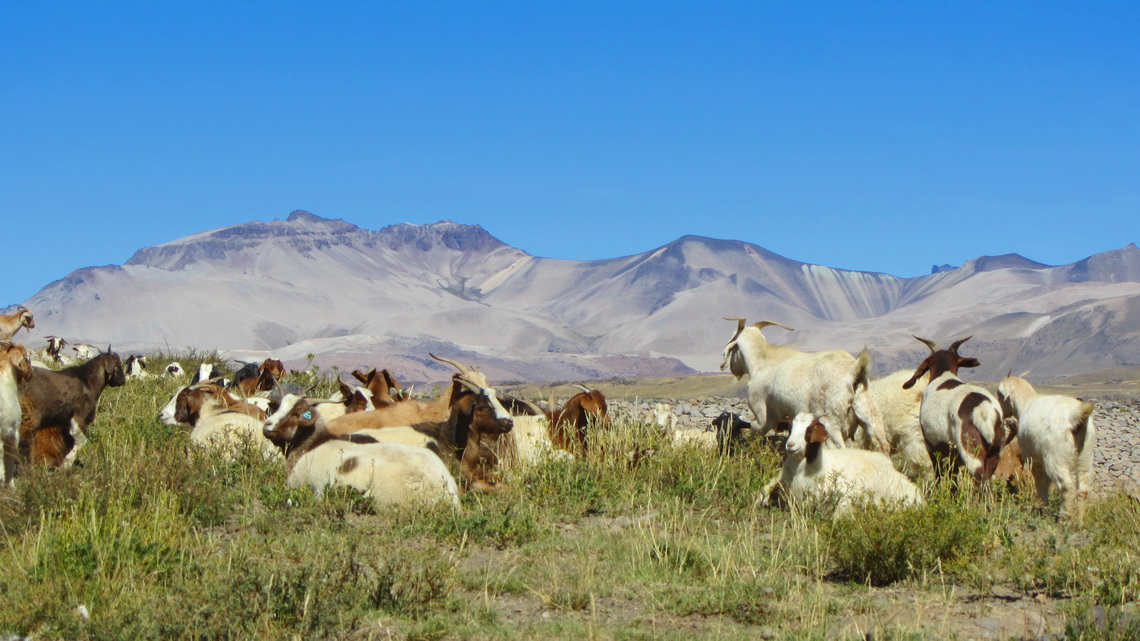 Our next target was climbing up Volcan Tinguiririca. There is a good description including two possible routes in Spanish in the Internet, see Andeshandbook. Our idea was to hike the same way one of the survivors of the aircraft crash 1972 dismounted to get help. But it turned out that heavy construction work was in this valley to build a new artificial lake. Consequently we decided to use the longer route via the hot springs Termas del Flaco (GPS coordinates: S34° 57.388' W70° 26.077').
We came in the late evening to the only campground of Termas del Flaco, where we fled immediately back few kilometers on the street to the wilderness. We felt everything but welcomed, for instance the offered price for parking our car was more than 20 bucks per day!
On the next morning we registered our trip on the Police station of Termas del Flaco. But they were very reluctant to give us the permission because there are no paths, no rescue possible, ... Finally we were able to convince them by showing the descriptions of the routes and our webpage. One Policemen was so excited that he gave us his memory stick to get these files. Fortunately Mario was in the room and he offered us to carry our luggage to the base camp for a reasonable price including free parking opposite of his cottage. We started early afternoon the four trip to the 2900 meters high base camp of Volcan Tinguiririca (GPS coordinates: S34° 54.856' W70° 25.168').

On the next morning we hiked few minutes to a 3073 meters high col (GPS coordinates: S34° 54.557' W70° 25.217') and then we had to move down 400 vertical meters a steep slope. Thanks to loose scree this is was an easy task but we realized that our return might be arduously.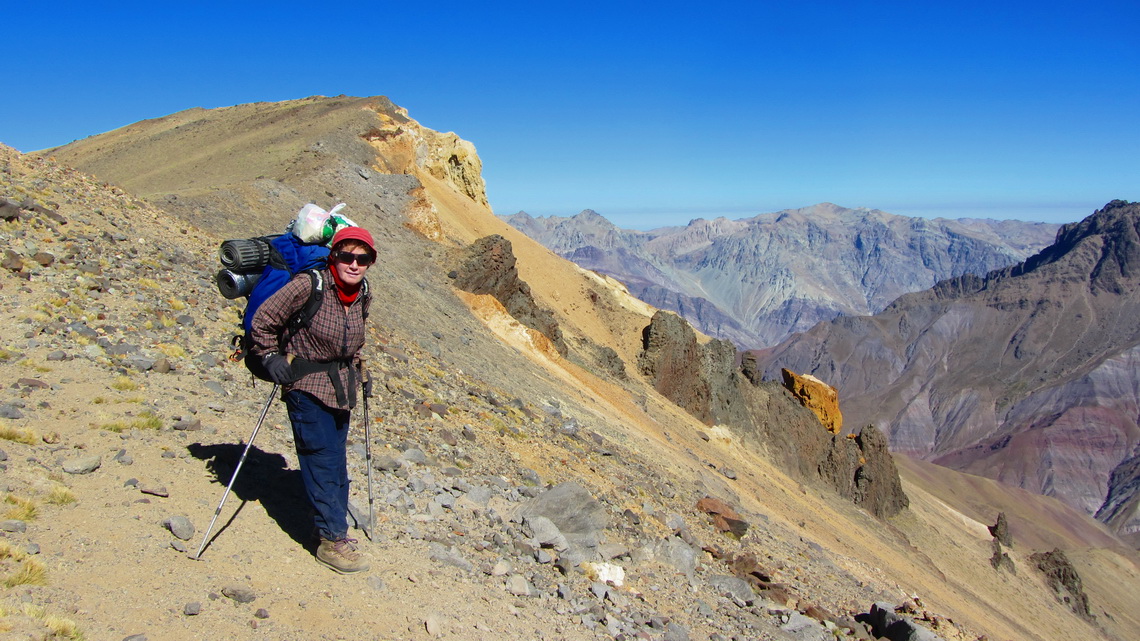 It was a long, long hike to the 3184 meters high second camp of more than eight hours (GPS coordinates: S34° 52.557' W70° 23.385'). There were no paths and more or less no signs of humans. Just few footprints of one horse. We never felt so lonely. But the landscape was extraordinary outstanding.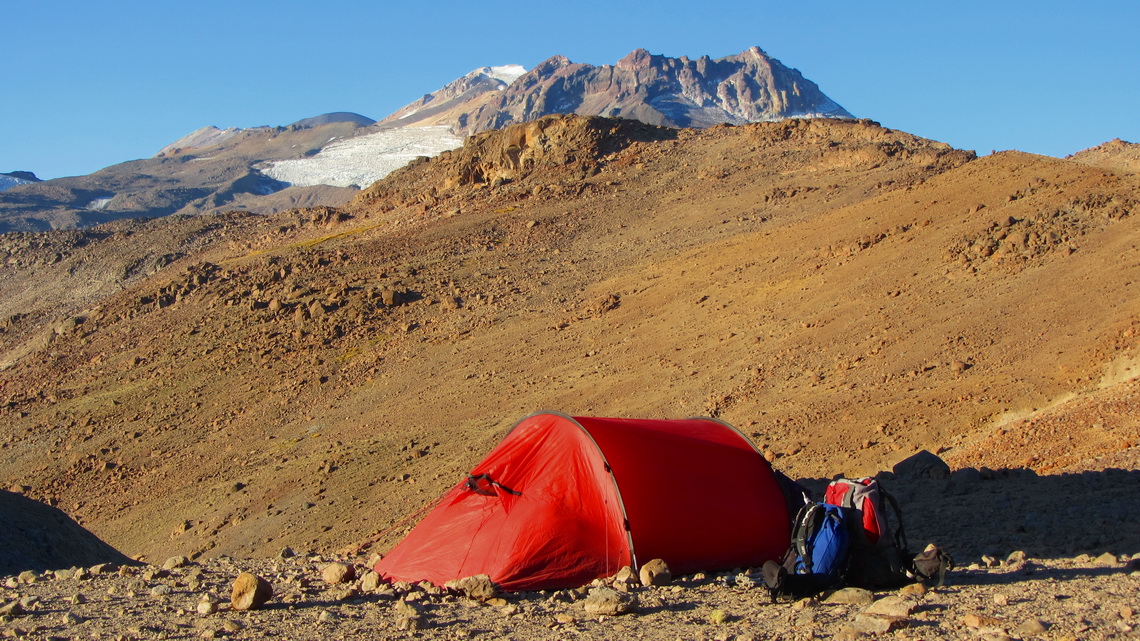 We were so exhausted that we started late on the next day the ascent to Volcan Tinguiririca. It is a crossing of a vast plateau followed by a never ending traverse and a steep slope to the summit. We saw that the glaciers were pure ice without any snow on top and decided not to hike to the main summit. Instead we walked to a little volcano with two cones, which we named Volcan Tinguiririca Chico. (GPS coordinates: S34° 51.930' W70° 21.598')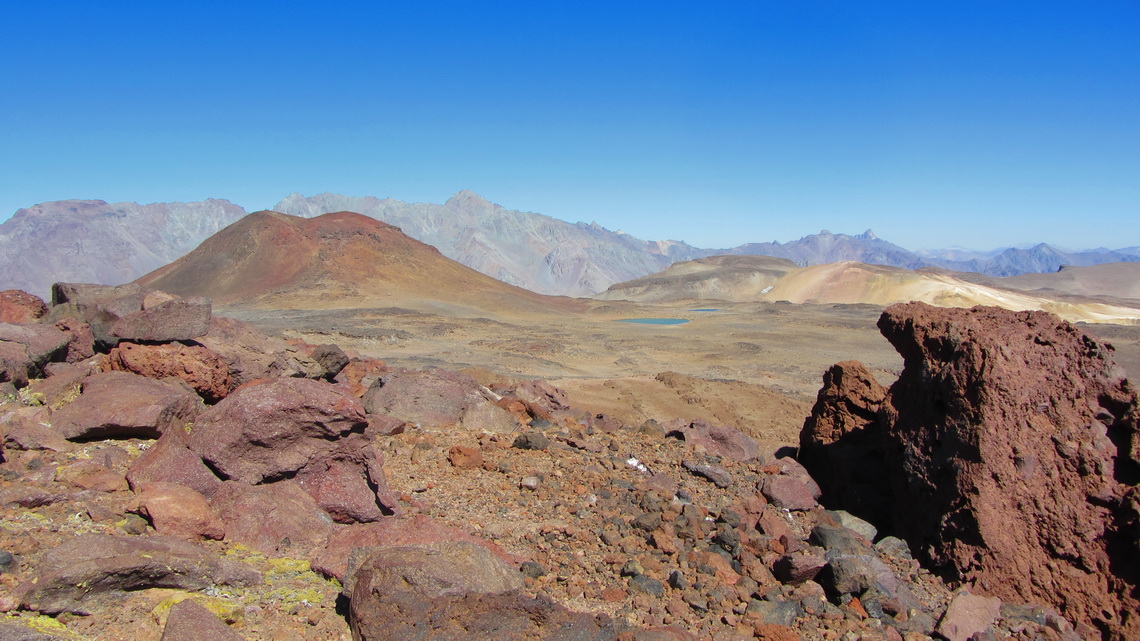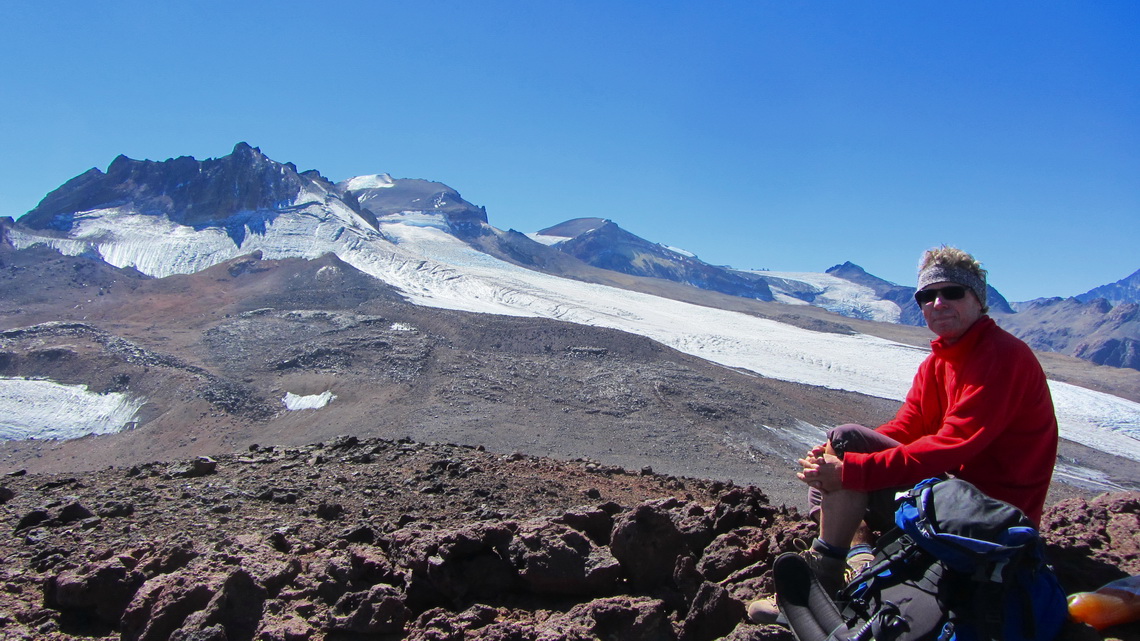 Like expected the return the first camp was strenuous on our third day in the mountains. Our tracks are included in the GPS coordinates file of Chile. Back to the Termas del Flaco we visited the footprints of different dinosaurs. And we enjoyed the hot springs extensively.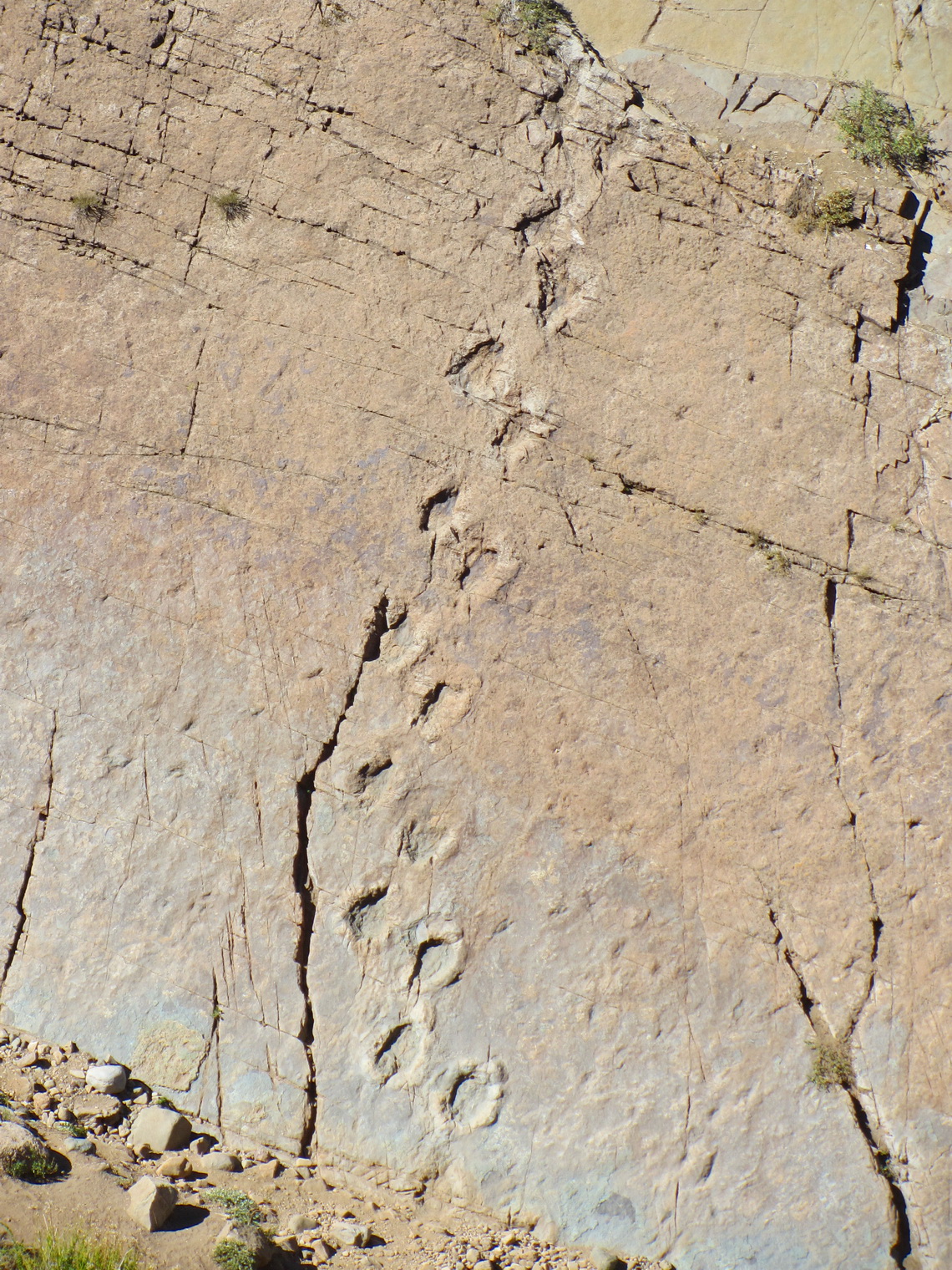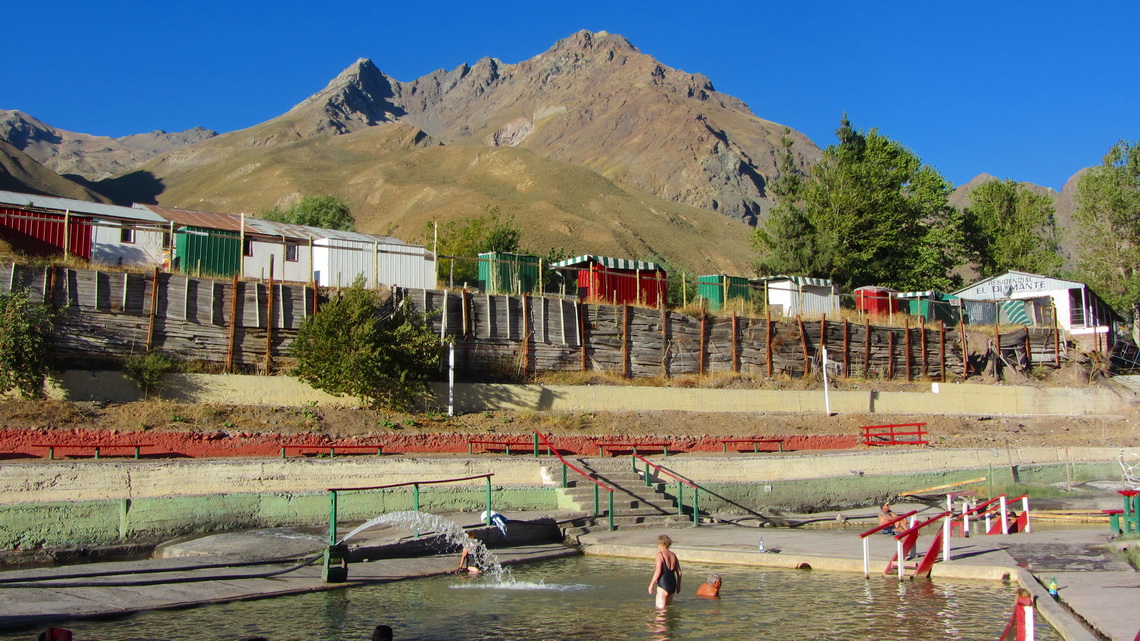 When we came back to the main valley beginning of April we decided to fly to home to Munich, Germany. It is much easier from Argentina and fortunately we caught a flight from Mendoza via Buenos Aires and Frankfurt at April 6th 2012.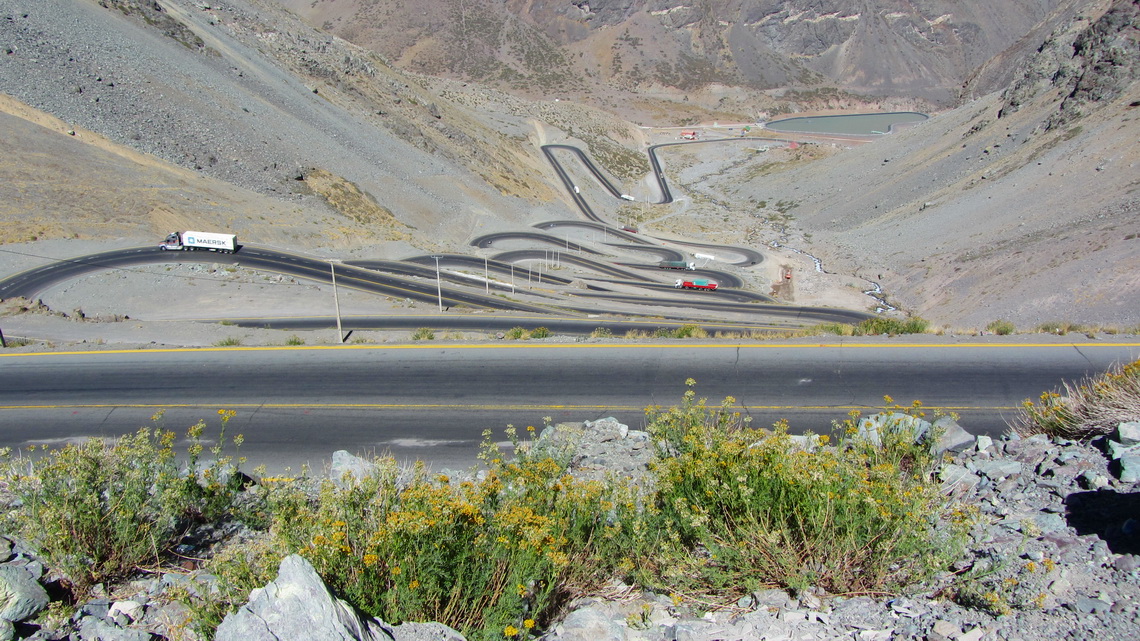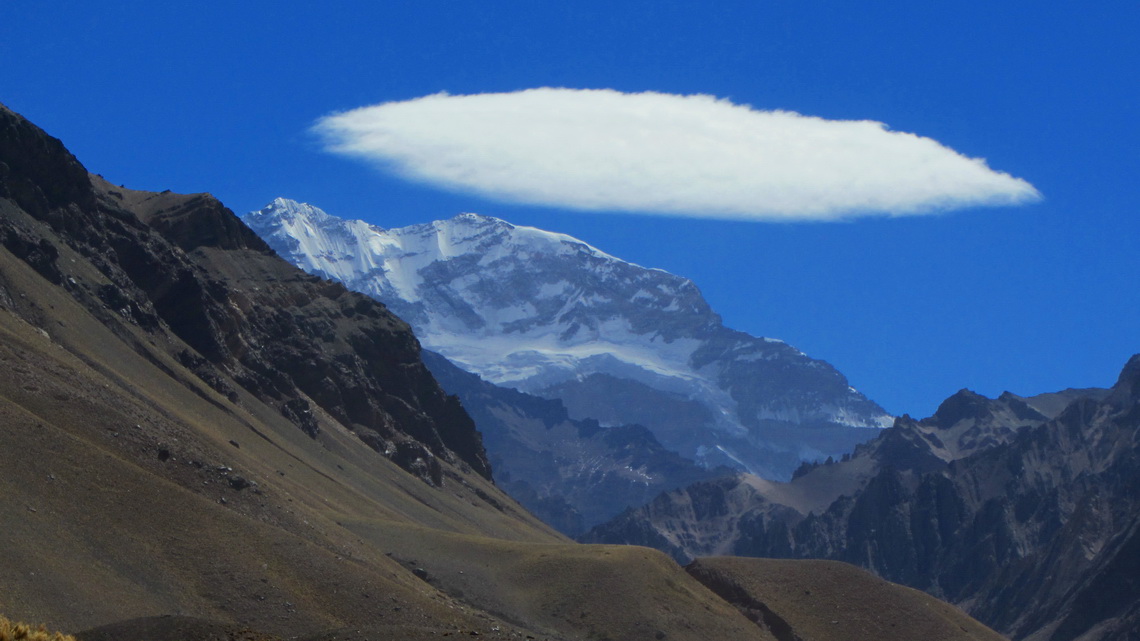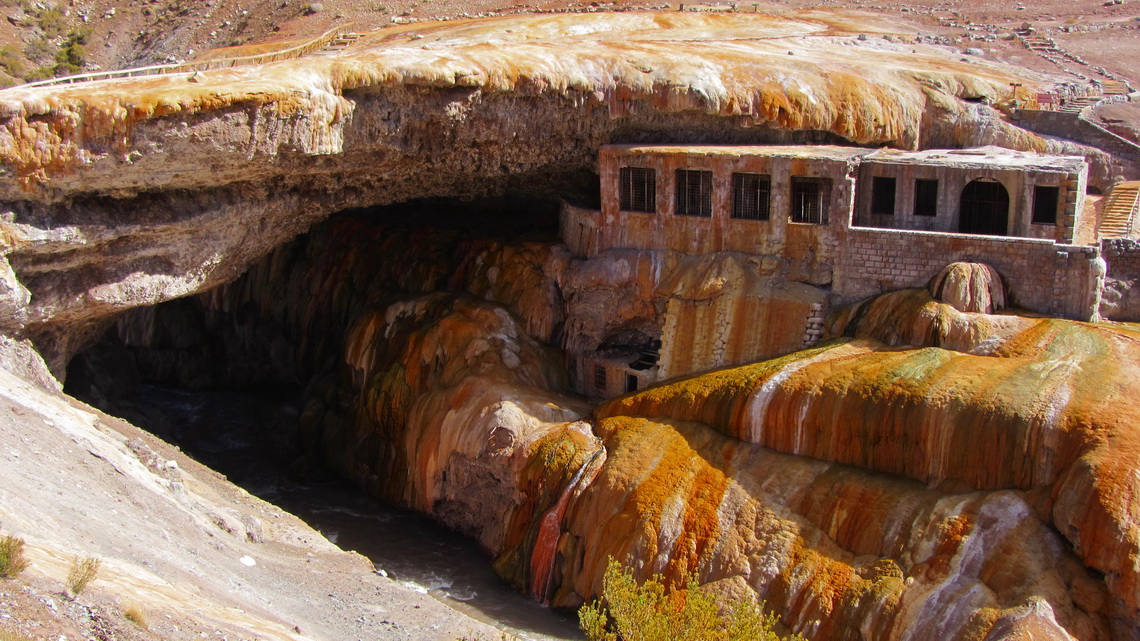 We met Stefan from Munich with his motor-home at the border and we had two hitchhikers in our car. Many younger people tried to hitchhike, because they want to visit the soccer game between Mendoza and Santiago de Chile in Mendoza this evening. Some had bad luck because their bus brake on the way to the tunnel. But our car was fully occupied with a Brazilian girl and a Chilean boy.

When we arrived in Mendoza in the early evening we were hungry like wolves. Our hitchhikers left but we took dinner with Stefan at the entrance of the Parque San Martin. In this park is a nice campground, where we had stayed one year ago. In this park is also the football stadium.
Suddenly the waiters asked us to go inside because the soccer game is finished. We paid and we intended to drive to the camping place. But there was an angry crowd of Argentine football fans because Mendoza had lost the game. Unfortunately the car plate in Argentina is black and in Chile white. And we had white plates, both Stefan and us. Stones were thrown. One hit Stefan's car few centimeters over the window of the driver's door. The window was open! We flew behind Police car and we had to stay there more than 1 hour.
When we drove to to campground we had to cross fields of broken window pieces. They told us at this camping place that we cannot park our car here when we fly back to Germany. We left to search another place and we found El Mangrullo, see its webpage. The owner Guillermo welcomed us warmly and offered us an acceptable price for parking our car. Fortunately the campground was closed few days later and we could park behind his house. Four dogs were watching our car. Relieved we started our long trip to Germany two days later. Thank you very much, Guillermo!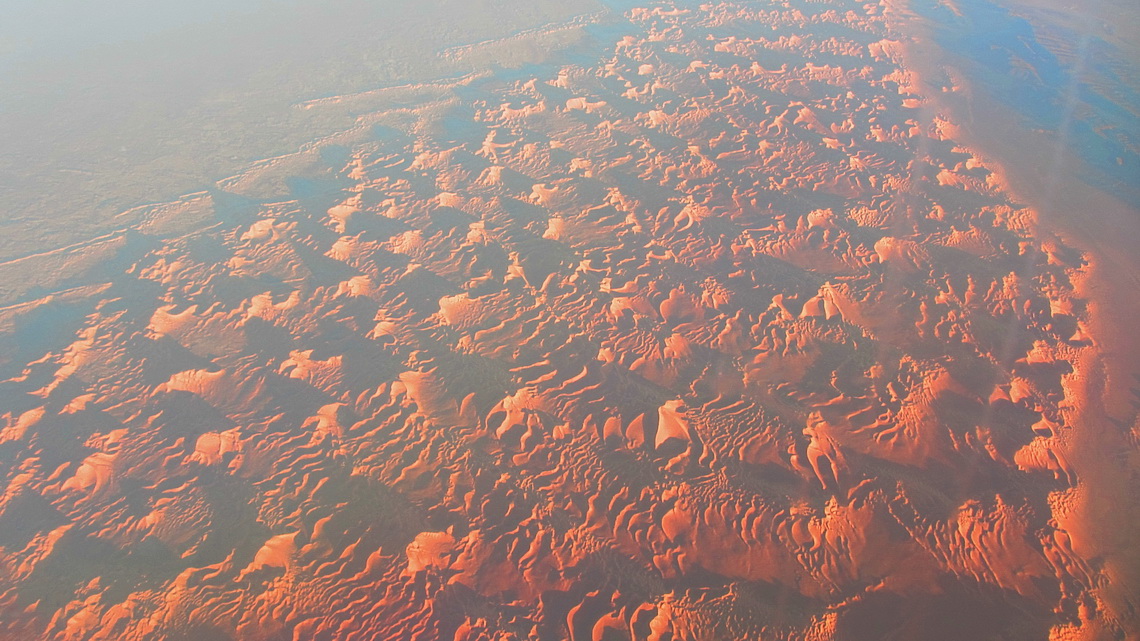 For more pictures, please click here                 For a map of our itineraries, click here
To download the GPS coordinates file of Chile, click here